Webinar: Discover How a Connected Worker Strategy Can Overcome Talent, Tribal Knowledge and COVID- 19 Challenges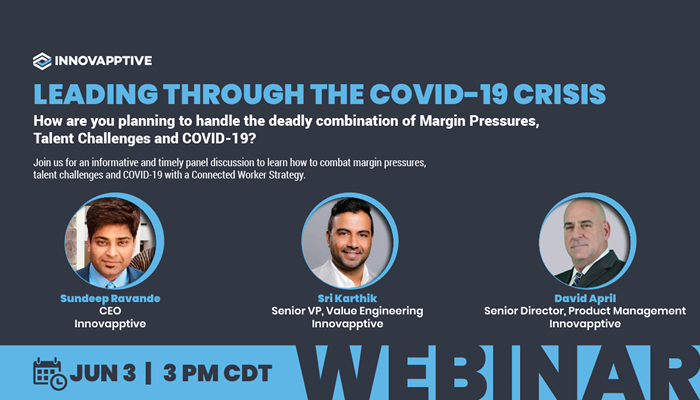 HOUSTON – As the 2020s dawn, enterprises around the world are searching for new business strategies to prevail against increasing margin pressures, talent recruitment and retention problems and the loss of institutional knowledge due to Baby Boomer retirements. Now, these same companies are having to add the COVID-19 crisis to an already long and tough list of troubles.
Innovapptive, the only Connected Worker Platform provider for SAP and IBM Maximo, can offer organizations facing such concerns a way out of their predicaments. The company is hosting a free webinar Wednesday, June 3, at 3 p.m. CDT (register here) that will help attendees reimagine their operations, adjust to a new way of thinking and embrace digital technology to solve problems.
"Asset-intensive enterprises need a flexible, forward-looking strategy right now to help them get through not just the current COVID-19 crisis, but to prosper and thrive when it's eventually over," said Innovapptive CEO and co-founder Sundeep V. Ravande. "Today is the day when decisions will be made that determine the future of many organizations. Those with the courage to be bold and change will be the ones to respond, recover and thrive. Our June 3 webinar will show why a 'Connected Worker' strategy is so critical in the post-COVID-19 era. This solution will help enterprises safeguard workers, attract and retain talent, preserve production and ensure continued revenues by transforming their operations."
The webinar - Combat Margin Pressures, Talent Challenges and COVID-19 with a Connected Worker Strategy – offers four key takeaways:
Profit Margin Pressures: How to effectively close the last mile of the front-line worker into SAP and IBM Maximo with a "Connected Worker" strategy.
Talent Challenges: Code-free digitization of step-by-step work instructions and visual aids; integrated with SAP Work Order Operations.
Tribal Knowledge Dependency and Travel Restrictions: Eliminate tribal knowledge dependency by integrating your experts with remote video collaboration, guided assistance via technician smart glasses and hands-free operations.
COVID-19 Safety Protocols: Implement contact tracing, front front-line worker health, and safety by digitizing work instructions with location awareness (GPS, indoor maps) to practice social distancing protocols at your sites.
Ravande will be presenting alongside David April (Senior Director, Product Management) and Sri Karthik (SVP of Pre-Sales and Solution Engineering). The trio will discuss why 10% of forward-looking companies are performing 2X better than the bottom 25% of organizations in the COVID-19 era, thanks to their adopting a Connected Worker Platform. They will demonstrate platform capabilities, provide relevant use cases and answer attendee's connected worker strategy questions.
Who should join the webinar?
Organizations looking to invest into Connected Worker strategies for innovative solutions to enhance worker safety, ensure compliance and gain relief from margin pressure.
Companies running old, outdated legacy systems like SAP Work Manager (formerly Syclo Work Manager)
Click here to register for this free webinar. If you can't make the appointed time, register anyway as a recorded, on-demand version will be made available shortly after the live session's conclusion.
About Innovapptive
The only Connected Worker Platform that digitizes the last mile of your front-line workers into SAP and IBM. Innovapptive is a global leader for industrial Connected Worker solutions and its platform digitizes and integrates SAP, IBM Maximo and GIS operational data with work instructions, SOPs and checklists. The platform connects the entire industrial workforce - machines, workflows, executives and back office - to minimize plant outages and maximize margins. By engineering a platform that fuels innovation and collaboration, Innovapptive is transforming the experience of the industrial worker to turn downtime into revenues, risks into safety, and inefficiencies into growth. Innovapptive is headquartered in Houston, TX, with offices in Australia, Netherlands and India. Learn more at www.innovapptive.com.
Contact:
Mark McKee
Content Marketing Lead
(713) 275-1804