Dolphin Partners with Innovapptive to Create Native Mobile App for its Accounts Payable Application Suite. Innovapptive Inc.
March 11, 2014 | Houston, TX
Innovapptive's mWorklist Mobile App allows on-the-go review and approvals within Dolphin's accounts payable solution to further optimize invoice cycle time and AP functions.
Dolphin Enterprise Solutions Corporation (Dolphin) and Innovapptive today announced the creation of a fully integrated mobile invoice approval app for Dolphin's Process Tracking System for Accounts Payable (PTS-AP) solution.
The PTS-AP solution has earned SAP certification on the HANA platform as well as certification on the recently released SAP NetWeaver 7.40, an extension of previous NetWeaver versions. The mobile app also leverages Dolphin PTS-AP's existing certifications on SAP NetWeaver Gateway.
The mobile app pushes invoice approvals and exceptions directly to the relevant users' smartphones or tablets allowing for review and approval any time, anywhere, speeding up invoice processing time, increasing productivity and optimizing cash flow.
Dolphin's PTS-AP solution optimizes and automates accounts payable processes for organizations that deploy SAP applications through capture technologies, process tracking and advanced analytics. By partnering with Innovapptive, Dolphin now offers an easy-to-use, SAP-integrated native mobile app for iPhone, iOS, and Android devices. This extensive functionality allows users to securely view and approve invoices, edit line coding for non-purchase order invoices, and accelerate blocked invoices by creating goods receipt/service entry sheets directly from a mobile device.
"Innovapptive's powerful mobile application further enhances Dolphin's Process Tracking System for Accounts Payable by allowing real-time invoice approval, no matter where the user is located," says Vishal Awasthi, Chief Technology Officer at Dolphin. "The creation of this mobile application aligns with Dolphin's efforts to help customers drive newfound efficiencies in near-cash processes by accelerating the invoice approval process, improving cash flow management and increasing the bottom line."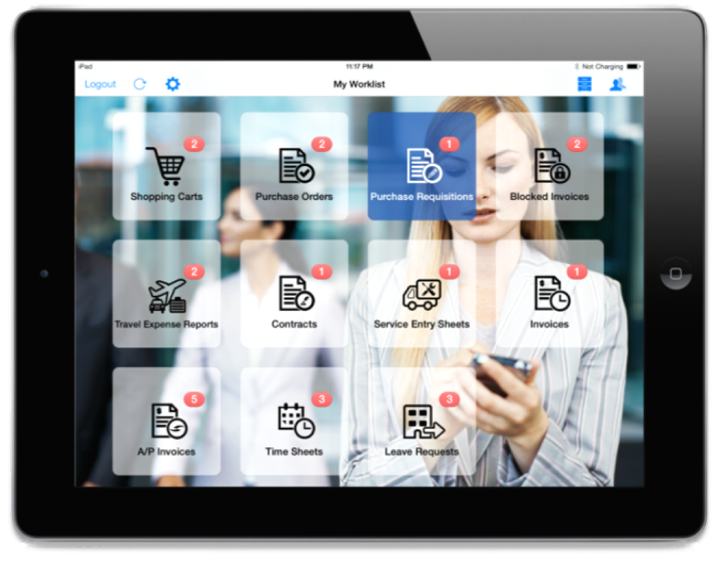 "Targeted mobile applications are a new way for SAP customers to extend the value of their investment in enterprise solutions and transform the way employees work with, perceive, and access information," according to Hari Kamineni, CEO and co-founder of Innovapptive. "Innovapptive is excited to work with Dolphin to help provide its customers with real-time access to accounts payables to further optimize business processes while driving greater enterprise productivity and success."
Dolphin is a leading solutions provider and certified SAP® partner that helps more than a third of FORTUNE 100™ SAP customers manage data volume management and business processes across the enterprise, assuring integration and support of critical business applications to meet organizational objectives. Dolphin's document-centric approach leverages customer's current infrastructure and existing applications licenses to deliver a process that costs less, is implemented faster and helps manage growth over the long term.
About Dolphin
Dolphin leads the way in business performance improvement for companies running SAP solutions and is the one partner that manages both data and processes. From data and information lifecycle management to end-to-end solutions for procure-to-pay and order-to-cash processes based on SAP software, Dolphin delivers a competitive advantage that drives cost savings, optimizes cash flows and fosters a lower total cost of ownership. Leveraging SAP technology, Dolphin's data lifecycle and business process management solutions and add-on applications with SAP-certified integration have built-in flexibility and are designed to be tailored to each customer's specific business processes and IT environments.The company was founded in 1995 and has offices in San Jose, CA, Philadelphia, PA and Toronto, Canada. Dolphin's smart, adaptable and proven solutions are implemented by hundreds of companies across North America and around the world. Among Dolphin customers are more than one-third of Fortune 100™ companies running SAP systems.
About Innovapptive
Innovapptive is an SAP platform and SAP services partner that provides an array of enterprise mobility products and services from SAP. Innovapptive's products, the mPower App Suite, mPower App Store and the mPower Mobile Platform provides customers a comprehensive end-to-end enterprise mobility solution to instantly mobilize their enterprise. Innovapptive's mission is to innovate, transform and empower customers by helping them gain a competitive advantage through best in class & disruptive enterprise mobile solutions, professional services and a cost effective and flexible global delivery model. The team at Innovapptive brings a unique and unparalleled combination of SAP, Mobile and industry experience to transform and empower our customers. Innovapptive's customers are some of the world leading Global 2000 brands.
SAP and all SAP logos are trademarks or registered trademarks of SAP AG in Germany and in several other countries. All other product and service names mentioned are the trademarks of their respective companies.