Innovapptive Launches Mobile Solutions for IBM Maximo Enterprise Asset Management (EAM) and Warehouse Management Suite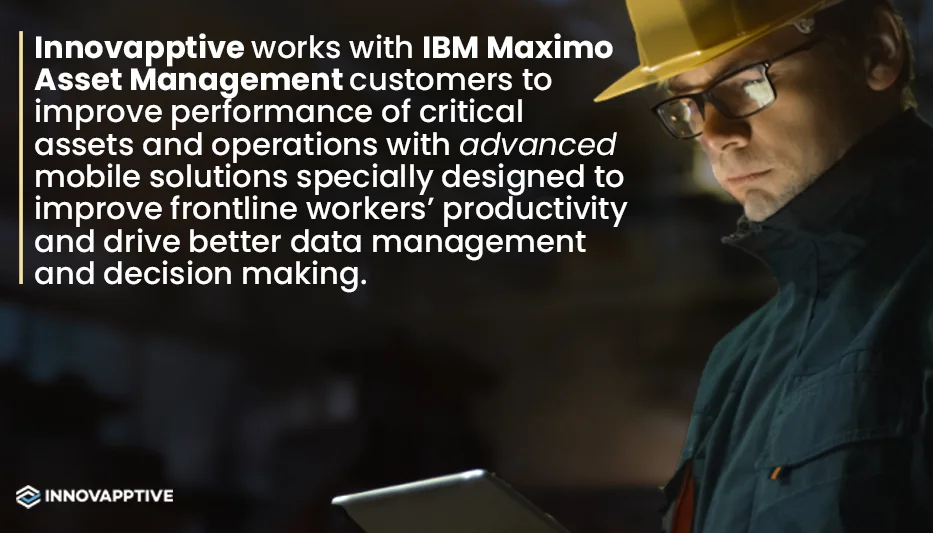 HOUSTON – Innovapptive, a digital transformation pioneer offering the only Connected Worker Platform connecting frontline workers, back-office and assets, today announced its mobile solutions are now available for organizations using IBM Maximo as their enterprise asset management (EAM) solution.
"IBM Maximo users will find Innovapptive, a partner they can trust," said CEO and co-founder Sundeep Ravande. "Such plants make up nearly a third of the market and they haven't been well-served to date. Too many still rely on outdated manual-based processes that stifle frontline worker productivity. We can help these organizations solve their unplanned downtime, inventory accuracy and fixed asset-tracking problems through the power of digital transformation, the collaboration potential of connected worker platforms, and the flexibility and agility of mobile-first applications."
Innovapptive has already successfully implemented their solution at one Maximo organization in the utilities industry, and now has begun implementing our mobile work management solution and its mobile inventory management solution at a large oil and gas company using IBM Maximo EAM. The company anticipates rapidly expanding its market share with access to a base of prospects previously lacking strong connected worker platform options.
Innovapptive offers IBM Maximo users three primary products, which include:
mWorkOrder: a mobile plant maintenance app that gives companies greater visibility into the enterprise asset management process. Plants can create, issue, manage and execute maintenance work orders via mobile device from anywhere at any time. mWorkOrder increases asset uptime, boosts technician wrench time, cuts work order backlogs and reduces safety incidents. The solution also supports real-time operator rounds, digital work instructions, and planning and scheduling.
mInventory: a mobile warehouse management app that provides end-to-end control of the inventory process, from receiving to shipment and every point in between. Parts warehouses using mInventory enjoy faster cycle counts, greater inventory accuracy and lower inventory carrying costs.
mAssetTag: a mobile fixed asset tracking solution to better control, audit and reconcile fixed assets. Corporate financial departments employing mAssetTag have cut the time to check asset status, eliminated ghost assets, reduced overpayment of taxes and insurance premiums, and improved the accuracy of their financial records and statements.
Click here to schedule a free demo of these solutions or call 844-464-6668 to speak to an Innovapptive industry advisor.
About Innovapptive
Innovapptive is a digital transformation pioneer offering the only Connected Worker Platform that digitalizes the last mile of frontline workers into SAP and IBM Maximo technologies. Our solutions integrate GIS operational data and data from SAP and IBM Maximo solutions with work instructions, SOPs and checklists, connecting the entire industrial workforce, machines, workflows and executives to minimize plant outages and maximize margins. Innovapptive is transforming the experience of the industrial worker by engineering a platform that fuels innovation and collaboration to turn downtime into revenues, risks into safety and inefficiencies into growth. Innovapptive is headquartered in Houston with offices in Australia and India. Learn more at www.innovapptive.com.
###
SAP and other SAP products and services mentioned herein as well as their respective logos are trademarks or registered trademarks of SAP SE in Germany and other countries. Please see https://www.sap.com/copyright for additional trademark information and notices. IBM Maximo Asset Management, Maximo and other IBM products and services mentioned herein as well as their respective logos are trademarks or registered trademarks of IBM Corporation. Please see https://www.ibm.com/legal/copytrade for additional trademark information and notices. All other product and service names mentioned are the trademarks of their respective companies.
Any statements in this release that are not historical facts are forward-looking statements as defined in the U.S. Private Securities Litigation Reform Act of 1995. All forward-looking statements are subject to various risks and uncertainties described in SAP's filings with the U.S. Securities and Exchange Commission, including its most recent annual report on Form 20-F, that could cause actual results to differ materially from expectations. SAP cautions readers not to place undue reliance on these forward-looking statements which SAP has no obligation to update and which speak only as of their dates.