Innovapptive Announces Series B Investment Led by Vista Equity Partners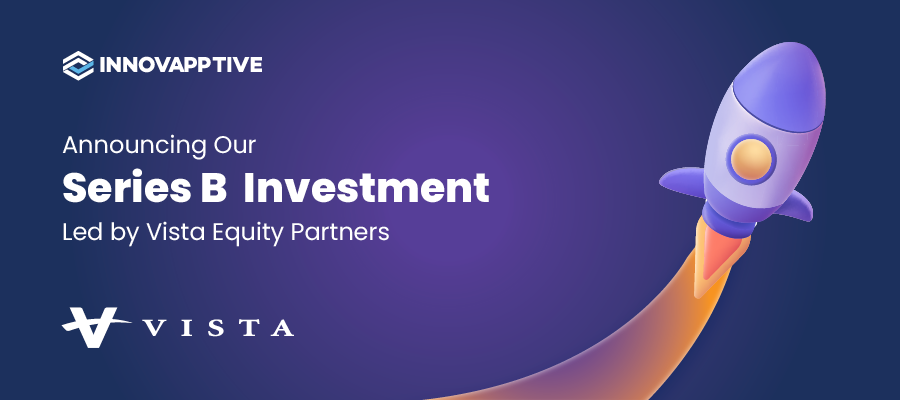 Existing Investor Tiger Global Management Joins Minority Investment from Vista to Accelerate Growth Momentum for Leading Connected Worker Platform
Houston, TX – May, 04, 2023 – Innovapptive Inc. ("Innovapptive"), a SaaS-based Connected Worker Platform, announced today it has raised a Series B investment led by Vista Equity Partners ("Vista"), a leading global investment firm focused exclusively on enterprise software, data and technology-enabled businesses. Existing investor Tiger Global Management also participated in the round. Innovapptive will use the investment to accelerate product innovation and reach new regional markets while further establishing its leadership position in the emerging connected worker software category.
Innovapptive's market-leading Connected Worker Solutions improve asset uptime, front-line worker productivity, safety, training and compliance. The Company uniquely breaks silos between operations, maintenance and warehouse teams by bringing front-line workers, assets and back-office data sources together on a patented no-code platform. Innovapptive's customers span across Energy, Mining, Metals, Utilities, Chemicals and Industrial Manufacturing. Its platform is used by some of the world's largest Fortune 500 asset-intensive companies.
"We look forward to this next phase of growth as we continue to define the emerging connected worker software category," said Sundeep Ravande, Founder and CEO of Innovapptive. "Vista has significant experience scaling enterprise software businesses and emerging technologies. We are thrilled to have them lead our Series B investment and work alongside our team to advance and scale our vision, product innovation and go-to-market efforts. This partnership will enhance our platform capabilities to integrate with enterprise systems, capture actionable insights, make recommendations for productivity and safety, and close the loop between assets and people."
The investment in Innovapptive was made by Vista's Endeavor Fund, which provides growth capital and strategic support to market-leading, high-growth enterprise software, data and technology-enabled companies that have achieved at least $10 million in recurring revenue. Endeavor partnerships focus on growth, market strategy, talent and customer success – building enduring businesses designed to scale. Founders and management teams benefit from the expertise and support of Vista and its global ecosystem to deliver unparalleled value to their customers, unlock the potential of their employees and accelerate market leadership. Ben Benson, Senior Vice President at Vista, will join Innovapptive's Board of Directors effective immediately.
"Innovapptive is a high-growth, emerging leader in the connected worker software category. Its mission-critical solutions satisfy the growing demand from asset-intensive industries to connect front-line and back-office data sources for enhanced business operations, well positioning the Company for long-term growth and success," said Rachel Arnold, Co-Head of Vista's Endeavor Fund and Senior Managing Director. "Sundeep and his team possess the vision, talent and deep institutional knowledge to shape the future of connected worker solutions; we look forward to our partnership and helping them achieve their goals," added Benson.
About Innovapptive
Innovapptive is a global leader for industrial connected worker solutions that brings front-line workers, back-office and assets together. The company uniquely unlocks all aspects of an enterprise's work management processes with its flagship patented no-code connected worker platform and integrated suite of apps that tightly integrate with enterprise ERP's, enterprise asset management (EAM) and asset performance management (APM) systems. The platform empowers operators, maintenance and warehouse teams to seamlessly collaborate and communicate to carry out work identification to work management workflows. Today, Innovapptive serves some of the world's largest asset intensive customers and helps them attract and retain the best talent with it's platform's end to end digital solutions to improve operational efficiencies, safety, compliance, asset uptime, and reliability. Innovapptive is headquartered in Houston, TX, with offices in Australia, and India. Learn more at www.innovapptive.com.
About Vista Equity Partners
Vista is a leading global investment firm with more than $96 billion in assets under management as of December 31, 2022. The firm exclusively invests in enterprise software, data and technology-enabled organizations across private equity, permanent capital, credit and public equity strategies, bringing an approach that prioritizes creating enduring market value for the benefit of its global ecosystem of investors, companies, customers and employees. Vista's investments are anchored by a sizable long-term capital base, experience in structuring technology-oriented transactions and proven, flexible management techniques that drive sustainable growth. Vista believes the transformative power of technology is the key to an even better future – a healthier planet, a smarter economy, a diverse and inclusive community and a broader path to prosperity. Further information is available at vistaequitypartners.com. Follow Vista on LinkedIn, @Vista Equity Partners, and on Twitter, @Vista_Equity.
Innovapptive Media Contact
Sri Karthik
sri@innovapptive.com
(317) 361-2007
Vista Equity Partners Media Contact
Brian W. Steel
media@vistaequitypartners.com
(212) 804-9170