October 15th, 2013 | Houston, TX
Innovapptive Inc., a leading SAP Mobile Solution provider announced that a large real estate development and management company selected its Universal SAP Mobile Approvals (mWorklist 2.0) app to streamline their business transaction approvals.
A large North America real estate development and management company selected Innovapptive's SAP Certified Universal Mobile Approvals app, as a cost effective, secure and scalable mobile app to streamline their business transaction approval processes. Innovapptive's mWorklist 2.0 mobile app is now generally available and will effectively enhance the real estate development and management firms approval processes. Additionally, the app will provide the real estate firm to scale the solution across several business critical transactions. The mWorklist 2.0 app will improve engagement through new personalized features such as a configurable dashboard, collective approvals, substitution and being able to toggle between the manager and delegates inbox.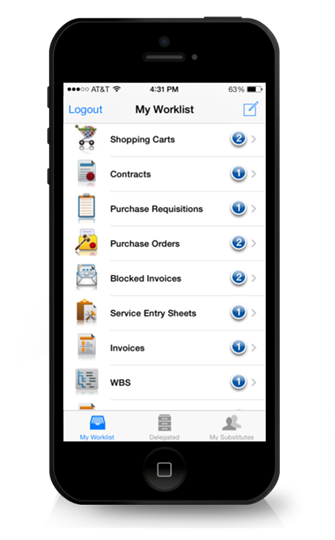 For instance, using the Innovapptives mWorklist 2.0 mobile app, the real estate firm can now streamline approvals of their purchase requisitions, purchase orders, contracts, invoices, service entry sheets, vendor master and WBS elements. Additionally, they can streamline their accounts payable processes, by using the same mobile app. The mobile app provides the ability to receive blocked invoice push notification and prompt a proactive creation of a goods receipt with a few clicks.
As the engineering and construction industry is becoming more competitive, forward thinking organizations have started to adopt mobile solutions to stay intelligent, interconnected and integrated. This solution will help the real estate firm to build an effective platform to stay interconnected and streamline their approval processes for over 2500 employees.
The mobile technology has rapidly revolutionized the way we live, work, consume and process information. This disruptive technology has the potential to radically transform enterprises by introducing an element of employee behavioral change in their day-to-day life at work, said Sri Karthik, Senior Vice President, Sales and Marketing, Innovapptive Inc. With the Innovapptive mWorklist 2.0 mobile app, the real estate firm can empower their managers to process these approvals anywhere, anytime, introducing a higher level of efficiency and productivity company-wide.
The mWorklist 2.0 app is available on the SAP Store and a demo version of the app can be downloaded to view all the latest features and functionality. In the coming months Innovapptive is constantly expanding its mPower Apps suite by Industry to support several verticals and relevant line of businesses. The full list of apps to be released in the coming weeks and the details of our solution offering can be found on our website at www.innovapptive.com. For more information regarding Innovapptives SAP certified apps or custom app development services, please call 1 (713) 300-3762 or email Innovapptive directly at sales@innovapptive.com
About Innovapptive
Innovapptive is an SAP platform and SAP services partner that provides an array of enterprise mobility products and services from SAP. Innovapptive's products, the mPower App Suite, mPower App Store and the mPower Mobile Platform provides customers a comprehensive end-to-end enterprise mobility solution to instantly mobilize their enterprise. Innovapptive's mission is to innovate, transform and empower customers by helping them gain a competitive advantage through best in class & disruptive enterprise mobile solutions, professional services and a cost effective and flexible global delivery model. The team at Innovapptive brings a unique and unparalleled combination of SAP, Mobile and industry experience to transform and empower our customers. Innovapptive's customers are some of the world leading Global 2000 brands.
SAP and all SAP logos are trademarks or registered trademarks of SAP AG in Germany and in several other countries. All other product and service names mentioned are the trademarks of their respective companies.