Currently, most of the organizations are laying more focus on mobility, either from an employee perspective or from an organizational perspective. This entails integrating mobility into business operations to serve specific business processes or to drastically redefine their operational paradigms. From this standpoint, organizations are getting into the task of developing viable mobile strategies. One of the key aspects of successful implementation of an enterprise mobile strategy is to get into the basics and explore the right mobility solutions that perfectly aligns with your organizational goals. Whatever may be the objective – driving higher sales, improving internal processes or opening up new channels, every enterprise mobility application has to serve a specific purpose.
So, what are the key aspects you need to consider when embarking on enterprise mobile adoption? This blog throws some light on this aspect and helps you understand the key drivers to be considered for enterprise mobility to ensure optimum success.
Multiple Device and Mobile OS Support
Response Times and Speed
User Experience - Minimize the number of clicks
Cloud or On Premise
Native vs Web / Hybrid
Scalability
CAPEX vs OPEX (One-time Licensing vs Subscription)
Configurability without code
Security - Non intrusive and user friendly
Focus User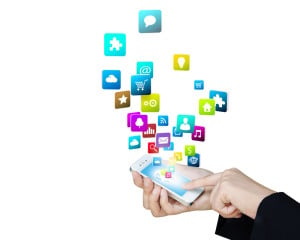 Multiple Device and Mobile OS Support
With a wide range of mobile devices such as smart phone, tablet, phablet of varied screen sizes and multiple operating systems (iOS, Android, Windows, etc), it imperative that a good mobile solution should be compatible enough to supporting the key platforms. However, considering the technological complexity and the cost factor, it would be prudent to target key operating systems and then gradually extend to multiple platforms and operating systems. So, decide, which mobile device or the operating system is compatible with your enterprise mobile solution to carry out tasks at the basic level and based on the users' feedback, extend it to other OS and devices.
Users may need to access a variety of apps from their mobiles and when it comes to specific ERP apps, these apps might need to integrate with the backend server to pull and send the data. Hence, the response time in mobile applications assumes significance, wherein the main focus is to optimize the experience to either provide user the data they want right away or somehow distract the user to hold their attention for a while. Considering that the present day mobile users are highly techno savvy, they expect results within a second. However, with heavy loads on server and mixed data response times, it becomes a challenge to achieve good response times and speed.
In the earlier days of computing, on premise applications were ruling the roost. Based on the number of users you want to support, the business processes that you intend to automate and the security parameters that you want to enforce, you can decide on which model best works for you. However, with rapid technological advancements and advent of cloud computing, organizations are slowly shifting their focus from on-premise to cloud based systems. One primary reason for this rapid change is the growing infrastructure and server maintenance costs for on premise systems, compared to cloud based systems, which are mostly, subscription based models, offering a number of benefits including enhanced data security and protection.
User Experience - Minimize the number of clicks
Compared to a desktop screen, mobile screens are much smaller in size and hence the way you design the interface for a desktop screen is different from a mobile screen. Since, a mobile application is meant to offer greater flexibility and convenience to users, it is pertinent that the mobile interface of an application is as simple as possible. Most of the complex features/workflows that are available on a desktop application including the number of clicks need to be minimized to offer a seamless user experience without affecting the productivity of users.
A native app is a smartphone application, developed specifically for a mobile android system. With a matured ecosystem, consistent with the technical and user experience guidelines, it provides a look and feel in sync with other native apps on the device.
On the other hand, hybrid applications are at the core, websites, packaged into a native wrapper and is built using HTML5 and JavaScript. This way most of the information on the page is loaded as the user navigates through the application, unlike the native application. Though, both these apps have their own pros and cons, you can decide which one best fits your mobile strategy or you can embark on a perfect balance of native vs. hybrid apps.
Scalability is one of the important factors one needs to consider when selecting the right mobile solution. An enterprise app should be scalable enough for the next couple of years, taking into consideration various parameters including supporting maximum number of users, back end enterprise applications, device diversity, new operating systems and frameworks.
CAPEX vs OPEX (One-time Licensing vs Subscription)
Planning and putting in place the right enterprise mobility solution's road map assumes significance in the wake of growing expectations from both your organization's users and customers. From this perspective, an organization need to ponder upon Capital Expenses (CAPEX) and Operational Expenses (OPEX) in the short and long terms.
CAPEX is one time licensing, which means you pay at the start, while OPEX is subscription based, implying you pay on the go and is dependent on the number of users your app can support and the specific time period you want to access. When you opt for CAPEX model, you need to consider various factors such as initial investment, recurring cost with respect to infrastructure, service provider expenses, AMC/support and upgrade cost.
Configurability without code
A good mobile solution should offer flexibility for high level customization, as a typical enterprise solution may not adequately address the requirements of a specific business function on account of diverse workflows, as applicable for each and every organization. Since customization might be a costly proposition, involving rapid code changes or hiring of skilled developers, most of the companies prefer to put customization at the back burner, thereby failing to leverage the complete potential of the mobile solution. A preferred alternative is configuration over customization, involving zero code changes, addressing the typical business requirements of an organization. Configuration could be as simple as adding new fields, modifying existing fields or even changing the business logic.
Security - non intrusive and user friendly
This is the most important aspect that need to be considered when embarking on the perfect mobile strategy due to rising incidents of data intrusion, malware or even hacking of accounts. Hence, organizations need to ensure that their mobility solution incorporates strong security controls to protect confidential corporate data and networks. While having a two or three layer security is preferable, however, the security controls should be more user friendly and non-intrusive – users should not be asked to retype passwords repeatedly. A single-sign on mechanism for most of the mobile apps is gaining ground, which is considered as one of the most preferred user-friendly security system.
The ultimate objective of any mobile app is how best it serves the user with respect to ease of usage, simple interface, good look and feel and most importantly how far it is adding value to the end user in terms of productivity gains and cost savings. Apart from that, one user-centric aspect that organizations need to consider is quick mobile adoption, considering the diverse tastes and usage patterns of its employees and customers.
Now that we had a brief overview of 10 key mobile drivers, it becomes imperative for an organization to invest in enterprise mobility solutions that satisfies all of these factors at a level required by its specific usage scenario.
To embark on the right mobile strategy and to choose the perfect mobile solution that your organization is looking for, keeping in mind the above factors, you need a reliable partner to guide and support you at every stage of your mobile strategy. Innovapptive is focused on enabling instant mobilization for global 2,000 customers by accelerating their time to market and value. Innovapptive helps customers achieve instant mobilization through its portfolio of mobile apps (77) leveraging SAP HANA Cloud Platform mobile services, which are capable of running on native operating systems and SAP Fiori® apps.
From a strategic perspective, Innovapptive can create a strategic plan for enhancing your organization's employee productivity and empower your employees & customers with new services. This way, it can help prepare your organization for long-term success with mobility. Apart from that, it's SAP Mobile Platform rapid deployment solution can be leveraged to set the foundation for the deployment of existing SAP mobile apps as well as a development landscape for the creation of new mobile applications.

If you would like a demo of Innovapptive's portfolio of Native or Web based mobile solutions, please click on the link. Alternatively, if you would like to discuss with an Innovapptive solution expert, you can reach out to us by emailing us at sales@innovapptive.com or you can reach a sales representative at (713) 275-1804.