While organizational leadership is always important, it is critical during a crisis. Crisis leadership often requires practices that differ markedly from those used in normal day-to-day leadership. Listed below are 10 key leadership practices we utilized during one of the world's largest crisis responses. While these 10 practices were highly effective during the crisis, we adopted many of these same practices in our post-crisis leadership and significantly improved organizational effectiveness.
"Ready, Fire, Aim, Recalibrate" – Time is the primary currency in a crisis! Make quick decisions and then establish a "crisis cadence" to review progress and recalibrate if needed. Timeboxing helps force quick decisions - we found that several major, multi-million-dollar decisions made in four hours were as robust as decisions that would have taken weeks in the "real world." The ability to quickly act and subsequently monitor and recalibrate actions was one of the most important factors in our success.
"Good is Good Enough" – During a crisis, an 80% solution deployed quickly and effectively is much more valuable than a 100% solution that takes days or weeks to develop. Ruthlessly minimize focus on exception conditions and early optimization. Time in a crisis has significant value; some sloppiness, overlapping responsibilities, and inefficiency should be tolerated to promote quicker action. A good way to encourage "good is good enough" thinking is to aggressively timebox decision making and execution.
"Inclusion and information transparency generate higher efficiency" – From the beginning, embrace inclusiveness and a culture of information transparency. Err on the side of oversharing data, even if it is initially difficult to do. We hosted a daily 60-person teleconference where we shared key information with all of our leaders; this was very difficult for two days while we normed. After that, our ability to quickly detect and react to changing events became a key enabler of our effective response. "Go slow to go fast."
"Be Clear and Ambitious" – Set clear, stretching expectations. We found despite setting very challenging goals, that they were often exceeded by large margins. The lesson: people will almost invariably rise to the level of expectation you give them! Clearly articulate priorities and constraints, and then let your people create and execute.
"Don't Reinvent the Wheel" – Reuse specialized resources, skills, and technologies as they emerge. For example, we used the same cadre of people to set up every one of our 20 crisis centers. Document processes so they can be used.
"Stay ½ step ahead of the customer" - The wording here is very intention: you need to stay in front of the crisis and your customers, but things change so quickly that a whole step may put you too far in front. Stay close to your customers (e.g. embed people with them) to anticipate their needs, and even closer as to not drift too far ahead.
"Play your position" - If you ever see children play soccer in a swarm around the ball, you see what often occurs in a crisis – too many people trying to do the same activities. To combat this, combine single-point accountability with lean staffing; it usually improves both efficiency and effectiveness.
"Success breeds success" - Recognize success frequently and visibly, as it often creates a virtuous performance improvement cycle (good work gets praise, praise encourages better work, this generates more praise, etc.) Be specific with your praise, as everyone craves to be recognized for what unique contributions they bring to the event. And publicly share compliments that comes from your clients, as it is often the most powerful praise!
"Put your boots on" - What this means is to go out into the crisis (within reason) to assess what is actually going on. What you hear from others often does not exactly mirror reality and could consequently impair your decision-making processes. This "leading from the front" will not only improve your decision making; it often significantly increases staff morale because they perceive "you are with them." Practice targeted recognition while visiting to really increase motivation.
"Boundarylessness pays big dividends" - Seamlessly leverage your entire service ecosystem to its fullest. Continuously and visibly advocate for a "No Boundaries" culture. Innovative ideas often originate in remote parts of your ecosystem.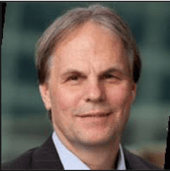 Mark Bouzek – is an accomplished global leader and board member dedicated to continually improving for-profit and not-for-profit organizational performance. He possesses a wide range of strategic, operational, technology and cybersecurity experience, including leading several $500 million+ organizations, helping start multiple internet businesses and serving on numerous for-profit and not-for-profit boards. Mark is currently a partner at Social Ventures Partners, where he works with not-for-profit organizations on strategy, optimization and coaching. Previously, as BP's Upstream CIO, Mark developed and implemented a global IT strategy, governance structure and operating model for 15 previously fragmented and diverse regions. Prior, Mark was Royal Dutch Shell's CIO Manufacturing, Supply and Distribution. He developed and implemented a $550 million global business unit which integrated 10 in independent operating companies.