"Headquartered in Texas, USA, Innovapptive was named as the Top 20 most promising SAP Solution Providers by CIOReview."
Leading industry analyst predictions over the last few years has now become a reality. The demand for mobile business solutions for enterprise is on the surge, as enterprises are constantly pressurized to reduce cost and find efficient ways to do more with less. Forward looking companies are turning to mobile technologies and User Experience (UX) transformation products to improve employee productivity, increase sales revenues, and eliminate redundant paper based processes – All in a pursuit to find new ways to perform real-time transactional business processing or decision making by accessing information anywhere, anytime. This surge in demand to work efficiently at a lower cost per employee is raising challenges to IT to find innovative ways to instantly mobilize this demand.
Innovapptive founded in the year 2012, is a fast growing enterprise mobile and user experience (UX) Solution Company and is an industry leader among rapid mobile application development (RMAD) solution providers. Its Rapid App Configurator Engine (RACE) technology redefines traditional approaches to digitize the enterprise and is empowering organizations to rapidly deliver ready to run mobile apps across lines of business and industry verticals. Innovapptive's portfolio of over 100 mobile solutions run across a wide array of devices and systems and is creating a connected enterprise across employees, customers and suppliers.
Innovapptive products, at a glance
Mobile Supply Chain – Innovapptive's mPower supply chain apps can be deployed on the cloud or on premise to rapidly mobilize and empower supply chain employees and managers.
Employees can request for goods/services, perform transactions in goods receipts/service entry sheets, track inventory movement and view stock overview and requirements list. Increase supplier collaboration and improve relationships by empowering them to view invoice payment status, inventory levels, demand, forecasts and perform order collaboration through a few clicks on a mobile device.
Mobile Human Resources – Innovapptive's mPower HR apps can be deployed on the cloud or on premise to rapidly mobilize and empower employees and managers. The apps are tightly integrated with SAP HR modules and the Company's mobile apps leverage the mobile native capabilities such as geo-coding, camera and bar coding capabilities to further automate sales force.
Mobile Sales – Generate more sales and get paid faster with the mPower Sales mobile apps integrated with SAP ERP and SAP CRM. These Smartphone and tablet apps give the sales team all the information they need to close a sale at a customer site. Quotes, orders, and payments are automatically linked to the backend SAP ERP system. Customers get real-time information from the field, while replacing paper forms and reducing the need for multi-step order processing.
Mobile Field Services – Leading the market needs continuous innovative ideas to gain customer satisfaction and retain existing customer base. Equipping field technicians with mobile apps that can view, execute and confirm customer services is the order of the day. mPowerTM apps suite from Innovapptive helps to efficiently organize, plan and dispatch resources in the field – creating a consistent customer service and expectations. Mobile apps from Innovapptive helps to integrate all field service processes, right from service planning and routing to order execution and billing.
Why Innovapptive for your SAP Mobile Initiatives?
Innovapptive's proven SAP mobile solutions for some of the world's largest Global 2000 companies is a testament of its capability of creating a compelling and powerful partnership with enterprises to achieve rapid mobilization. The team at Innovapptive brings a unique blend of SAP mobile products, business process acumen, SAP consulting experiences, and mobile technology experts to help organizations accelerate mobile journey.
The Committed to providing exceptional and cost effective SAP mobile products and services to customers to meet their strategic vision and goals around mobilizing their enterprise has cemented Innovapptive's position as a dominant global leader within the SAP mobility space.
Innovapptive's key differentiators
The Company leverages best-in-class people, processes and technology to ensure service delivery par excellence, they focus 100% on enterprise mobility, ensuring they deliver unparalleled value to customers, with numerous implementations under the Company's belt, it is able to deploy solutions in days without compromising on quality and with proven global delivery capabilities, Innovapptive has successfully implemented mobile solutions across various continents setting them apart from their other competitors.
Client speaks
"Innovapptive has provided the highest degree of flexibility, scalability and service orientation to enable us to meet the strategic goals for some of our largest mobile initiatives. We believe that Innovapptive has the advantage of deep domain expertise and provides the industry's best ROI for Enterprise mobile solutions" – Technology Director, Fortune 500 CPG Company
Know the Key Executive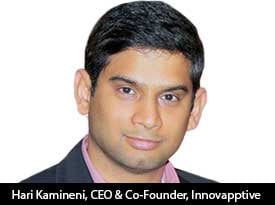 Hari Kamineni, CEO and Co-Founder – Hari has been at the fore-front of innovation and the core foundation of Innovapptive's product and innovation strategy. He brings extensive leadership and management experience to Innovapptive, with over 15 years of technology expertise in SAP solutions. Prior to founding Innovapptive, he was at IBM as a Senior Leader having managed several large global SAP business transformation projects and actively involved in customer sales pursuits. Hari has received multiple awards for Service Excellence and Outstanding Technology Achievement throughout his career. He has played a pivotal role in several of Innovapptive's strategic partnerships and winning several awards such as the SAP Pinnacle Awards and SAP Mobile Apps challenges.
"We believe that our customer centric approach and passion for excellence with lower cost delivery and operations are what differentiates us from our competitors."
Please visit here for more information : http://thesiliconreview.com/magazines/delivering-cloud-based-pre-packaged-mobile-business-solutions-for-enterprises-to-accelerate-their-mobile-investments-time-to-market-and-value-innovapptive/
If you would like a demo of Innovapptive's mobile solutions, please click on the link.

Alternatively, if you would like to discuss with an Innovapptive solution expert, you can reach out to us by emailing us at sales@innovapptive.com or you can reach a sales representative at (713) 275-1804.