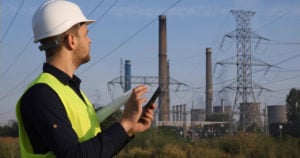 Mobility-Enabled Utilities Deliver Sustainable Energy with Higher ROI and Productivity
Today's utility industry aims to deliver customers sustainable energy safely and productively. The industry is highly asset-intensive, with assets spread across large geographical areas with limited or no network connectivity, in many cases. As these services are crucial, is it imperative to keep assets smoothly running; when a failure occurs, services need to be restored as quickly as possible. A few operational and technical challenges the Utility industry encounters include:
Maintenance of geographically dispersed assets is labor-intensive
Error-prone, manual data capture and transmission
Lack of field automation and decision-making for field service employees
Lack of real-time information that restricts quick decision-making
Meet environmental & regulatory requirements
To fully optimize outcomes, the utility industry should reimagine their business processes and use of digital technology.
As demand for utility services increases daily, competition also increases. To remain competitive, companies should embrace cutting-edge technology that will allow them to maintain their assets effectively while inspection and repair processes are completed digitally instead heavily paper-based. Moving towards digital will help utility companies improve service delivery and respond more quickly and effectively to customers, regulators, and stakeholders.
Mobility is no longer a buzzword to describe phones or communications; it has become a mainstream modern business strategy which cannot be overlooked. In cases where employees are working in the field and need to capture data on the go for reporting and analysis, mobility can greatly help.
Utility companies that have already taken the mobility plunge are seeing fantastic results:
• Businesses are running better by helping to increase employee productivity and operational efficiency.
• Grow the business and revenues by helping to improve customer satisfaction.
• Enabling the workforce to access the business information flexibly, remotely, efficiently without the need to carry paper-based documents.
• Delivering easy UI that reduces training costs, user errors and increase ROI.
With mobility, you can revolutionize your utility business by maximizing workforce productivity and achieving higher operational efficiency and, with the RIGHT mobile solution, your company will stand apart from conventional ones.
Before you jump on the bandwagon to incorporate mobile solutions for maintaining your plant, it's important to make sure that the mobile solution chosen has all the necessary features. Today's employees expect mobile applications to be as intuitive and easy to use as leading mobile applications for smartphones and tablets. Your chosen mobile solution should have the ability to work in offline mode to accommodate areas where there is limited or no connectivity and, when connectivity is restored, the data should sync up automatically with company's centralized systems. This will save employees from rework and enable them to work faster and smarter. Another key attribute your mobile solution should offer is voice-enabled, or speech recognition, capabilities which allows hands-free capabilities such as voice input, provides route direction, and data validations and more on the fly.
Drive greater efficiencies from your field operations, improve responsiveness in the field and office, enhance the safety of your field crews and contractors, and provide consistently higher levels of customer service.
Innovapptive's mWorkOrder enables plant technicians/maintenance workers to work safer, more productively, and independently, providing an intuitive user experience and provides them anytime, anywhere access to the information they need to do their jobs efficiently and effectively. With both online and offline access, mWorkOrder ensures delivery of mission-critical support of assets without interruptions or delays, leading to better performance and reliability across plants, fleets, networks, and the enterprise infrastructure. It helps users manage priorities in real time, as well as avoid any potential equipment failure, unexpected downtime issues, and/or safety and environmental risks. mWorkOrder helps utility companies give their employees more secure mobile access to the information and they need most helps drive agility, improve productivity and sharpen a company's competitive edge.
If you would like a demo of Innovapptive's mWorkOrder, please click on the link.

Alternatively, if you would like to discuss with an Innovapptive Solution Expert, you can reach out to us by emailing us at sales@innovapptive.com or speak with a sales representative at (713) 275-1804.