More and more asset-intensive companies realize that implementing a connected worker solution that mobilizes workforces is a solid path to more efficient plant maintenance and warehouse management. When searching for a solution, many organizations solicit inputs from operations and finance. This practice is always a good idea. However, these same companies often forget to include the IT team in the early stages of their search. Overlooking IT isn't a good idea.
What Your IT Team Wants You to Remember When Searching for a Connected Worker Solution
Today, we're going to look at five things important to your IT department and why you need to bear them in mind during a connected worker solution search.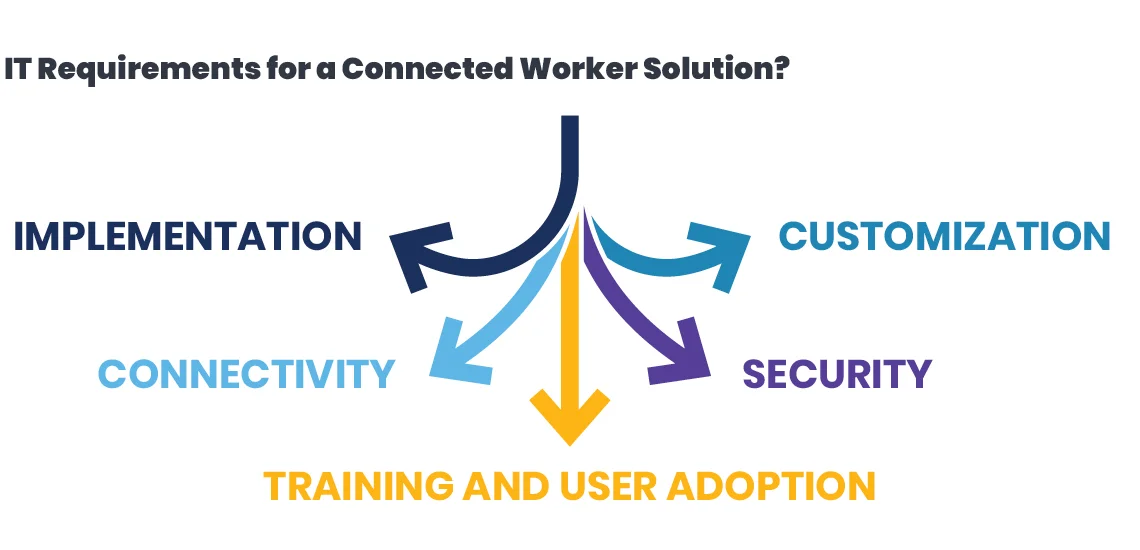 Can you design some sort of nice chart that shows these five items below – Implementation, Connectivity, Training and User Adoption, Security, Customization and entitle it IT Requirements for a Connected Worker Solution? Make it as fancy as you want because will be using this again in the future.
Implementation – Generally, implementing a mobile application that features all the rich functionalities of SAP or IBM Maximo requires integration with business units across your organization, including finance, sales, customer service, human resources, etc. This process can take several months. If you don't consider the prerequisites for setting up the mobile application, your IT team may end up wasting time on complex configurations.
Look for an out-of-the-box solution that eliminates complex installations and enables rapid implementation. A best-in-class mobile connected worker solution should integrate smoothly with your existing back-office system like SAP or IBM Maximo within weeks, giving its power to everyone. Integration will eliminate the burden on your IT team, allowing them to focus on other things.
Connectivity – Where do your frontline workers perform their jobs? Maybe they're in the middle of the Pacific Ocean or driving across the Sahara. What good is network connectivity if you don't have it at your remote facilities?
Connectivity is one of the biggest bottlenecks preventing enterprises from adopting mobile solutions in their frontline operations. Establishing strong Wi-Fi networks in inaccessible, remote locations is not always a viable solution considering the effort, investment, and ROI calculations. Though your facility has good internet connectivity, your IT teams should ensure the existing network handles the influx of new gadgets operating advanced, high-end applications.
If an application can't run due to a poor connection, then you're not getting the ROI needed to justify the expenditure. There's no point in taking pains to implement such a weak platform. To make life easier for your IT team, you should find a connected worker solution with offline capability.
Training and user adoption – Just because it is a mobile application, don't assume a connected worker solution is like something downloaded from the App Store - no training is required to use it. A connected worker solution integrates with SAP and IBM Maximo; an untrained tech might face difficulty using it.
If the solution features complex workflows, your not-so-techie frontline workers might not be able to use it to the fullest. Your IT teams must put aside important projects to design a training curriculum for workers. So, a solution should feature a simple and clean UI that eliminates jargon and complex workflows. Such a user experience will encourage frontline workers to shift from conventional practices and embrace digital transformation.
Security – Verizon's Mobile Security Index reported that 94 percent of manufacturing companies surveyed revealed that they should pay more attention to mobile device security. The influx of smart, advanced mobile devices running applications connected to the SAP is a tough challenge for IT teams.
With this in mind, choose a connected worker solution that is secure in the highest sense of the word. The platform should feature enterprise-grade security features such as single sign-on, face ID, Touch ID, etc.
Customization – Business processes and workflows often change. The problem with most connected worker solutions is IT personnel have to make changes to the software code to reflect those process changes and enable workers to access updated workflows. Pressed for time, your IT teams become overstretched. This situation reduces their efficiency and may lead to application failures.
No-code/low-code connected worker solutions allow IT teams to configure and customize applications within minutes. This capability facilitates mobilizing workforces, which translates to increased efficiency and higher productivity for your business.
Start Your Connected Worker Solution Search Here
Innovapptive offers a best-in-class, no-code/low-code mobile connected worker solution that is highly customizable to meet all your business requirements. It is also scalable to grow as your company grows and seamlessly integrates with legacy systems. The platform is built on a patented, proprietary technology called RACE™ (Rapid Application Configuration Engine) that empowers your IT teams to manage evolving business needs.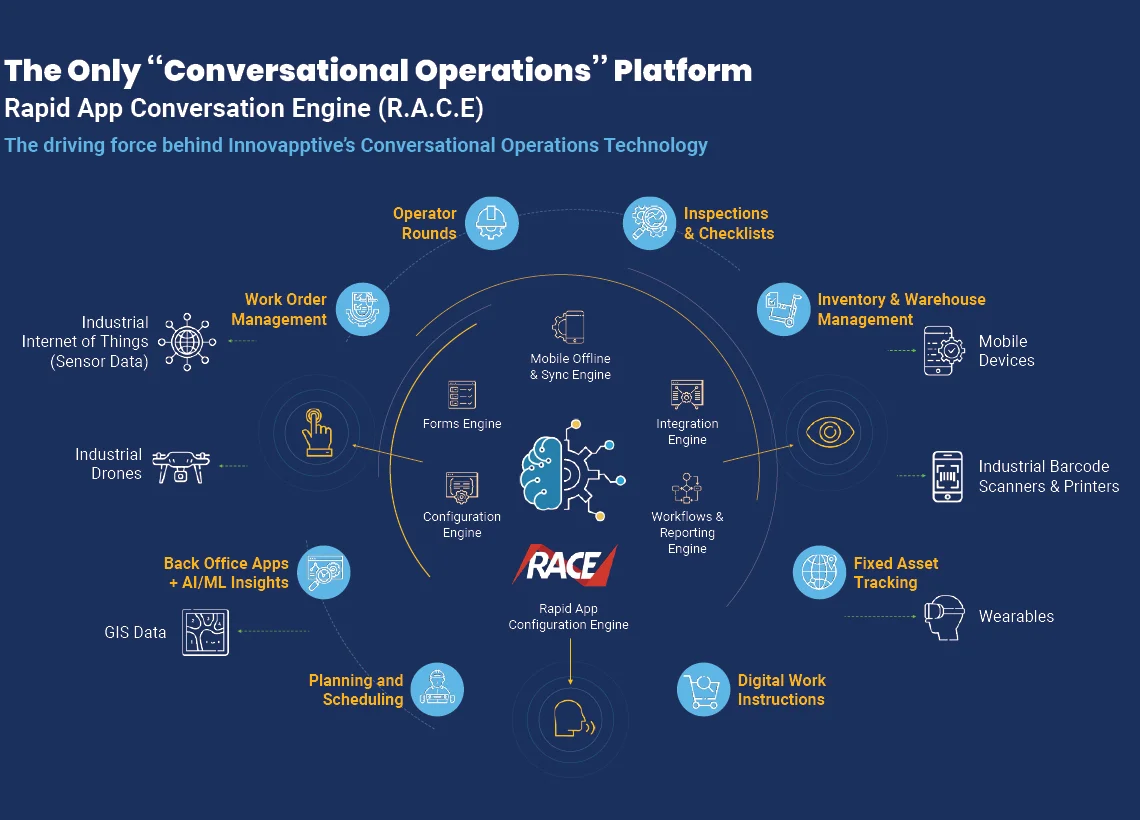 View a short, informative video, then request a live demo. Have a question? Talk to our connected worker solution experts by calling 1-844-464-6668.