"Digital Transformation" is a new buzz word that is doing rounds in the corporate circles. But, what is a digital transformation in the first place? It can be perceived as the transformation that is related to the application of digital technology in all realms of human society. Digital transformation enables new forms of innovation in the way we communicate, work and execute our day to day tasks, be it personal or in our professional lives. In simple parlance, digital transformation is automating the manual processes – digitizing every process and measuring the value.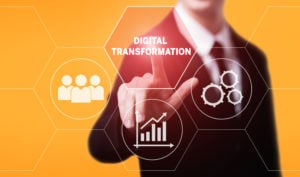 Catching up with the current trends of digitization, every company, either, big, small or medium want to jump into the bandwagon of digitally transforming their enterprises. That's a good idea, considering that it comes with a lot of takeaways concerning improving an organization's operational efficiencies, generating revenue and above all improving the brand value of an organization. All this poses a rosy picture, but how can you design a digital transformation strategy for your organization? That's what this blog attempts to explore at its basic level and provides some right pointers in this direction.
Starting with design thinking
The September issue of the Harvard Business Review (HBR) features a cover story on design thinking, which has been applied in many successful global companies for the past few years that witnessed the growth of this human-centered approach to innovation in the first place.
According to HBR, design thinking is the best tool that can be applied for developing a responsive and flexible organizational culture. In other words, it is about organizations doing more to learn about their customers by directly interacting with them. It's gauging the customers' psychology and what they expect from an organization.
By leveraging technology, it is becoming easier to gauge the psyche of the customers, which means businesses can make accurate predictions about their customers' needs in the future. An organization that can access and extract insights from this enormous volume of customers' data is the perfect winner that helps in devising a perfect strategy for innovation. There needs to have a fundamental change in the organizations' strategies, necessitating a digital transformation.
Role of design thinking and how it digitally transforms an enterprise
When we talk about design thinking, it starts with the customer, which is the central entity of this transformation and later applying the design thinking for the entire organization by integrating all the core parameters – business, technology, and human values. This integration brews innovation. Organizations are already on its path to introduce design thinking – but the need of the hour is to replicate the same in technology.
Hence, design thinking is considered to be a major component or a starter to design digital transformation, because it revolves around the customers' perspectives. This means openly advocating what the end customers' experiences would be. The major aspect of design thinking is to focus on all aspects of the business to comprehend and articulate that future experience. To articulate such a future experience, we need to use the customers' data as the reference, which is the driving force for decision making, avoiding any guesswork. It is in this context that data analytics play a major role that needs to be built with appropriate platforms and tools to gauge the right customer experiences and consumer patterns.
Once the customer's data from such experiences collates, the insights that an organization gains from such consumer experiences should be instilled into the business. This way, an organization should be able to answer some of the crucial questions about the customer experience. What does this future customer experience can mean? What are the current obstacles and how can they be overcome? Are there any organizational barriers or should we redefine our structure? Should our current processes need rejuvenation or should we transform? If so, how can we go about it and what type of technology should we incorporate?
In most cases, we can learn from real-world behavior by looking at uses of existing services. Let data drive decision-making, not hunches or guesswork. Keep doing this after making your service live, prototyping, and testing with users and iterating in response. Analytics should be built-in, always on and easy to read. They're an essential tool.
The next step is to assess the roles within itself carefully. What does this knowledge of the customers' experiences mean for an individual in operations or support? These roles can are seen as end-user experiences unto themselves, which means organizations can apply design thinking to comprehend the requirements, which are required for these roles. This way, organizations will have an opportunity to modify the roles to ensure that they satisfy their customers' future needs. The focus is to understand what customers expect, thereby adopting a customer-centric approach, rather than an organizational centric approach. This is what drives the change.
Design thinking is becoming crucial for IT organizations
The IT industry is particularly responsive to business, leveraging technology to the fullest extent to solve the problems that the industry faces. Simulating the situation of a shop for an IT, the front office is focused on improving the business, where consumers directly interact with products and services. But the perception is that IT focuses on the back office to ensure, whether all infrastructure is in place including servers and the distribution systems. The crux is to provide that business and IT are in perfect sync to meet the requirements of the front office together.
It needs to be stressed here that an organization which accesses this large consumer data and is able to learn from the data, is the winner. IT organizations are at an advantage when it comes to obtaining and analyzing the data – but our perception should change if we want to stand out in the crowd to proactively craft a winning strategy. The emphasis is more to become the front office, rather than back office to drive home the point that we are innovation partners in technology. In other words, design thinking approach is the best approach to connect with your business today.
We in IT should set an example that we care about the customers' preferences and are responsive towards customers' preferences and align that knowledge and leverage the technology to solve customer issues. When front office and back office come together and are in perfect sync – it can generate solutions that a company could otherwise not have produced.
Let's breakdown the challenges:
1. Comprehend the actual needs of the business
Comprehending the real needs of the business is the order of the day, which implies learning more about the experience and the requirements of the end customer, thereby translating that information into meaningful technical solutions.
2. Get into more strategic discussions of the business
We need to take an opportunity during regular meetings or discussions with business and consider it a chance to get into the crux of what the end customer needs and the technical solutions that the business might not know or how to implement. The IT industry may not be used for this type of scenario or operating in such a fashion. But, if we do not adopt the path of strategic thinking or ponder on the future path/course of action, we might be at risk of losing out on innovation or not considered as innovation partners of the business.
Hence, the need of the hour is to rightly collaborate with business, comprehend the strategic direction and highlight the technical challenges and opportunities. This way, IT can emerge as a hybrid enterprise, which means it can sustain the back office while taking advantage of the front office's growing technical requirements. Hence, we need to devise and highlight solutions that could otherwise have been missed, thus embarking on a new path of digital transformation.

If you would like a demo of Innovapptive's portfolio of Native or Web-based mobile solutions, please click on the link. Alternatively, if you would like to discuss with an Innovapptive Solution Expert, you can reach out to us by emailing us at sales@innovapptive.com or via phone at (713) 275-1804.