The next instalment of the Hackathon series – Hackathon 2.0 was successfully conducted on February 19th and 20th at our Innovapptive Global Delivery Center (GDC) in Hyderabad, India. The event brought under its fold a slew of innovations, laced with lot of fun and enthusiasm. There was palpable excitement all over – chuckles and giggles – all with a sure shot aim to win that coveted Hackathon award that was really enticing!
The first instalment of Hackathon (Hackathon 1.0) was successfully conducted from July 5th to July 7th, 2015 with enthusiastic all round participation, raising the creativity barometer to new heights. However, this time, the event was more fun filled and exciting – greater participation from all departments, more number of teams and above all the mind-blowing challenges that were thrown upon.
As a precursor to the event, there was an all-hands meeting by the leadership team, who gave a brief introduction to the event, highlighting the key events/activities of Hackathon 2.0. They further underlined the purpose of having such an event on a large scale that aims to unleash the technical prowess of each and every individual to come out with out of box solutions for the enlisted challenges.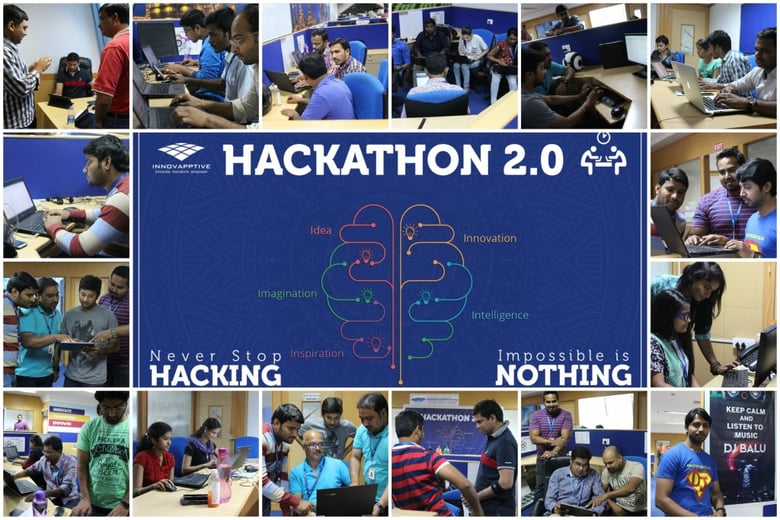 With all set, the event commenced with a great bang – there were a total of 10 teams with 90 members across products & innovations, professional services, sales & marketing, HR & operations. Each team was given a topic to help them build the application or enhance/create new features for the existing products that was quite intriguing, challenging and exciting. Each team was encouraged to follow the best software practices, right from the initiation phase to the testing phase with focus on incorporating the Sprints and Scrum methodology in their respective software development life cycles. Typical roles within a team included project manager, functional lead, developer and tester.
In fact, the focus of Hackathon 2.0 (as also with the earlier Hackathon 1.0) was not just about how best they could build their products or come out with latest innovations, but how well they were able to promote their innovations at the event that adds value to the end users. Having said that, every team had put their best foot forward to come out with excellent presentations, adding an extra flavor to those wonderful innovations – a new breed of technopreneurs in the making!
Some of the typical challenges that were thrown open at this event included developing a mobile app (as part of mSales suite) that integrates with SalesForce.com, enhance mWorkOrder app to display the user a route plant, enhancements for RACE and analytics app for sales & CRM areas. All teams had put down their best of coding, functional and analytical skills to the fore within the set time frame – 33 hours with 2,640 person hours spent towards the demo version release.
To add spice to this endearing engagement, there were a lot of fun events such as mimicry shows, comedy shows, musical and dance events. Added to that is the unlimited servings of caffeine, breakfast, lunch and dinner to satiate our hacker's taste buds. Overall, it was an awesome experience – integrating fun with work to recreate the magic.
The event came to an end on February 20th around 10.30 P.M with each team given an opportunity to showcase their innovation before a panel of judges, who comprised a group of experts in their respective domains, occupying top positions in the management. Though every team presented wonderfully, however, it was quite challenging for the leadership team to select the best out of the best.
With fingers crossed, the results were ultimately announced on 4th of March by Mr. Satish Avasarala, Senior Vice-President, Products & Innovation, amidst lot of cheers and excitement. The winning team got a big applause, apart from getting a cash reward of Rs. 50,000 and certificate of appreciation for each member. This is followed by the announcement of the runner-up team; and presentation of surprise gifts and appreciation certificates for select members, who had displayed exceptional performance within their respective teams, which is quite an encouragement for budding ideas and creative thoughts. Some of the key parameters, which had played a decisive role in selecting the winning team as well as the runner ups were innovation, team work, compliance of scope requirements and presentation skills. Last, but not the least, Mr. Satish Avasarala presented participation certificates for all members, who had actively participated in this event, while thanking everyone for making this event a grand success. Thus, the event concluded on a positive note - setting the pace for the next instalment of Hackathon (Hackathon 3.0), that is bound to be showcased on a much greater scale.