One of the major challenges faced by enterprises is the timely approval of key processes that have an impact on their business operations. For a large or a medium sized enterprise consisting of a couple of departments, there could be defined hierarchical workflows, which entitles any executive working in a department to seek physical approvals from all his line managers that could be a cumbersome process. In some instances, if the line manager who is entitled to authorize a particular transaction is absent or unavailable, the approval process gets delayed further, effecting critical or inter-related activities amounting to huge losses to the organization. This demands automation in approvals workflow to mitigate the above scenarios.
In other words, the inability of your work force to make real time decisions creates an inefficient process and lowers the adoption rate of your expensive investments in an ERP and SAP system. Employees always tend to find the least resistance path to get their job done, which then creates a breakdown in standard processes. To mitigate these problems, enterprises must look to empower their workforce to carry out their work anywhere, anytime.
Key challenges of manual approvals
Slow approval process, delayed delivery of goods and late invoice payments
Missed early payment discounts and incomplete invoice management transparency
Lack of knowledge of current approval status of a document or a start-to-finish approval process history.
Non-uniform document approval processes
Missing compliance requirements or non-compliances due to inordinate delays.
Considering the above pain points and challenges encountered by organizations due to manual processes, it becomes prudent for any organization to automate approval workflow processes for a slew of benefits.
Key reasons to automate approval workflows
Streamlines recurring business processes
One of the major advantages of approval process automation is the streamlined business activities, particularly repeatable business activities that pertains to document management and delivery. This implies simple workgroup tasks to complete enterprise-wide processes, thereby enabling organizations to standardize and streamline people-based activities and track their progress. This way, you can avoid errors due to repeated processes, establish simplified business practices and help your organization accrue significant gains in productivity and operational efficiency.
Minimizes costs and offers a rapid RoI
Automation helps organizations to achieve a substantial return on investment (RoI) by offering rapidly deployable process automation tools, eliminating time-consuming and costly manual routines. Apart from that, they integrate human resources with information and processes they need to drive revenue and cut costs. This increases the productivity of current IT investments to deliver a high and measurable ROI.
Enforces accountability and compliancy
Automation helps enforce accountability and improves timely compliances by automating, standardizing and tracking core business processes, helping organizations to perfectly know what tasks need to be attended on a priority basis. Apart from that, it also helps organizations to manage information access to safeguard information security and privacy.
Optimizes time and helps in quick decision making process
Once your organization's workflow is configured, tasks are automatically assigned and delivered to the members within your team including email notifications about the tasks that need to be accomplished. This way managers cannot miss key approvals, even if they are on a vacation, which means optimizing time, resources and helping in quick decision making process.
Helps in maintaining cordial relationships with customers and suppliers
Having an effective workflow system helps an organization to obtain timely approvals with respect to purchasing new material from vendors, offering support to external customers or even expediting timely deliverables to your customers. All this translates to mutual trust and confidence reposed in your organization from all the key stakeholders, which is a key performance metric for your organizational efficiency.
Instant and accurate information access across various departments of an organization
When there is an inefficient workflow solution, often people in one department fails to easily access key information from a different department or application. This is a sheer waste of time and resources. With an automated workflow solution, you can easily access data and streamline information processing, thereby helping key users to expedite approvals at any point of time. Apart from that, it enables incorporation of access rules to control and track data access for any given process.
Mobile Universal Approvals Solution Overview
The next big leap in automation is the increased usage of mobile solutions for securing approvals – the added advantage being accessibility of core data anytime, anywhere, without the need to constantly being attached to desktops or laptops. Though there are quite a number of players in the market offering innovative solutions in this spectrum, Innovapptive, a premier SAP partner has come out with a cutting edge universal approvals solution – mWorklist that transforms and redefines the way approvals are processed and expedited. The solution is designed to support the existing SAP users, who could be executives, managers or departmental heads, engaged in process approvals as per their departmental hierarchy.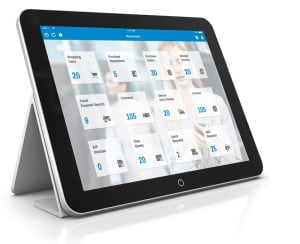 mWorklist tightly integrates with your SAP system, automating the approval workflows of various departments within your organization, thereby offering a robust and a comprehensive approval management experience across a wide range of industries. Take for instance a production department in an organization that could have hundreds of processes such as purchasing raw materials, raising invoices, supplying the goods to its customers, attending to leave requests of employees and so on. Based on a requisition raised by an executive within that department for accomplishing a specific work order, that request has to be routed to his immediate superiors for approval as per the defined departmental hierarchy and subsequently reach the production manager for final approval. Manually, this approval process may take several days, and even might be lost in the transit; but with mWorklist the entire process can be automated, with approvals just a click away – anytime, anywhere, even when his managers are physically absent in their office.
Using mWorklist, you can a process a series of transactions involving timely approvals related to purchase orders, expense reports, time sheets, contracts, shopping carts and much more from the comfort of your mobile, anywhere, anytime. mWorklist lets you access the master and transactional data of the various modules (Inventory, HR, etc.) of the SAP server and pulls the transactions that needs approval to enable you to subsequently process such requests. This solution also provides the flexibility to forward (delegate) the requisitions from your Inbox to any of your peer managers, in case you are on a vacation. With mWorklist, you can ensure real-time transaction approval processing, data accuracy and improved mobility and convenience.
Key Value Drivers
Faster transaction processing
Reduced cycle time for approvals
Increased customer satisfaction
Improved operational efficiency
Key Features
Drive pro-active decision making, enhance mobile adoption and engage your employees.
Badges indicate that a new work-item is waiting. Get informed on your pending items on the home screen.
Simultaneously approve or reject all requisitions with a single click.
Integrated substitution functionality to delegate Inbox when you are on a vacation.
Easily rearrange, hide and show your work-items based on priority and usage.
Execute your Inbox even when you're out of network coverage and sync once you're back in coverage.
Generic Framework Container
Configure and integrate any customer workflow and work item that is not available in the apps standard approvals.
Business Processes Automation
Automate business processes such as blocked invoices by creating a goods receipt or service entry sheet with a few clicks.
Integrate your SAP BPM processes and run them anywhere, anytime.

If you would like a demo of Innovapptive's portfolio of Native or Web based mobile solutions, please click on the link. Alternatively, if you would like to discuss with an Innovapptive solution expert, you can reach out to us by emailing us at sales@innovapptive.com or you can reach a sales representative at (713) 275-1804.