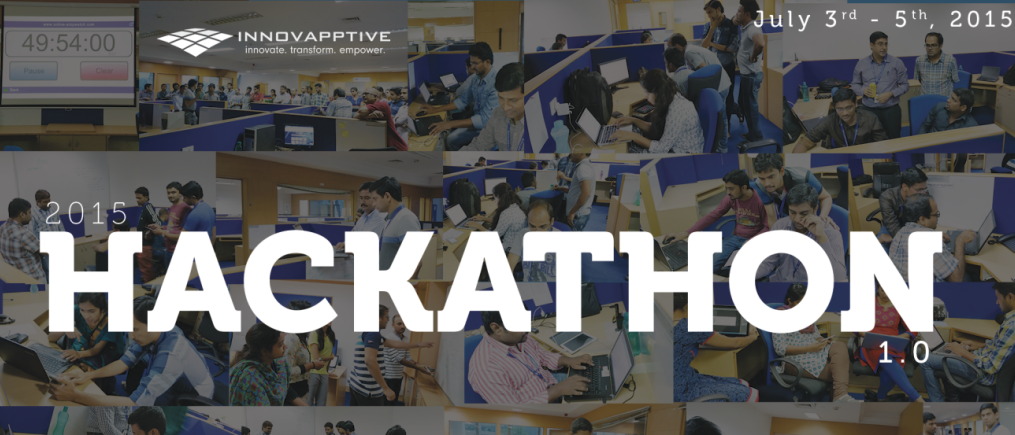 The Innovapptive Hackathon series is off to a great start with the successful completion of Hackathon 1.0 and the participating teams have set the bar very high. We just completed a fantastic weekend of hacking at our Global Delivery Center (GDC) in Hyderabad, India. We received tremendous participation from the entire team and we coded and hung out for 48 hours an our techno-geeks were able to show their prowess to solve the challenges laid out before them. We had a spectacular wrap-up party and awards ceremony on Sunday, July 5th.
Simply stated, Hackathon 1.0 was a creative problem solving event with a confluence of great minds who shared great ideas and came out with great solutions! Solutions that could transform and recreate a new experience to users, while providing a unique knowledge sharing experience.
Format and Team Challenges in Hackathon 1.0
We committed to running a fantastic, transparent hackathon. It provided a great opportunity to young techno geeks to think beyond their mundane coding and other functional jobs – push their boundaries to think out of box and do much more than they have ever imagined.
Overall there were 6 challenge teams with each team comprising of 6 or more members. Each team has been given a topic to help them build the application/product, right from initiation phase to testing phase with focus on imbibing the Sprints and Scrum methodology in their respective software development life cycles. Typical roles within a team included project manager, functional lead, developer and tester.
Though this event was focused to bring out the best talent amongst the software team, it was however open to all associates of Innovapptive, providing an opportunity to prove their mettle within their realms of expertise. Hence, associates across cross functional groups including sales, marketing and support were encouraged to participate in large numbers to drive home the point that every individual has a role to play irrespective of his/her background.
In fact, the focus of Hackathon 1.0 was not just about how best a team builds their application, but how well they were able to promote and present their product at the event that adds value to the end users and customers. Having said that, it was heartening to note that several associates within the sales, marketing and other domains have participated in large numbers, showcasing their unique expertise to add that extra flavor to help their respective teams to present their best.
The challenges that were thrown open at the event included laying the foundation for next generation of Innovapptive's Rapid Mobile App Configuration (RMAC), adding new functionality to the mInventory - Mobile Inventory and Warehouse management solution and accelerated UI and analytics on SAPUI5. The event kick started on July 3rd with each team organizing a series of brain storming sessions and chalking out schedules to meet the deadlines. It sounded like a perfect sync of roles, responsibilities, time management, presentation skills and above all the grit and determination to make a successful Hackathon team.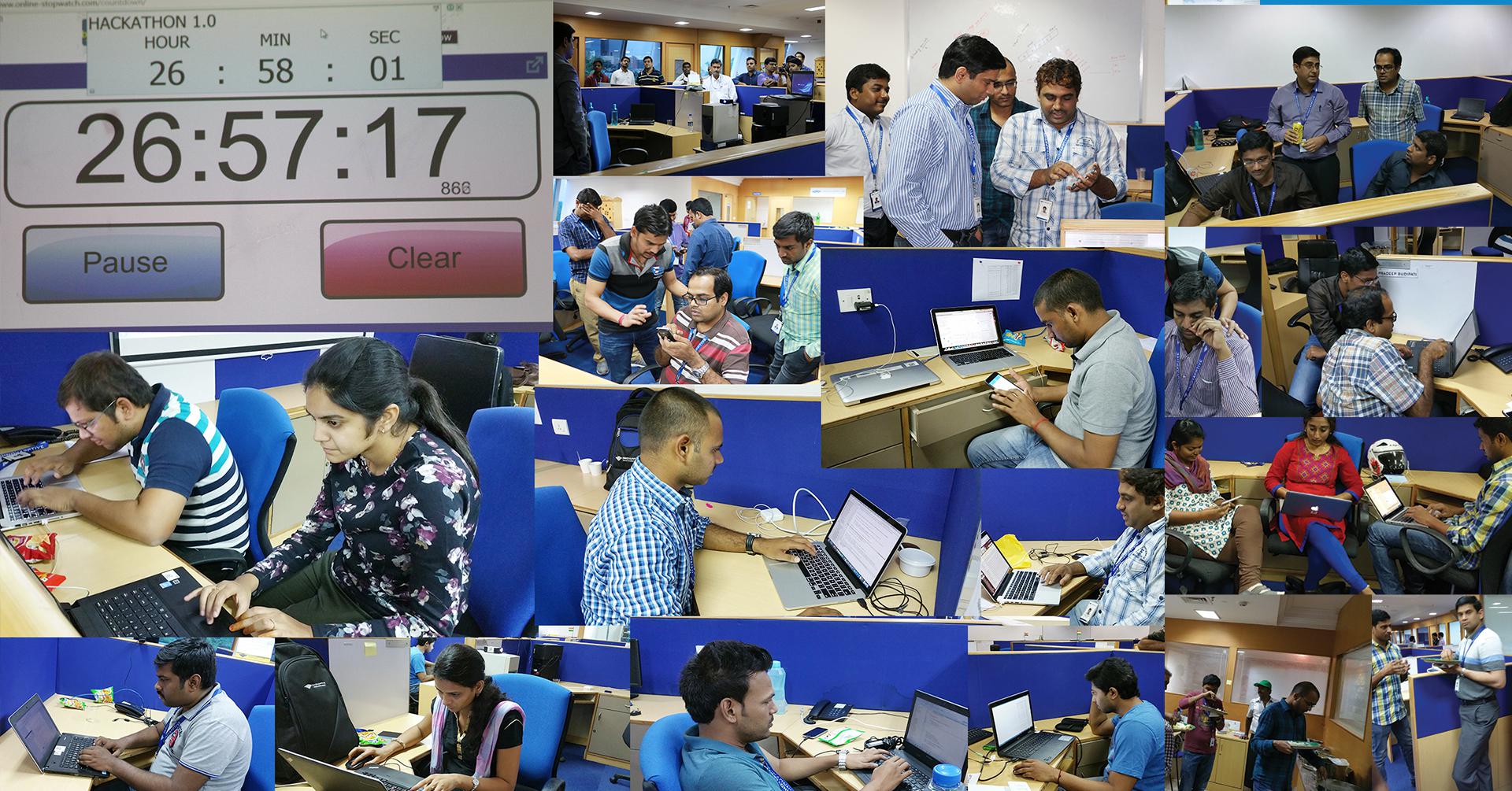 Hackathon 1.0 was a lot of fun !!!
To spice up the event further and make it livelier, there were lot of fun activities such as mimicry shows, comedy shows, musical and dance events. Added to that was the unlimited supply of caffeine, breakfast, lunch and dinner to satiate our hacker's taste buds. It was an overwhelming experience like never before – combining fun with work.
The event came to an end on July 5th around 4.00 P.M with each team given an opportunity to showcase their innovation before a panel of judges, who comprised a group of experts in their respective domains, occupying top positions in the management. Every team has really put in the best efforts to come out with their unique solution, making it tough for judges to decide the best winner. There were certain parameters fixed to decide the winning team as well as the runner ups - innovation, team work, compliance of scope requirements and presentation skills. There was a total cash prize of Rs. 1,00,000/- at stake.
With fingers crossed, the best team (Next Gen RMAC) was ultimately selected as victors, walking away as winners of Hackathon 1.0. The winning team has been inducted into the Innovapptive Hackathon 1.0 Hall of Fame and is also expected to get wide coverage through press releases, social media and our corporate website.
With winner and runner up teams announced, it was time to party hard – the last leg of the event was organized at a nearby hotel, jazzing up the night with drinks and dinner and other fun filled activities.
Unique opportunities that our participants could leverage through Hackathon 1.0:
Project management skills
Time management skills
Opportunities for networking - build personal as well as professional relationships
Great knowledge sharing experience
And much more…….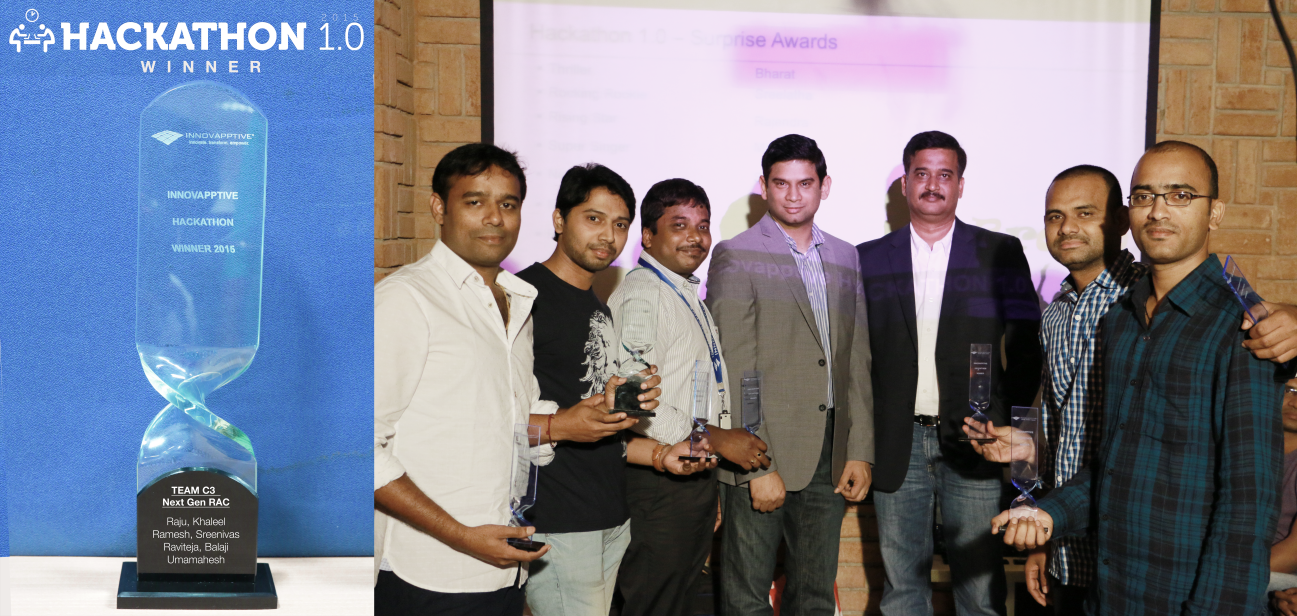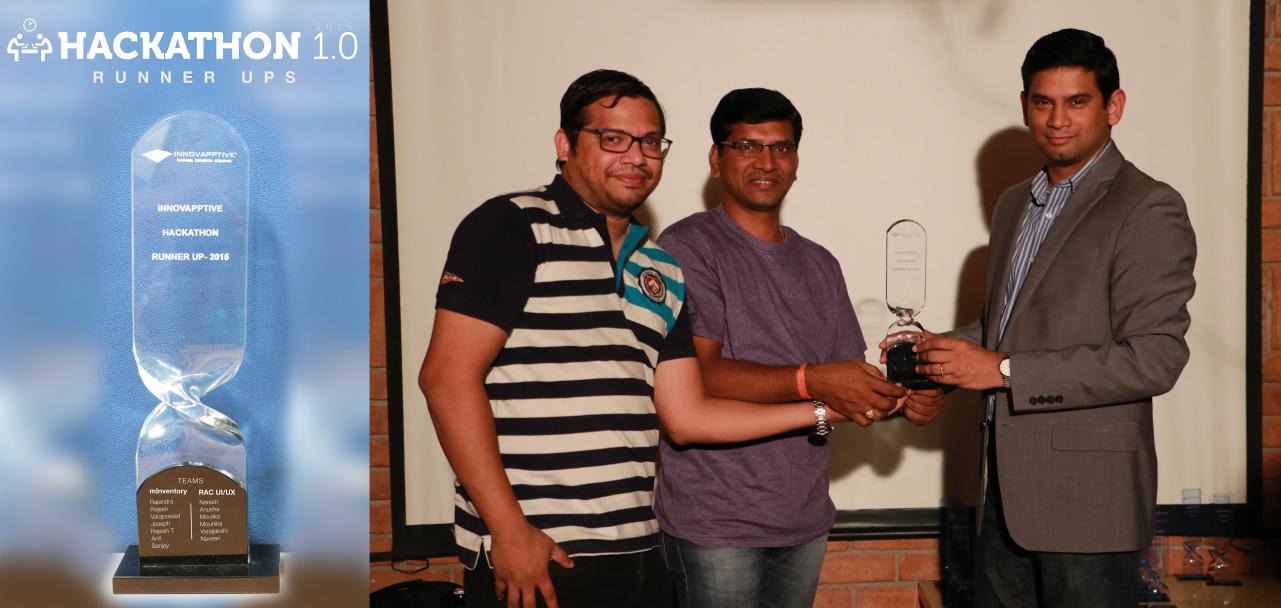 Relishing the grand success of the Hackathon 1.0 event, Innovapptive is poised to embark this event at regular intervals, pushing the boundaries of innovation and creativity to new levels, making sky as the only limit!