To keep businesses running smoothly and effectively, organizations have to pay attention to how their underlying processes are being managed and how do they accomplish this? Though we are living on a digitally smart planet surrounded by gamut amount of data, every piece of information whether it is big or small generated by the business process, employees or system/device is equal to an opportunity. It can be exploited to gain a competitive edge.
It is quite common for businesses regardless of their industry to get overwhelmed by the huge amount of information such as order processing, invoicing, expense approvals and employees related data and more. It can take a lot of time to get it done if too much of manual effort is needed. As businesses grow, their complexity also gets increased. Due to the absence of process discipline and mobility, organization's employees face difficulty, which forces them to going back to their system/workplace, sending requests for approval and waiting a longer period of time. It creates delays, causes confusion and hurdle for them to take the real-time decision. Mostly, data get scattered across disparate devices and excel spreadsheets that are often out-of-date. Employees' efforts to combine information from different sources can be time-consuming and keep them away from their more important core duties. Moreover, higher management also needs much time to check all the documents or transaction in details to approve them that eats a long time. Lack of proper mechanism to monitor timely approvals leads to data leakage, sometimes late delivery/arrival of goods and late invoice payments.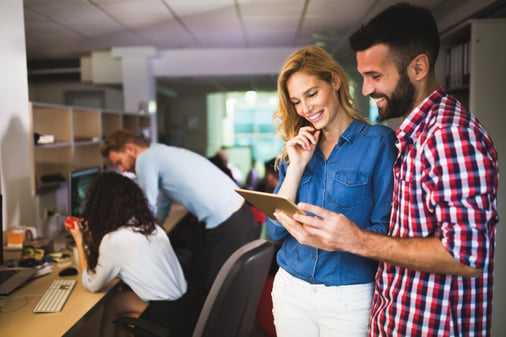 These create operational inefficiencies that can be unfavourable to the company's bottom line, and hamper the company's ability to reach its full potential. However, if the company is unable to manage this information effectively, it won't only damage the customer experience, but also decrease the employees' productivity. In order to resolving such problem, and continuing business growth, companies need an integrated solution that will unite critical processes in a single place and help them grow more rapidly and profitably. Head of departments, Managers, supervisors all they need a one-stop shop to approve all their work items. By integrating various business processes/transactions in a single place, organizations can improve their core business activities, deliver the business agility and enhance employee & customer decision making.
Innovapptive understands the challenges organizations are facing and it offers a Universal Approval Solution for mobile: mWorkList. The mobile application is a role-based native mobile solution that contains 30 out-of-the-box SAP approvals and eliminates the need for an app per approval work item. It automates business processes such as blocked invoices, orders by creating a goods receipt or service entry sheet with a few clicks. The mobile solution, mWorkList enables organizations to transcend challenges, which were previously holding them back from taking their business to the next level of profitable growth. It provides managers with a universal one-stop shop to approve all their work items. It helps the organizations to improve their business activities, deliver agility needed to quickly to resolve the complex business problem. By getting the insight of day-to-day business operations, higher management quickly and efficiently makes sound decisions that positively impact employees' productivity and customers satisfaction.
The mWorkList helps drive adoption, innovation, and productivity by providing the easiest way for employees to approve SAP work-items anywhere, anytime with our best in the class user interface and user experience. It provides the flexibility to forward (delegate) the requisitions from one person to another that ensures continuity in business operations. This mobile app revolutionizes the approval process and eliminates the need to buy a separate app for each transaction processing. It gives high performance and rich user experience to our customers through an easy-to-use, SAP-integrated native mobile app for iPhone, iOS, and Android devices. The mWorklist lets your higher Management access the master and transactional data of the various modules (Inventory, HR, etc.) of the SAP server and pulls the transactions that need their approval.
Benefits of having mWorkList:
Cycle time for approvals gets reduced, which enables employees to get more time to focus on more productive work.
Complete transparency over day-to-day transactions is enabled.
Your business efficiency gets greatly improved, allowing for maximum growth.
Improved employee productivity and organization efficiency directly enhances customer satisfaction.
Data-entry/human error is greatly reduced.
If you would like a demo of Innovapptive's solution,

please click on the link. Alternatively, if you would like to discuss with an Innovapptive solution expert, you can reach out to us by emailing us at sales@innovapptive.com or you can reach a sales representative at (713) 275-1804.