The wait is over! As we gear up for 2019, Innovapptive is excited to announce the launch of the latest version of mInventory 7.0. The release of mInventory 7.0 marks a significant milestone and comes packed with many new features.
mInventory – Mobile Inventory and Warehouse Management
Innovapptive's mInventory enables you to perform day-to-day inventory transactions through handheld devices and laptops by accessing the master data of SAP. Innovapptive's SAP® certified solution leverages the SAP Inventory Management (IM), Warehouse Management (WM) and Extended Warehouse Management (EWM) modules to deliver a simple, reliable and productive user experience across a wide range of industries. It helps your users manage physical inventory movement in real-time and perform physical and cycle counts quickly while achieving greater accuracy of inventory levels.
Using mInventory, you can effectively manage logistics located remotely, see movements in real-time, reduce turnaround time, and increase the accuracy of your cycle counts. mInventory improves stock accuracy and helps you complete orders with real-time updates while avoiding errors. You can reduce inventory and labor costs while increasing overall efficiency as well as improve their supply chain through improved inventory data accuracy.
We've got a full slate of exciting new features that make mInventory 7.0 the top solution on the market but we've highlighted a few here to give you a better idea of what's in store:
Optical Character Reader (OCR)
The latest release of mInventory 7.0 fully supports Optical Character Reader (OCR) SDK. This newly added feature intuitively performs field mapping, collects data and, enables you to create your own OCR use case(s) on the fly. mInventory 7.0 allows you to scan text from the mInventory application, freeing up time and increasing the efficiency of the entire process. As you scan the text, it gets populated into fields automatically, minimizing data entry errors. The OCR field type is RACE configurable and works in both Online and Offline modes for the following modules:
Stock Overview
Goods Receiving
Goods Issue
Inbound & Outbound Processes
Cycle Counting
Transfer Postings
Consignment Audit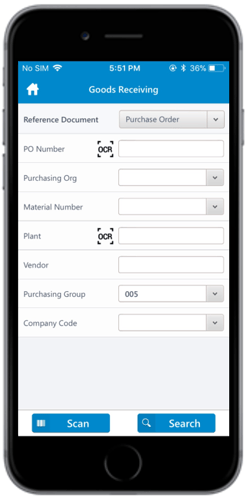 Warehouse Bin Counting—Combo Scan
Single trigger scans of multiple fields were on the wishlists for so many of you that we've built a new feature: Combo Scan for Warehouse Bin Counting, in mInventory 7.0. Now you can quickly scan multiple fields and find and select the line item in a single trigger eliminating the manual filing of quantity. An extremely useful Combo Scan feature is also enhanced for modules such as
Cycle Counting— Warehouse Cycle Counting and Adjustments
Transfer Postings— Bin to Bin Transfer
Inbound & Outbound Processes— Picking
Inbound & Outbound Processes— Putaway by TR
Alternate Unit of Measure (UoM)
With the latest version of mInventory 7.0, you can select an Alternate Unit of Measure (UoM) to store count of the material and record a measurement per your business requirement. Alternate UoM is RACE configurable and works seamlessly in both Online and Offline modes for modules such as:
Goods Receiving—Purchase Order
Cycle Counting—Physical Inventory
Cycle Counting—Warehouse Cycle Counting and Adjustments
Inbound & Outbound Processes—TO Confirmation
Transfer Posting—Bin to Bin
Configurable Dashboard
mInventory 7.0 includes a Configurable Dashboard, which is enhanced for the Goods Receiving—Purchase Order (GR—PO) module. It provides better insight, quick identification and easy navigation on the recorded data. The dashboard provides a better user experience with capabilities such as:
Layouts based on Metrics, Counts, Graphs, and Lists
RACE Configurable layout with a defined query to retrieve data and present view based on an attribute of the data set
Flexible filtering capability based on user preferences scope
Multiple columns on a list view
List view column touch sorting
Ability to view user preferences while offline sync is in process. When updated and saved, offline sync will restart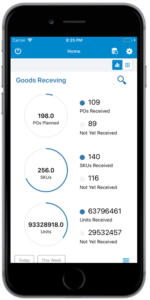 Managerial Dashboard Metrics—Only on Desktop (UI5)
mInventory 7.0 includes Managerial Dashboard Metrics for only Desktop (UI5). This allows you to access metrics based on configurable dashboards in the mInventory application. Now, you can configure the metrics for Goods Receiving—Purchase Order module and easily track Inventory Accuracy.

Loading Module
Loading Module is one of the newest elements in mInventory 7.0. You can quickly update the status of a shipment after the loading activity is planned and complete as well as search the shipment documents. You can also directly enter the loading start date and time from the mInventory application and post to the backend. Another added feature in the Loading Module is that your fields, i.e. Delivery and Shipment Number, are RACE configurable.
Offline Failed Postings Reprocessing
One of the most sought-after modules can be found in mInventory 7.0: "Offline Failed Posting Reprocessing". With this new feature, you can re-process offline failed postings for all the modules of the mInventory application. All offline transactions are saved in the Offline Outbox so that, as you switch to online mode, all valid transactions are synchronized at the backend and get posted automatically. You can process offline failed postings for modules such as Goods Receive, Inbound and Outbound Processes, Transfer Posting and Cycle Counting and Good Issue.
To find out more about what's new in the mInventory 7.0, send an email to demo@innovapptive.com or request a Free Trial to experience the best in class SAP Mobile Inventory and Warehouse Management solution.