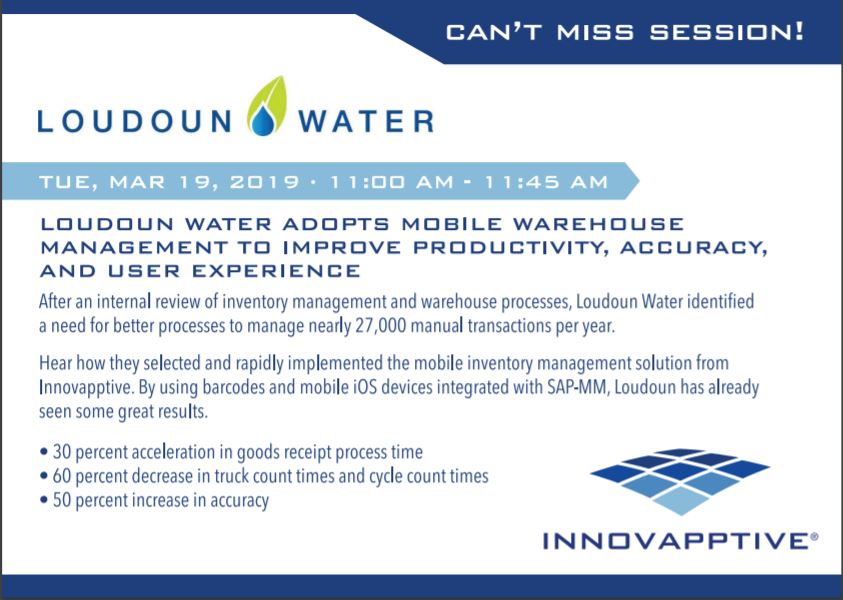 SAP-Centric EAM/SCM begins next week on March 18. Will you be there? Don't miss Loudoun Water's Ken Harvey, Manager of Warehouse Operations, March 19 at 11:00 am in Track 5. Join Ken Harvey as he discusses Loudoun's need to leverage their current SAP-MM module, barcode functionality of SAP-ERP module, and mobile printing capabilities.
Ken goes in-depth on Loudoun's key initiative: Mobile Warehouse Management project. Previously, Loudoun's O&M division relied on manual and SAP direct entry management of material flow, the system created inaccuracies, user frustrations, and slow to record movements.
Loudoun's Senior staff and Operations & Maintenance (OM) Division was faced with inventory warehouse situations with greater than
4,500 different types of parts and materials
An excess of 70 vehicle storage locations
manually processing over 27,000 transactions in SAP-Materials Management (MM)
During his talk, Ken will offer up more insight and details on Loudoun's selection process, the criteria needed to be satisfied in the selected solution, and how they chose Innovapptive to partner with.
You will also hear how, with the implementation of mInventory , Loudoun Water saw improvements in operational efficiencies including:
60% decrease in truck count times
40% decrease in unplanned goods issue time
50% reduction in cycle count times
And much more
Innovapptive is a Platinum Sponsor at the SAP-Centric EAM / SCM Conference and our solution experts will be on site for demos and discussions. Our purpose is to help improve people's lives with the next generation Connected Workforce Platform which digitally connects your executives, your entire industrial workforce, and your back office to minimize plant outages and improve operational excellence.
Join Innovapptive at Booth 1 after Ken's discussion to see our Connected Workforce Platform in action.