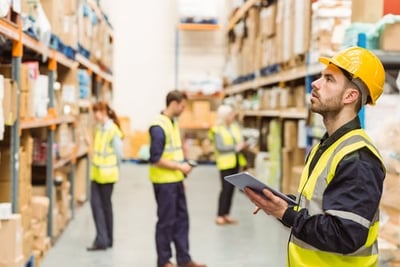 While craggy RF (Radio Frequency) units are well suited for warehouse applications, next-generation tablets and smartphones do offer a number of advantages - the new class of iOS, Android and Windows mobile devices advance the ball when it comes to visualizing what's going on in the warehouse, guiding workers on what to do next. Also in the areas of cost, integration with other core business systems, and the ability to visually communicate information in a way that's more impactful than the RF terminal screen. Mobility provides a snapshot of data to aid in real-time decision making and highlight workflow.
Warehousing means holding or preserving goods in huge quantities from the time of their purchase or production till their actual use or sale. Warehouse management refers to the monitoring, control, and optimization of complex warehouse and distribution systems. There is also potential for leveraging new mobile devices and apps to help warehouse management. Instead of a warehouse manager having to physically be in their office or at a PC station to run a report in the WMS, the ability to roam the aisles, device in hand, and pull up reports and have quick access to key performance indictors facilitates real-time decision making. The touchscreen, camera and video capabilities of mobile devices also come in accessible for a range of tasks, from taking pictures of damaged products as they come in and out of the warehouse to running video clips that provide instructions in a particular workflow, such as the proper way to pick up an order.
Reduce costs through process automation
Inventory management is a course of efficiently overseeing the constant flow of units into and out of an existing inventory. Upright inventory management is all about having the right amount of product, at the right price, at the right time, and in the right place. This process usually involves controlling the transfer in of units, in order to prevent the inventory from becoming too high, or dwindling to levels that could put the operation of the company into jeopardy.
Businesses and organizations of all sizes must manage, control, and track inventory at any time and from anywhere. Today, with products flying in and out of your business, tracking all the moving pieces can be overwhelming. So, technology companies and firms have designed and developed inventory management, control, and tracking apps to make inventory data entry, search, and visualization possible from any location and at any time using smartphones and tablets. inventory management is even more crucial to success and sustainability, as business transactions take place on a global scale and cover multiple locations. Manually entering, tracking, and counting inventory is nearly impossible by today's industry standards, but relying on inventory management, control, and tracking methods solely on a desktop computer is no longer feasible.
Inventory also includes goods or services that are on consignment(subject to return by a retailer) or in transit. Skilled inventory management also seeks to control the costs associated with the inventory, both from the perspective of the total value of the goods included and the tax burden generated by the cumulative value of the inventory. Given the significant costs and benefits associated with inventory, companies spend considerable amounts of time calculating what the optimum level of inventory should be at any given time. Because maximizing profits means minimizing inventory expenses.
Optimize supply chain with paperless management of inventory
Innovapptive's mInventory is the most configurable enterprise-grade SAP Mobile Inventory and Warehouse Management solution. It offers the power to improve capital asset management in ways that can enhance reliability, optimize inventory transactions, ensure regulatory compliances and provide real-time visibility into inventory. Fully configurable with RACE™, it gives unparalleled flexibility to zero in on the specialized and industry requirements that can turn the company's inventory and warehouse management into a competitive advantage.
Using mInventory, you can perform day to day inventory transactions through the latest tablet or handheld devices by accessing the both transactional and master data of the SAP Inventory Management (IM) or Warehouse Management (WM) modules, thereby helping to manage the core spectrum of transactions within the scope of SCM space. It ensures real-time transaction processing, enhanced data accuracy and improved mobility and convenience.
Innovapptive's mInventory tracks accurate information and includes features to prevent duplicate data entry. This app supports a slew of day to day inventory operations including shipping and receiving operations, inbound/outbound movement transactions, inventory cycle counting and transfer postings. By using this application, you can mobilize and optimize supply chain, while ensuring error free transactions on the fly. Apart from that, it also wirelessly prints bills of lading or packing slips directly from SAP generated stock movements in a batch or one by one. This mobile solution offers optional integration to USPS, FedEx, UPS and shipping labels and can be deployed on premise or on the cloud (using SAP HANA Cloud Platform). With mInventory, you can ensure that store or delivery managers process inventory transactions from any location, either offline or online mode. It can even work in places where Internet access is intermittent or non-existent and helps seamlessly switch between online and offline modes.
The most important feature of mInventory is the customizable barcode capability where users can customize their barcode logic on RFIDs or 1-D or 2-D QR codes on various labels to get started an automated inventory management process.
True Business Value with mInventory
With mInventory, enterprises have achieved value by reducing the time and accuracy for inventory cycle counts by over 50%. Also there is a 35% acceleration in speeding up receipt and back-order reporting to and from shipping/receiving. Reduced inventory carrying costs by 5 – 10% have also been achieved. Streamlining data processing on receivables and managing rolling inventories, satellite storerooms and truck/trunk stock.
In the past, warehouses were referred to as cost centres and rarely adding value. But the increasing need for transfer of products across cities, countries and continents resulting from movement of production to the Far East, the growth in e-commerce and increasing demands from end users have seen a change about the perception of warehouses. They are vital components within today's supply chain. They form the integral part of the supply chain in which they operate, and so trends such as increasing market volatility, product range proliferation and shortening lead times, all have effect on the roles the warehouse is required to perform. Warehouses are most likely involved in various stages of sourcing, production and distribution of goods, from the handling of raw materials, work-in-progress through to finish products.
Managing your evolving business requirements with RACE™
Based on specific business and enterprise needs the Rapid Application Configurator Engine (RACE™), which is an SAP® certified add-on provides Innovapptive's customers the ability to achieve infinite number of customizations simultaneously on browser based applications such as SAP Fiori and on the native mobile app through simple SAP configurations, without having the need to hire any additional mobile skill sets.
RACE is installed on the SAP Netweaver Gateway and works as the toolkit that lets you activate or deactivate specific transactions, add or remove data fields, map custom fields and much more with simple clicks pertaining to any app that you want to customize. The net result is you have an app with a customized UI ready, that perfectly matches your business requirements. And the best part is you need not change a bit of the code, no need to have any technical knowledge of SAP ABAP or OData or UI development skills. This simplicity in customizing SAP mobile solutions provides a strong value proposition and dramatically improves the overall TCO and ROI, thereby enhancing the overall customer experience to the next level.
Why adopting mobility in the Warehouse is key
Mobility in Warehouse Management Adopting mobility can boost the number of orders and packages processed daily by facilitating the whole range of warehouse functions from picking, put away, packaging, labelling and shipping, through receiving and cross-docking. For example, in the receiving area a warehouse operator can scan and identify incoming shipments and then reroute, inspect or relabel them. Similarly, in the shipping area an operator can scan outgoing packages to ensure order accuracy and can route them accordingly to the correct dock door or carry out any required value-added services as prompted on the mobile device.
Without a proper dose of automation, warehouse managers are unable to achieve the operational performance and cost efficiencies needed to contribute to the greater good of the manufacturing enterprise. This is particularly important in materials handling, where the slightest inefficiency can lead to operational slowdowns and reputational damage with business partners and customers. To meet the requirements of increasingly demanding customers — where doing more with less is a business imperative — warehouse managers are laser focused on IT-enabled process changes that drive operational nimbleness and flexibility, with continuous focus on improving efficiency and productivity in significant warehousing tasks such as picking, put away, shipping, cross-docking, etc. Enterprise mobility, according to both IDC1 and Gartner,2 is among the "four forces" shaping business-IT transformational decisions by delivering exponential productivity gains and incremental business value. It is a key enabler of warehouse efficiency, flexibility and nimbleness, allowing manufacturers to live the future of work, today.

If you would like a demo of Innovapptive's mInventory (Mobile Inventory & Warehouse Management) solution, please click on the link. Alternatively, if you would like to discuss with an Innovapptive solution expert, you can reach out to us by emailing us at sales@innovapptive.com or you can reach a sales representative at (713) 275-1804.