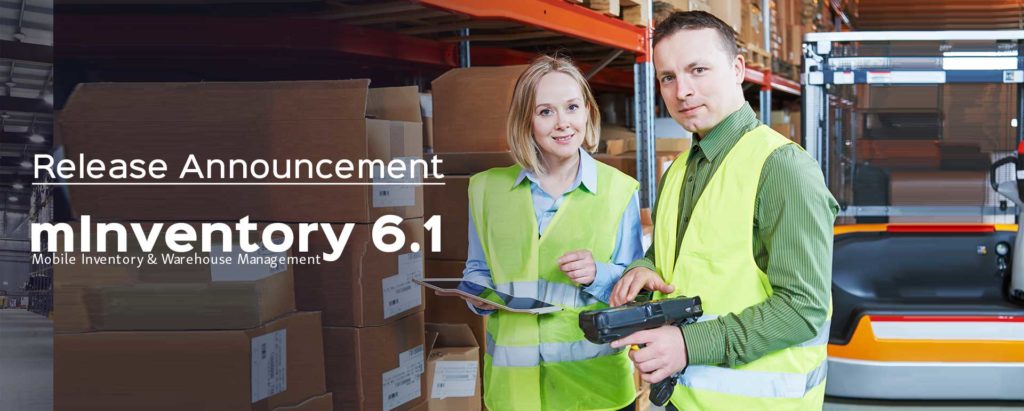 The Team at Innovapptive has been hard at work for the last few months to ensure that everything was primed and ready to go with the launch of our newest mInventory 6.1 release. Many great updates and improvements are ready for launch with mInventory 6.1. We are excited to share with customers the fantastic new features and capabilities available throughout our product portfolio!
mInventory 6.1 – Mobile Inventory and Warehouse Management
mInventory lets you perform day-to-day inventory transactions through handheld devices and laptops by accessing the master data of SAP. This SAP® certified solution leverages the SAP Inventory Management (IM), Warehouse Management (WM) and Extended Warehouse Management (EWM) modules and delivers a simple, reliable and productive user experience across a wide range of industries. It helps users manage physical inventory movement in real-time and lets them perform physical and cycle counts quickly while achieving greater accuracy of inventory levels.
The precise tracking and paperless management of mInventory application helps increase productivity, lower costs, optimizes supply chain, all while improving customer service. It greatly helps avoid production downtime and enhances your operational efficiency. It can even work in places where internet access is intermittent or non-existent and allows you seamlessly switch between online and offline modes! mInventory ensures real-time transaction processing and enhances data accuracy while providing mobility and convenience.
"We are adding new features, capabilities and extending existing ones, enabling mobile workforce, thereby improving inventory accuracy and real-time information accessibility. The inclusion of robust RLM (Remote Logistics Management) solutions further broadens the value-driven use cases in our mInventory. We are excited to be able to offer a compelling and integrated Mobile Supply Chain Management solution to solve critical business problems for our current and future customers," Hari Kamineni, Co-Founder/Chief Product Officer, Innovapptive.
What's New in mInventory 6.1?
Digital Signatures for Cycle Counting
Attachment and Digital Signatures for GR/GI - Others
Movement Types Restriction
Putaway by Transfer Requirements (TR)
Copy Line Items - Batch Split Screen
Prevent Parallel Processing of a Transfer Order
SAML Authentication
Barcode Generator (iOS)
GS1 Barcode Scan
Label Printing Compatibility with Bluetooth Peripherals (iOS)
Offline Failed Postings Reprocessing (Android)
New Modules for Remote Logistic Management (RLM) (iOS & Android)

Transfer Containers (o3o_PACK02)
Pack Deliveries (o3o_PACK04)

Print Multiple Material Documents and Labels (iOS)
Auto Detect Printer and Trigger Print (iOS)
Extended Serialization Capabilities
Digital Signatures for Cycle Counting
Digital signatures are growing in importance in the technological age and give you a competitive advantage, saving time and money. Gone are the days of printing, mailing, or scanning physical copies of documents. In mInventory 6.1, users can add their digital signatures while posting (counting a physical inventory) for all the three sub-modules of Cycle Counting.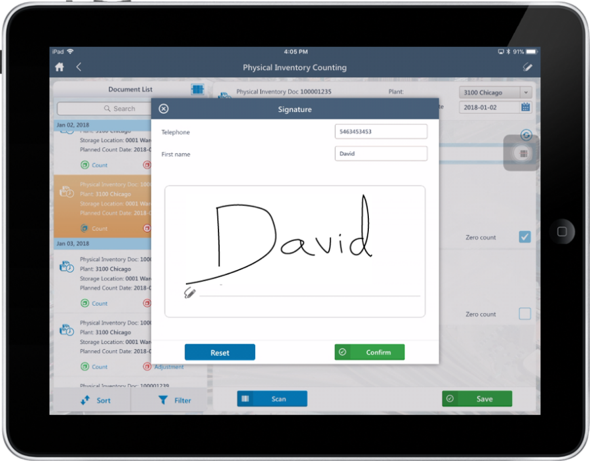 Putaway by Transfer Requirement (TR)
The main objective of the putaway process is to move goods from the transport to the most optimal warehouse storage location. Failing to properly implement an efficient putaway process will have a direct impact in the productivity of warehouse operations. In mInventory 6.1 our application will support Putaway for Warehouse Management (WM) Transfer Requirements both in Foreground and Background.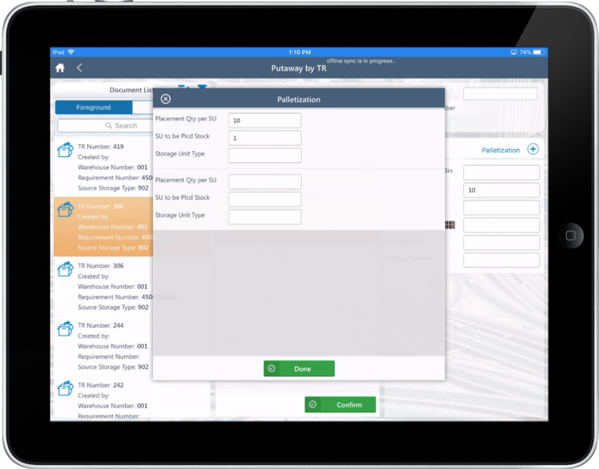 Barcode Generator (iOS)
Seeking to cut costs and save time? Barcodes are a valuable and viable option for businesses looking to improve speed while accurately tracking large inventory(ies), seeking ways to reduce/prevent errors, and, of course, save money. In mInventory 6.1, users can generate barcodes on the go via the Barcode Generator on the home screen. It's as easy as tapping the module to generate and then print barcode for the material(s).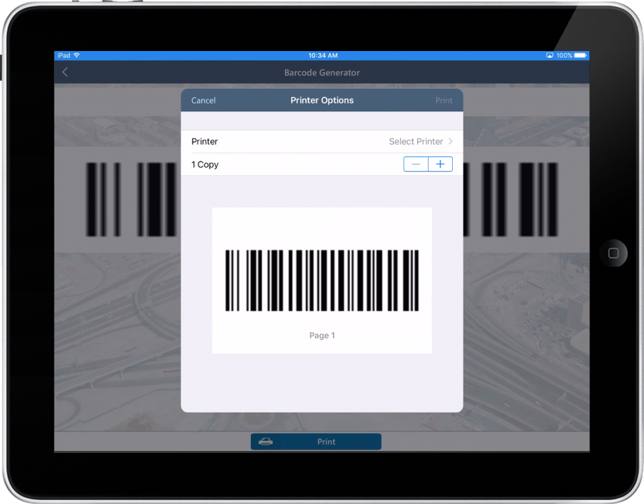 Label Printing Compatibility with Bluetooth Peripherals (i.e. Honeywell)
Advancements in mobile printers have made them ultra-rugged with wireless and Bluetooth capabilities for global use. In this release, we have successfully integrated the Bluetooth and wireless technology for mobile printing into our mInventory 6.1 application by collaborating with manufacturers such as Honeywell. Printing on the run is available!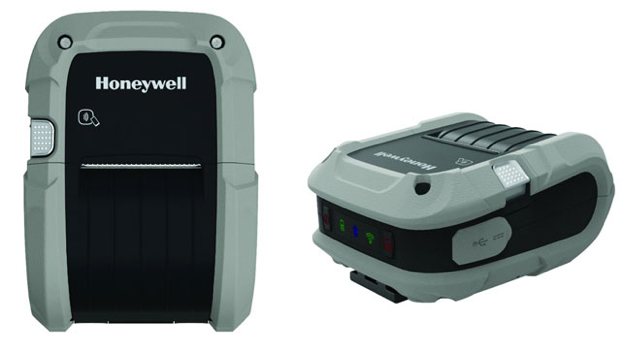 New Modules for Remote Logistic Management (RLM)
To streamline the movement of goods and increase transparency around the shipping environment, mInventory 6.1 includes two new modules under the Remote Logistic Management (RLM).
Transfer Containers
Pack Deliveries
This completes the cycle of movement of goods from origin to destination. The recording of these movements enables Business Users to monitor and track their inventory along the supply chain.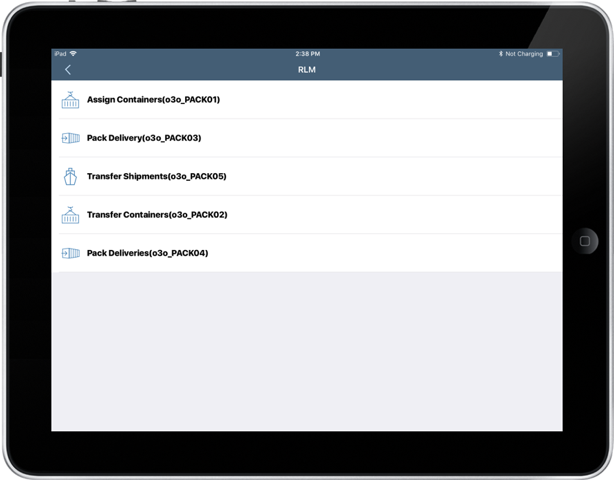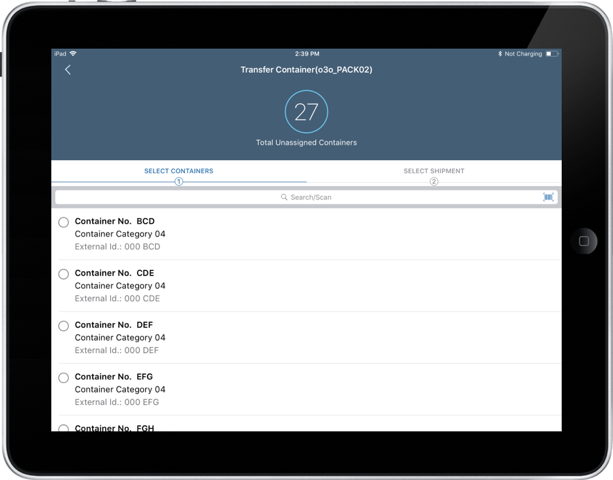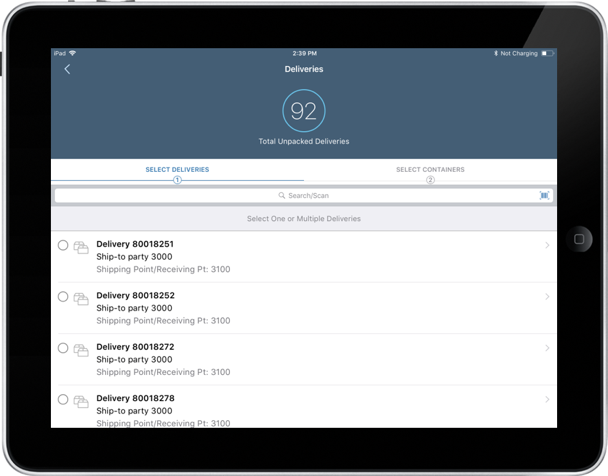 We've highlighted our top 5 updates but there are many more exciting new feature and changes in mInventory 6.1. If you'd like to read further, please refer to mInventory 6.1 Release Notes
We encourage our customers to upgrade to the latest version of the software so that they can take advantage of the improved features.
If you would like a demo of Innovapptive's mInventory(Mobile Inventory and Warehouse Management) solution,

please click on the link. Alternatively, if you would like to discuss with an Innovapptive solution expert, you can reach out to us by emailing us at sales@innovapptive.com or you can reach a sales representative at (713) 275-1804.