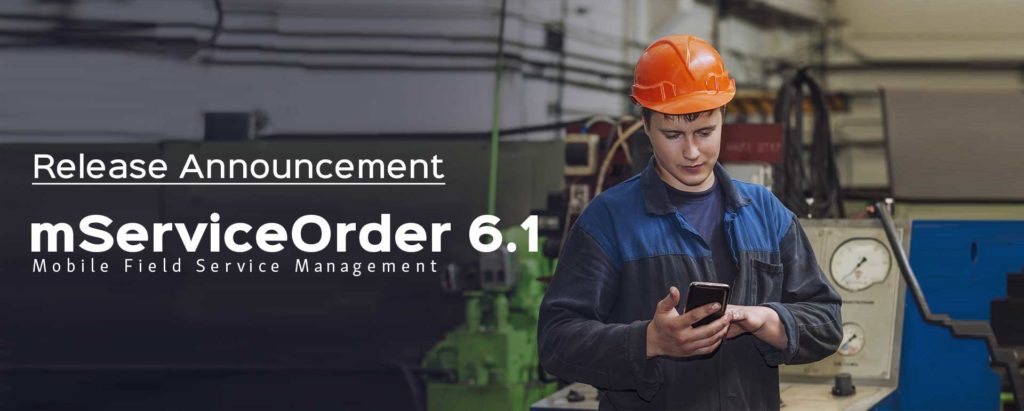 Innovapptive is committed to providing our customers the best-in-class and improved mobile solution for their field services. Keeping in line with our commitment, we are pleased to announce the release of mServiceOrder 6.1, available today! We are excited to share with customers the fantastic new features and capabilities available throughout our product portfolio.
mServiceOrder, an SAP® Certified Mobile solution, comes with all the field-ready functionality needed to improve efficiency in the field from any device and help improve workforce productivity while optimizing field service operations. Designed from the ground up with field technicians and engineers in mind, mServiceOrder provides a refined interface, consistent access, and targeted service workflows regardless of internet connectivity which reduces service costs and boosts service levels while avoiding unnecessary trips with guided route optimization.
What's new in mServiceOrder 6.1?
Planned Service Orders on Calendar
User Preferred Offline Synchronization
Equipment Hierarchy Enhancement
Configurable History
Delete Confirmations—Operations
Extended Configurability for Overall Confirmation Screen
UI Changes—Overall Confirmation Screen
Measurement Document—Sub-Equipment
View and Edit Address—Service Orders
Improved Offline Data Synchronization
Bill of Material (BoM) Display in Hierarchy—Equipment and Functional Location
Functional Location Hierarchy Enhancement
Equipment Hierarchy View—Service Orders and Notifications
Planned Service Orders on Calendar
Efficiency is the key to reducing downtime in the field and, inevitably, leads to money saved and to improved productivity of your field technicians. Lack of scheduling visibility for field service technicians can create unnecessary juggling of tasks, people and potentially missed order completions. mServiceOrder 6.1 puts visibility in the techs' hands and enables viewing of planned service orders on specific dates to help prepare and complete service calls without skipping a beat.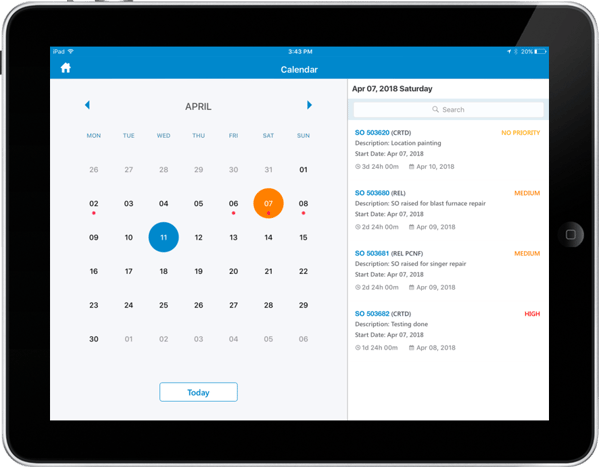 User Preferred Offline Synchronization
No more struggles with network connectivity issues! With the new User Preferred Offline Synchronization, Service Technicians can add their preference for offline data synchronization directly from the home screen. They can also SAVE the data during their service call while OFFLINE!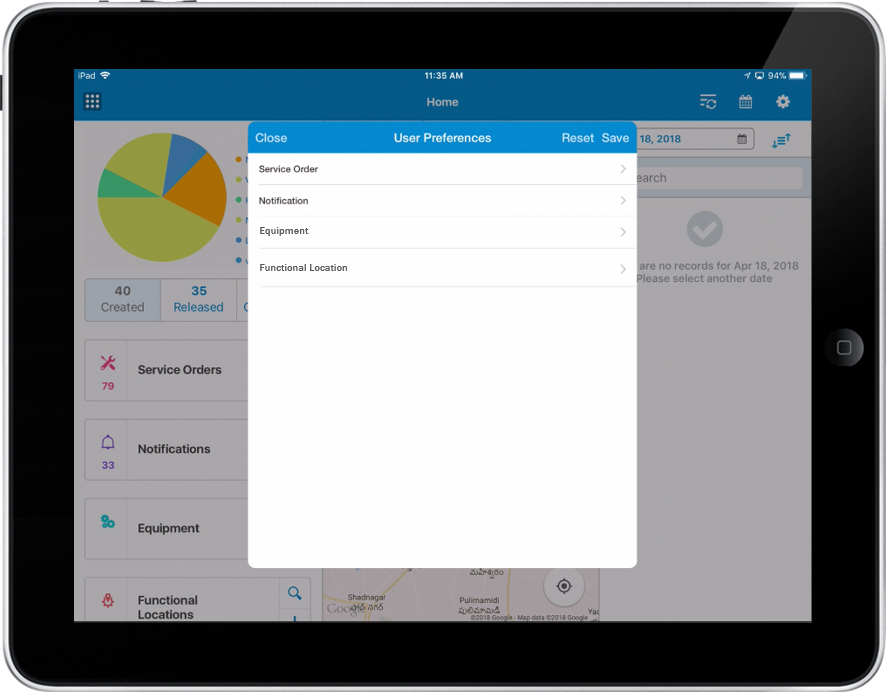 Configurable History
Service Orders are recurring and need to execute timely to ensure quality customer service, otherwise it may cost to the customer. In mServiceOrder 6.1, the History Tab is enhanced to provide more information to the service technicians allowing them to execute calls more effectively & efficiently. Techs can view a list of historic service orders and configure the additional tabs to their preference, i.e. Data Volume, Time and Number of Records, using RACE.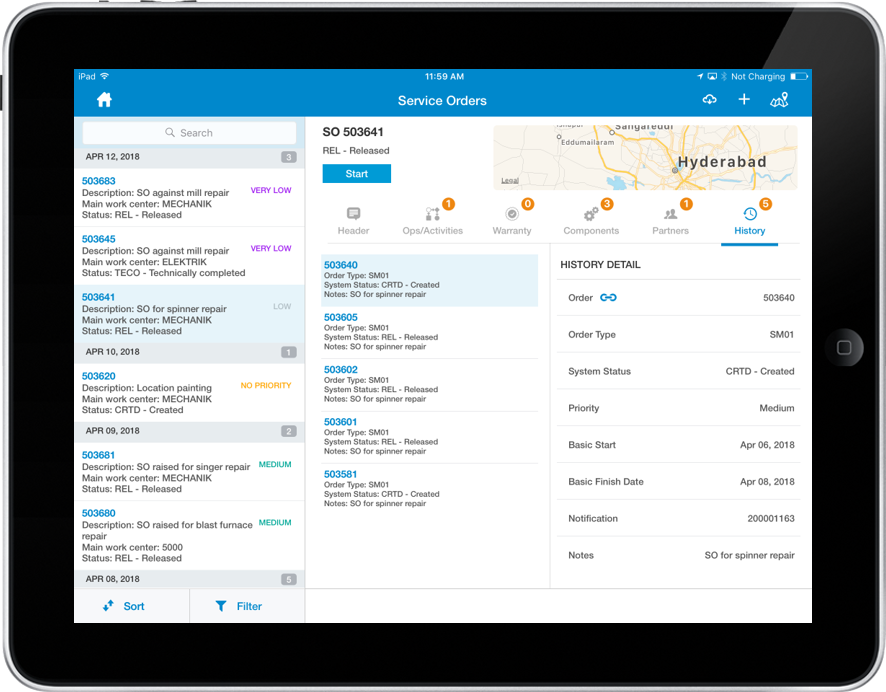 Equipment Hierarchy Enhancement
mServiceOrder 6.1 brings exciting enhancements to the Hierarchy Tab. With the new Equipment Hierarchy, Technicians can access equipment and sub-equipment details quickly - enabling them to create Service Orders and Notifications, and view Bill of Materials with ease. This update drastically improves user experience and reduces service time.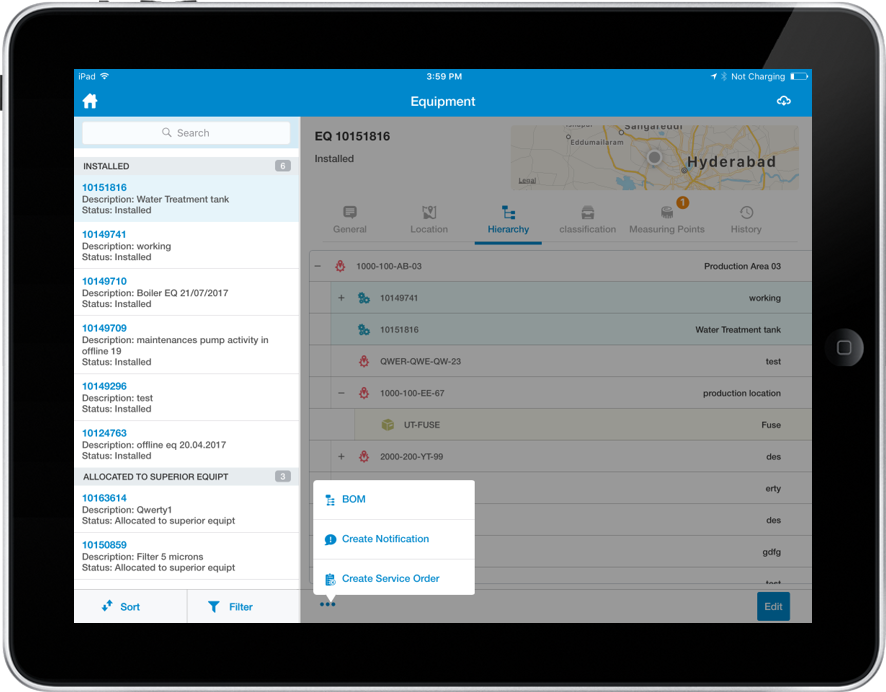 Delete Confirmations—Operations
mServiceOrder 6.1 incorporates a swipe-to-delete feature for service confirmations. Now your field service technicians can delete a Service Order by simply swiping left. This empowers techs to better manage their service orders and ensures that duplicate/mistake orders can be corrected.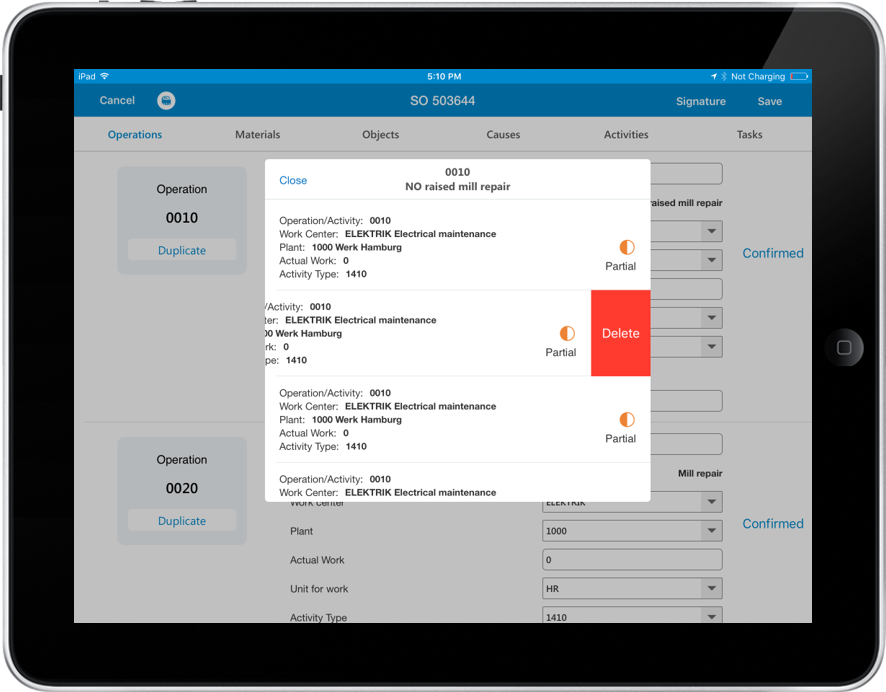 Measurement Document—Sub-Equipment
This feature enables users to create Measurement Documents for measuring points of Sub-Equipment from Overall Confirmation screen. Filing of Measurement Documents contributes to a more comprehensive Service Confirmation report providing transparency into the technician's work and the equipment's service history so that any following service can be undertaken in more informed manner.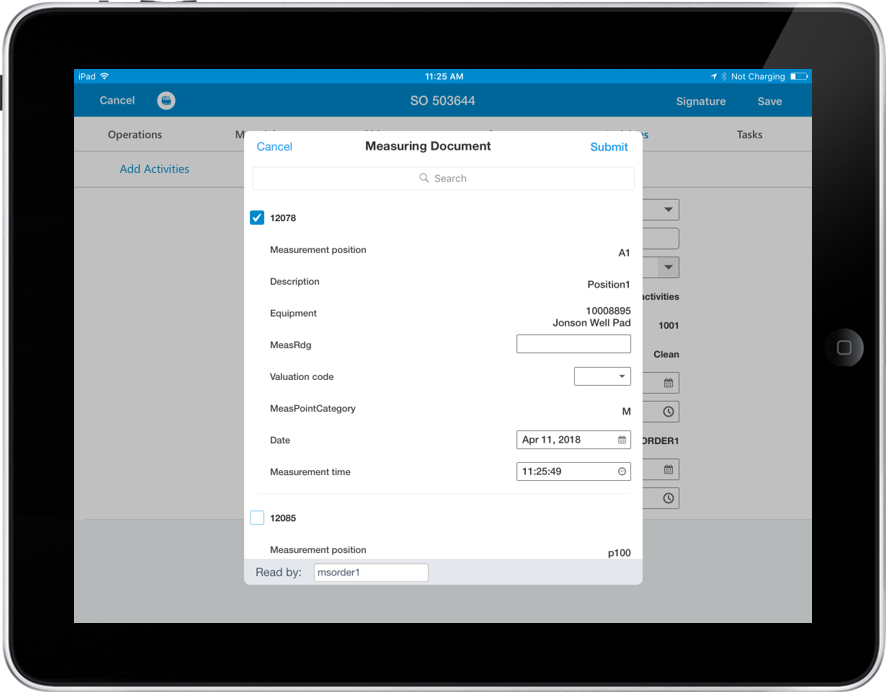 This is just a snapshot of the top 5 updates but there are many more exciting new feature and changes in mServiceOrder 6.1. For more details are available here: mServiceOrder 6.1 Release Notes
We encourage Customers to upgrade to the latest version of the software to take advantage of the improved features.
To see a demo Innovapptive's mServiceOrder, select the "Request Live Demo" and a time. If you would like to discuss with an Innovapptive Solution Expert, you can email us

at sales@innovapptive.com or via phone at (713) 275-1804.