To stay ahead in this hyper-competitive environment, organizations need to be very organized in their processes to reduce inefficiencies and preserve resources. And leaders at organizations are tasked with efficiently providing best-in-class products and services to customers, increasing their satisfaction and generating higher profits and revenue. However, despite the myriad of technologies available in the market, effectively managing the business process workflow is still a challenge. Due to the lack of process discipline and mobility, organizations and their employees face difficulty. Even, well-defined operational processes break down and leave the untoward impact on the business operations. The absence of mobility forces the workers to go backto their system, send the request for approval and then wait long for getting approval from their supervisor or managers. This causes confusion and hurdle for them to take the real-time decision. It wastes a lot of time of resources and unnecessarily delays the process flow as well.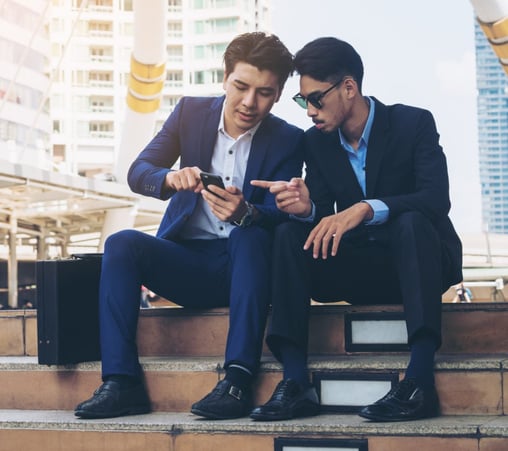 In some scenario, if the concerned personnel such as managers or supervisor, who are entitled to authorize the particular tasks are absent or unavailable the process gets delayed further. This doesn't only lower the adoption rate of your ERP, but also adversely impacts inter-related activities amounting to huge losses to the companies. It is observed that workers tend to find the least resistance way to get their task done, which then creates a breakdown in standard processes. The absence of the proper mechanism to monitor timely approvals leads to data/information leakage and inconsistency that causes fall in productivity.
Some challenges of manual approval process:
Time-consuming approval process, late delivery/arrival of goods and late invoice payments
Lack of proper mechanism to monitor timely approvals lead to data leakage
Lack of knowledge of current approval status of a document or a start-to-finish approval process history
Missing compliance requirements or non-compliances due to inordinate delays
Low employee morale with breakdown in standard business processes
Absence of mobility and non-uniform document approval processes
To mitigate these challenges, it is prudent for organizations to have an effective mobile workflow solution. Learn how a well-designed mobile workflow solution can enable all employees of an organization to actively participate in all aspects of business processes and send/receive approval request/approval from anywhere, anytime on any mobile device. It doesn't only remove the bottlenecks within a business process, also propels the business into the top quadrant of efficiency.
Key benefits of incorporating an effective Mobile Workflow Solution:
Mobility with Offline capability: The mobile workflow solution will be best suited to today's workers' demands if it works on a variety of devices. Moreover, it should offer a robust offline capability because when workers are on job site or remote area, network connectivity may suffer. This shouldn't restrict them to access the information or perform the task. Instead, the mobile solution should allow users to send and receive the approval and execute their task when they come out from the network range.
Increases ROI and Reduces cost: The solution eliminates time-intensive manual approval process and helps organizations to achieve higher returns on their ERP investments. The mobile workflow solution will enable workers to access the quick approval forms and integrate them with information and processes they need to cut delays and bottleneck. This will help organizations to increase their ROI on previous investment and revenue & profits.
Provides instant access to information: Critical processes need to be reviewed at every point, ensuring that there are no hurdles or issues. The mobile workflow solution will provide instant and increased access to the important information. This oversight allows higher authority, managers to know the process status whether it is running smoothly or not. With this mobile workflow solution, workers can easily access data and streamline information processing, thereby helping key users to expedite approvals at any point of time. It can enable incorporation of access rules to control and track data access for any given process.
Helps employees in real-time decision-making: When the right mobile workflow solution is in place, workers can easily send and receive approval via their mobile devices and perform their task on time. The benefits don't stop here, the solution also empowers managers/supervisor to approve the employees request on the go from their mobile devices. This way they cannot miss important approvals, even if they are on a vacation. The workflow solution helps in optimizing time, resources and decision-making process.
Adds convenience and Improves speed & transparency: The mobile workflow solution makes the operational processes more efficient and speedy. When a system runs smoothly, managers/supervisor don't need to spend much time focusing on operations. Instead, they can pay attention to other important parts of their job, which can promote business growth and development.
Mobile workflow solution simplifies the processes: The right mobile workflow solution streamlines business processes, particularly repeatable business activities that pertain to document management and delivery. This implies simple workgroup tasks to complete enterprise-wide processes, thereby enabling organizations to standardize and streamline people-based activities and track their progress. It establishes simplified business practices and helps increase operational efficiency and avoid errors due to repeated processes.
Technology is elevating and the world is turning to mobile then why not your approval processes. Most importantly, when employees need to wait longer for receiving approval and inter-related processes get delay, wouldn't it be great if you have one app for all your workflow and tasks?
Innovapptive understands these pain points and offers the solution the organizations to drive the highest level of mobile app adoption and productivity by providing the easiest way for employees to approve SAP work-items anywhere, anytime on any mobile device. Innovapptive offers a role-based native mobile solution, mWorkList that contains 30 out-of-the-box SAP approvals and eliminates the need for an app per approval work item. Fully configurable with RACE™, and gives you unparalleled flexibility to zero in on the specialized, industry requirements that can turn your company's asset management into a competitive advantage. With mWorklist, you can process a series of transactions involving timely approvals related to purchase orders, expense reports, time sheets, contracts, shopping carts and much more from the comfort of your mobile, anywhere, anytime. The mWorklist lets you access the master and transactional data of the various modules (Inventory, HR, etc.) of the SAP server and pulls the transactions that need the approval to enable you to subsequently process such requests. It provides the flexibility to forward (delegate) the requisitions from your Inbox to any of your peer managers, in case you are on a vacation.
Key Value Drivers
Increase in productivity to drive higher operational efficiency
Faster transaction processing & Improved operational efficiency
Direct cost savings through increased productivity
Reduced cycle time for approvals
Increased customer satisfaction
If you would like a demo of Innovapptive's mWorklist(Mobile Universal Approvals) solution,

please click on the link. Alternatively, if you would like to discuss with an Innovapptive solution expert, you can reach out to us by emailing us at sales@innovapptive.com or you can reach a sales representative at (713) 275-1804.