Are you planning to attend Best Practices in Oil & Gas (BPOG) 2018 in San Antonio Sept 17-19? Are you looking for ways to improve your supply chain and enterprise asset management mobility productivity while reducing costs for ongoing support and maintenance?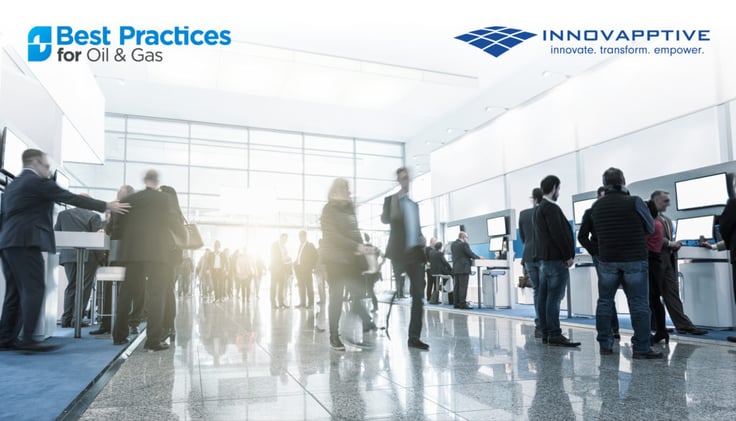 If the answer is YES then join Innovapptive, (next to the SAP Cloud Now Hub), at BPOG 2018.
Innovapptive leads the way in Mobile Workforce Management and we continue to revolutionize the industry and evolve with our customers as their needs change and grow. We deliver fit-for-purpose pre-packaged solutions for Enterprise Asset Management (EAM), Field Services, Warehouse Management and Supply Chain which are coupled with a highly configurable, agile, low code framework to meet customers' unique and evolving business process needs.
Sneak peek of FIVE reasons for you to meet with our Solutions Experts at BPOG 2018
See, firsthand, Innovapptive Solutions Experts present our award winning solutions: mInventory, mServiceOrder, and mWorkOrder.
What's happening with Wearables and mWorkOrder 7.0?
Wearables, a subset of the Internet of Things (IoT), play a critical role in the Industrial Internet of Things (IIoT), specifically Oil & Gas. Stop by Innovapptive's booth to see how mWorkOrder 7.0 supports integration with Wearable devices and helps users in creating work orders, releasing work orders and/or confirming operations flawlessly through wearable devices on the Android platform.
Brand New Barcode Generator capabilities in mInventory 7.0 -
Innovapptive takes your mobile barcode scanning to the next level with mInventory Barcode Generator. With the new Barcode Generator, you have the ability to track inventory so precisely that inventory levels are reduced and translate into lower overhead, reduced man hours looking for lost/misplaced inventory, and so much more all of which keep on-site downtime to a minimum.
Better manage your service order management in the Oil & Gas Fields and optimize your scheduling, productivity, visibility, and compliance with mServiceOrder's newest feature, Planned Service Orders. The mobile solution puts visibility in the techs' hands and enables viewing of planned service orders on specific dates to help prepare and complete service calls without skipping a beat.
Drone Integration capabilities with mWorkOrder 7.0 -
Drones can be utilized all the way through the oil and gas value chain; from inspecting pipelines and storage tanks to offshore platforms. Innovapptive is always looking at newer technologies that can enhance mInventory. Visit with our Solutions Experts at Best Practices Oil & Gas 2018 to see our advancements mInventory 7.0 and its Drone integration capabilities.
As you know, BPOG Spring 2018 is one of the largest events for the oil & gas sector. The team at Innovapptive would love to meet you and learn about your environment to discuss how our solutions will help you solve your supply chain, inventory management, and enterprise asset management needs.
We are scheduling times now for onsite meetings with our Solutions Experts. Book your meeting now!