Utilities and Manufacturing are two of the World's largest industries, regardless of your country. Executives in both industries are being asked to confront change - a lot of it - and quickly as the sheer magnitude of the digital age is disrupting and can be overwhelming. We believe that digital will have a significant impact on many areas of both industries, with the potential to change value chains, lead to higher productivity and more innovation, and create new channels to market.
Innovapptive's RACE™ Dynamic Forms, are super flexible and provide a hassle-free integration into the SAP/ERP. With large volumes of critical data stored securely, the solution helps you to create and handle multi-pages' of digital forms expeditiously and efficiently and reduces written work for all users. Given all the excitement about digital, it is essential to separate the substance from the hype and carefully evaluate what this will mean for the industry and how Innovapptive's solution is the right choice for digital forms.
Utilities
Taking a step back and reviewing the changes that are underpinning digital: the generation, collection, and storage of data have never been so cheap, and this is happening just as number crunching power is reaching unprecedented heights at lower costs. Simultaneously, the digital mind-set of society is ever expanding, spurring a willingness to engage with digital technology on a constant basis as well as much higher expectations for the quality of user interfaces and level of service. Already, the technologies of the Fourth Industrial Revolution—including the Internet of Things (IoT), advanced analytics, artificial intelligence, robotics, automation, and wearables—are elevating existing business models and creating new sources of value for Utility companies.
With RACE™ Dynamic Forms, Utility companies are equipping their field technicians with a mobile forms solution that liberates data without hindering workflows. From safety inspections to backflow device test reports, using digital forms, companies are able to realize significant time, materials and administrative savings with powerful automation, dynamic fields and instant access to submitted data They can also achieve enhanced visibility of daily processes, repairs and procedures with geo-tagging, image fields and signature capabilities. Via the RACE™ Dyamic Forms, users are able to share and react to information in real-time, control work orders and notifications which results in faster approval times and stronger management insights.
Manufacturing
The sheer magnitude of technology disruption can be overwhelming. The push-pull between running today's manufacturing organization while simultaneously transforming into a company of the future can make one feel like you have one foot on the dock and one foot in the boat. As manufacturing companies constantly seek methods to implement and improve smarter factories, they seek out ways to improve and streamline operations by adopting fully automated production systems, three-dimensional scanners, Internet of Things (IoT) technologies, and integrated machine controls. The benefits of this automation may include lower lead times for customers and lower overall costs, as well as improve production outputs.
RACE™ Dynamic Forms allows users to streamline processes and accuracy of data capture for mission critical business operations. The solution offers the capability to review case reports, site monitoring, event reporting and many more in real time online or offline. Users are able to track the history of any equipment, part, and/or device, to trace inventories fast and access only the necessary products.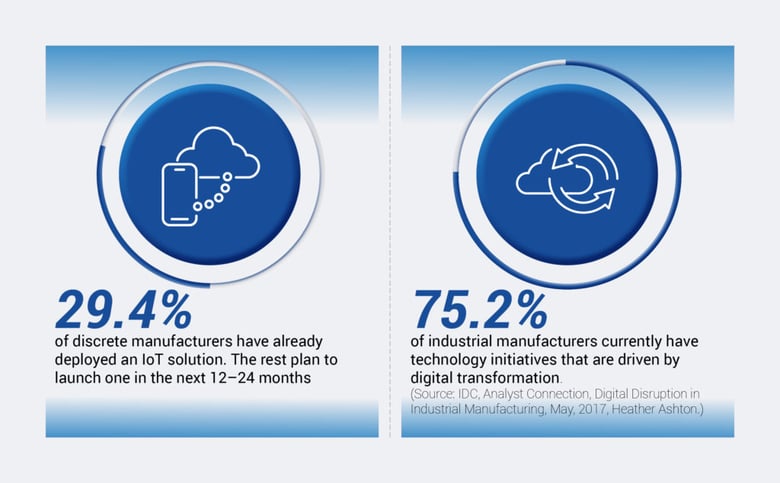 Answer the Uncertainty with RACE™ Dynamic Forms
With so many facets of the business shifting at once to digital, profound challenges face the World's largest industries. Organizations are grappling with how to address distributed resources, changing consumer expectations, regulatory uncertainty, and an aging workforce. To thrive amid such change, executives need clear direction on how not to fall in the water as they place two feet in the boat and come off the deck of the tried and true way to advance their organizations.
The benefits of RACE™ Dynamic Forms are extensive specific to saving an organization's workforce time, labor expenses, and reducing errors. RACE™ Dynamic Forms is the solution to help you build robust mobile forms revolutionizing your field data capture, whether the objective is to improve productivity, increase visibility into operations, save time and/or gain data accuracy.
If you would like to find out more about RACE™ Dynamic Forms, or any of Innovapptive's Mobile W

orkforce Management Solutions, our Solution Experts are ready to chat with you or you can reach us at (713) 275-1804.