SAP Fiori is a new age user experience (UX) for SAP, based on modern design principles that provides a holistic and a consistent experience across different devices, accomplishes quick insight-to-action anytime and anywhere and much more. There are innumerable apps that are currently applying the SAP Fiori UX to provide greater user productivity and personalization for customers, who use SAP Business Suite on any database and SAP Business Suite powered by SAP HANA. SAP Fiori supports not just apps, but also a variety of roles in diverse functional areas of business including HR, finance, manufacturing, procurement and sales. The 300+ collection of apps from Fiori are light-weight and designed for routine tasks to improve productivity.
Why SAP Fiori over other applications?
Good user experience
Responsive design that runs on most platforms
Cost effective with no additional licensing fees
Alignment with SAP user experience strategy
Availability of off the shelf apps that can be modified
Ability to develop your own custom apps with a consistent quality approach
Simple infrastructure footprint that's a logical extension of the existing SAP infrastructure
8 Key Considerations to a Successful SAP Fiori Implementation
Deploying SAP Fiori at a client's place involves a lot of factors including their current technological landscape, unique user requirements and security. As part of Innovapptive's key implementation strategies across a wide range of clients, specifically with SAP Fiori apps, we bring forth some of the key lessons that are learnt during our clients' implementations.
Don't assume that SAP Fiori is just a simplified 'copy' of back-end functionality
SAP Fiori is much more than a mere copy of back-end functionality. The diversity of the configuration in SAP back-end processes is huge. Most of the organizations take some time in setting up their SAP mobile platform, just to ensure that their back-end processes are customized in a different way for standard SAP apps to work.
Ensure that all critical functionality is tested
Once deployment phase ends, the most crucial phase is the testing phase that needs to be designed, based on your organization's deployment strategy and diverse requirements of the users. Devise a suitable test plan, considering your organization's infrastructure landscape, security and above all the varied requirements of your users that you intend to target. You can test the Fiori application on local Tomcat Sandbox, ABAP system and also on the Fiori Launchpad.
Partner closely with SAP Fiori Ramp Up support
SAP Ramp-Up is SAP's early adoption program for customers, who want to go live with SAP's software applications as soon as possible. This ensures that your customers realize the benefits of SAP's new solutions ahead of their competitors. SAP Ramp up is a collaborative effort of field, support and development teams to offer a program for secure and cost-effective implementation. Hence, it's imperative that your organization constantly partners closely with SAP Fiori to ensure that it gets proper Ramp up support to enable you with an overview of solutions currently in Ramp-Up and upcoming programs in the Ramp-Up.
Test the UI on the most popular browsers
As part of the testing phase, you need to install and run SAP Fiori apps on multiple browsers including checking the browser compatibility, unexpected behavior (if any) and UI responsiveness. From the technological perspective, test the UI on most widely used HTML-5 capable browsers (Google Chrome and IE 10 and above) and evaluate the performance metrics and other parameters.
Leverage the SAP Fiori Launchpad to improve performance and solution stability on mobile devices
The SAP Fiori Launchpad is a framework that can run one Fiori app or a series of Fiori apps. The Fiori app a user can access in the Launchpad varies, depending on the user and what apps are assigned to that user or that user's role. SAP Fiori Launchpad is a shell that hosts SAP Fiori apps and offers the apps with certain value added services such as navigation, personalization, embedded support and application configuration. Some of the value added features that you can accrue by leveraging SAP Fiori Launchpad include:
Personalization of the Layout
Responsive Design
Search Capabilities
Theming and Branding
Address the security architecture early, since mobile access and SSO can get very complicated
You need to have the authorizations on the front end server for each single app (start authorizations for OData) services in order to access HTML5 based app/UI and the SAP Fiori Launchpad that is used by all apps as entry point. In other words, security architecture need to be in place to avoid any unexpected behaviors creeping up later. In fact, when you update SAP Fiori, it should not impact existing authorizations and moreover, when introducing new apps, these should flawlessly integrate into existing authorization concepts.
The more dated your SAP backend dependent application versions are, the more problematic your SAP Fiori app implementation will become, even if you meet the basic system requirements
The SAP Fiori related software components required at the backend server depends on the release level of the backend server. Also the principal or the transactional apps run on older backend server releases such as SAP NetWeaver Release 7.00 or higher but below 7.40 and ECC 600/SRM 7.00 or higher. Hence, the above point as enlisted above assumes significance and has to be kept in mind, when embarking on SAP Fiori implementation.
Decide what strategy you need to use to make systems internet-accessible instantly
To address these issues, try to answer the following questions:
Will the development Fiori landscape be accessible to internet users simultaneously with PRD Fiori?
Did the client do the QA testing internally on iPads, using internal URL that bypassed external authentication/external URLs?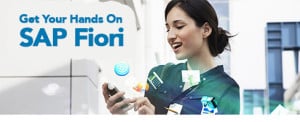 The Innovapptive - SAP Fiori RDS: Fast and Simple to Implement
Taking into account the varied usage patterns, Innovapptive's portfolio - SAP UI5 and native mobile solutions addresses the diverse set of enterprise users' needs and compliments your organization's overall SAP Fiori Strategy.
Innovapptive's SAP-Qualified Rapid Deployment Solution (RDS) for SAP Fiori includes the new SAP Fiori apps and enables the implementation of SAP NetWeaver Gateway, SAP UI5 and one or more Fiori Apps for full productive purposes in a fixed time and fixed price. SAP Fiori apps provides a simple and easy to use consumer-grade user experience that work seamlessly across devices – desktop, tablet or smartphone. Innovapptive's RDS implementation for SAP Fiori ope-rationalizes your workforce immediately and brings instant value to your enterprise.
If you would like a demo of Innovapptive's portfolio of Native or Web based mobile solutions, please click on the button. Alternatively, if you would like to discuss with an Innovapptive solution expert, you can reach out to us by emailing us at sales@innovapptive.com or you can reach a sales representative at (713) 275-1804.