SAP Fiori is a collection of apps with consumer grade user experience (UX) for SAP software for multiple platforms like ABAP, HANA, SAP Portal and Cloud Portal. It supports a variety of roles in lines of business that include HR, Sales, Procurement, Finance and Manufacturing. The 300+ collection of apps from Fiori are light-weight and designed for routine tasks to improve productivity.
Understanding the User Experience (UX) needs is critical in selecting the right mobile solution
Mostly Desktop Users

Expect to have consumer-grade applications on their desktop.
Accustomed to having speedy network and excellent application performance.
Know applications are secured by company network.

SAP Fiori Apps or Personas are great SAP UX transformation tools that can be deployed to meet the needs of "Mostly Desktop Users"

Desktop and Mobile Users

Alternate between desktop and mobile device.
Need a consistent UX across all devices.
Expect great performance for both mobile and desktop.
Require mobile security.

SAP Fiori Apps within a hybrid containerized mobile app is a great option to cater for desktop and mobile users.

Mostly Mobile Users

Accustomed to working with consumer grade apps on their mobile device.
Expect to have native phone/tablet capabilities integrated with their mobile apps.
Demand high performance from apps.
Need strong security for apps.

Pre-packaged or Custom Native Mobile Apps
If SAP Fiori addresses all the business needs why consider Native apps?
Native applications meet the need for users that predominantly spend most of their time on a mobile device, as opposed to a desktop. These users require a native mobile user experience as a native solutions are designed, compiled, installed, and executed on Mobile devices to deliver necessary performance and user experience.
For use cases that are "mostly mobile users", a native mobile app with SAP Mobile Platform would be the ideal mobile solution for an enterprise. A native mobile app with an SAP Mobile Platform provides the following superior features for the end user to better run their business and achieve the highest level of productivity:
Native features such as GPS, camera and bar code reader
Advanced security and authentication
Superior user experience
Offline Access
Improved data transfer speed
Improved performance
Third party integration
Application usage analytics
Push notifications
Badges
In the future SAP is also releasing support for SAP Fiori Apps with the SAP Mobile Platform to create hybrid containerized native apps to support the above features.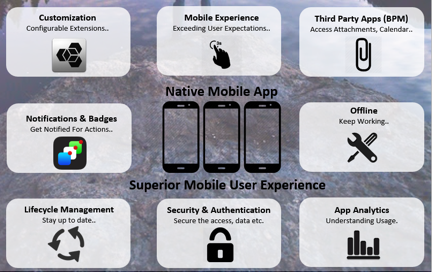 Innovapptive provides pre-packaged SAP certified native mobile apps with a customization and extension cockpit to empower IT teams to tailor the app to meet their specific business needs. In addition, Innovapptive offers SAP Fiori implementation services along with custom native mobile app development. Depending on customer priorities, customers can use these facts to choose between Innovapptive's SP certified native mobile apps, SAP Fiori Apps or custom build a native mobile app.