Should I build or buy my next mobile app? It's the classic buy-vs-build dilemma. Do I buy a product to allow me to get to market quicker, or do I hire software developers to build the perfect, custom solution? We take a look at both options and try to arrive at a logical conclusion.
Enterprises are at the cusp of realizing the immense potential of mobility, leading to the dramatic increase in transforming business processes through mobilization. The promise of operational excellence and achieving better ROI has increased the quest for instant mobilization. Good Technology's latest Mobility Index report shows that 70 per cent of enterprises think that providing mobile support to their employees over the next 12 months is of high or critical priority. Perhaps the most fundamental decision to make in planning any mobile deployment is whether to build or buy the mobile applications that your workforce will be using in the field.
The perceived benefit of building your own application is that it will have all the features needed for your business and you will not be paying another provider for the use of their professional staff and putting a profit into another company. On the other hand, keep in mind that companies with extensive experience in mobile app development can foresee pitfalls and offer complete solutions in a way that no in-house deployment ever could — simply because the experienced provider has seen numerous companies, experienced issues you probably have not even considered and has staff whose only responsibility is developing mobility software.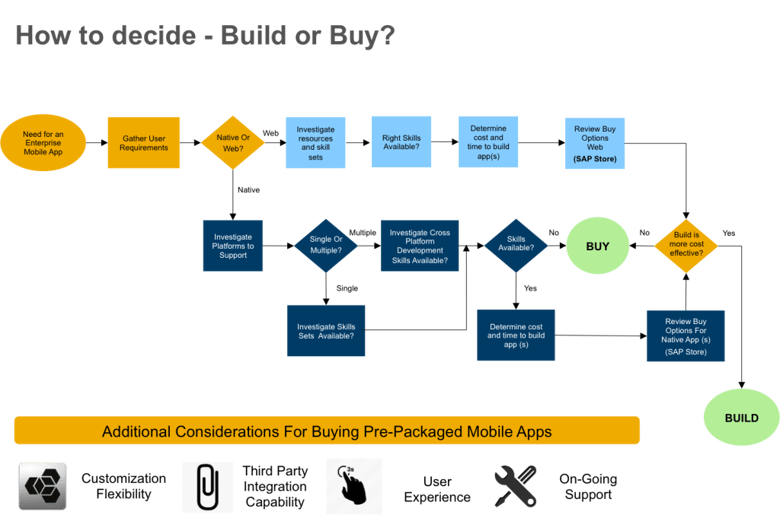 In terms of the enterprise mobile solutions market, the choice between web-based / HTML5 applications, native applications, and hybrid applications also plays into the mix. You need to think about which mobile platforms you want to support and what tasks you want your mobile end-users to be able to perform on their mobile devices.
Native applications will provide the best user experience and most robust functionality because your software program will have access to all of the capabilities of the device and will be able to operate without connectivity to a web server.
Web-based applications make it easier to support a variety of mobile devices, because they run inside a web-browser, which is available on most mobile devices. However, user experience and performance suffer and are highly dependent on connectivity.
Mobile Application Development Challenges
If you are thinking about developing your mobile solutions internally, you need to consider that you will be forced to go through an entire software development process, probably for the first time and likely without the benefit of prior experience. You will have to assess all of your business requirements, perform all of the coding and testing, and determine how to automate paper processes. Three key factors to consider are –
Time – All major developmental components for your mobile solution will result in a significant increase in the time required to get the solution up and running compared to initial expectations. This significant time period will contribute to reducing your company's return on your investment. Building a solution in-house is a very complicated and laborious process.
Personnel - In-house development can also evolve into a significant personnel issue. The initial process of developing and deploying an application that seamlessly integrates to your SAP ERP will require hiring talented and experienced IT resources. Key areas where you will need expertise extend beyong the traditional SAP skill-set and involves collaboration between various teams within your IT organization.
Support - Once the solution is deployed, it then will only need to be maintained. The upgrade life cycle for mobile apps is drastically different from traditional software. Therefore, you will either end up with significant change management issues and managing the application for the right OS versions. If you have a mobile app that is deployed across multiple form-factors and OS, it only compounds this maintenance challenge.
Delivering innovative apps that your enterprise needs
Innovapptive's collaboration with SAP has brought to the market a wide range of highly innovative SAP Certified pre-packaged mobile apps while assuring that quality standards are maintained. Innovapptive has worked to standardize technical architecture and to create highly intuitive and customizable app interfaces and functionality. This helps customers instantly consume new user-intuitive apps that can be deployed in a matter of weeks.
As needs change, customizing or changing a pre-packaged mobile app was always thought to be nearly impossible than doing so with an in-house solution. Through Innovapptive's pre-packaged mobile applications, key functionality can be hidden or activated simply by checking or unchecking individual configuration settings — and those changes will then be implemented automatically across a variety of different devices and mobile operating systems, which would be all but impossible to ensure on a solution built from scratch.
Pre-packaged solutions can transform your mobile strategy
For a single company to make the same ongoing investments in software development to further optimize mobile solutions and to streamline them would not make financial sense. However, for an established mobility vendor, it does, because they undergo such improvements to improve their product and make it more marketable.
As you consider the basic decision of "build versus buy," the most important question is this: do you want to transform yourself into a software development organization, or do you want to focus on your key strengths and hand off the software development to a company that is focused just on that?
Key advantages of buying a mobile solution as opposed to building one from scratch include the following
Leveraging the collective experience of the vendor in the specific domain
Reducing the time it takes to get the solution up and running
Reducing the number of employees required to maintain the solution
Ensuring product support of the solution as technology changes
Email: sales@innovapptive.com
Hotline: (713)-275-1804