With mobility redefining our lives like never before, enterprises of all sizes are embracing mobility like never before. Mobility may sound differently for different sets of users. A typical user may be more concerned about the general apps that help him/her to accomplish simple day to day tasks – making calls, scheduling appointments, tracking the location, making notes, etc. However, from an organization's point of view, mobility is more to do with employee productivity and the ease with which the core business operations can be accomplished. It in this context, enterprise mobile apps are ruling the roost and are making rapid inroads into every business realm to automate and streamline the business processes, providing the flexibility of users to work from anywhere, anytime.
When we talk about a business domain or a specific business function, there could be innumerable business processes intertwined in a department. Take for instance the Finance department that could encompass several key functions such as accounting, payroll, taxation, treasury, etc. An enterprise mobile app targeted towards the Finance department aims to automate and integrate all the above key processes, thereby optimizing the overall efficiency, cut costs and helping in effective decision making. This app may typically integrate with the organization's server or an ERP at the backend to process the data to deliver the desired results.
However, at this juncture, you might encounter one typical question. Does a generic Finance app solve the requirements of the Finance & Accounting department for each and every company? The answer would be typically "No", as each and every company has their own distinct accounting and financial workflows, based on their business requirements, convenience and the way their companies are positioned in the market.
Hence, the major challenge faced by any mobile developer is how far their enterprise mobile apps can address the distinct business processes of each and every company? It is here that "app customization" comes into picture, wherein a typical app should offer flexibility for customization to take care of the diverse business needs of any company. With the current demand for enterprise mobile apps exponentially rising, most of the organizations are evaluating pre-packaged mobile applications to meet this growing demand. However, as discussed above, most of the commercially available pre-packaged mobile apps are generic in nature, meaning they fail to meet the diverse requirements of each and every organization. This in turn creates a need for a platform/SDK that gives them the ability to quickly fine tune the pre-packaged app to meet business requirements that include:
Changing the business logic
Adding, deleting or modifying existing fields
Security customizations
And much more….
However, from a business stand point, it becomes a costly proposition for companies to embark on customization as organizations need to spend millions of dollars to hire resources to work on the customization and above all the time that needs to be spent on such efforts. This is because, customization mostly involves coding efforts that can even run into several days and weeks, based on the features that they want to add or the screens that they want to customize. In such a scenario, most of the companies in the mid-level segment are putting customization on the back burner.
So, what is the possible alternative for this? Innovapptive solutions, a leading SAP Partner has evaluated the pain points of the specific industry segments vis-à-vis customization paradigms and developed a revolutionary product - Rapid App Configurator Engine (RACE). But, before we talk more about RACE and its uniqueness, let's have a brief overview of Innovapptive and its core contributions in the SAP segment.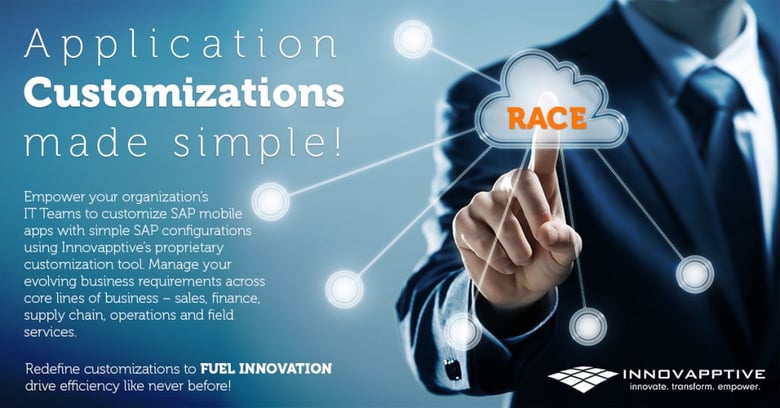 Innovapptive Solutions is a global products based company that is into enterprise mobility and is focused on enabling instant mobilization for global 2,000 customers by accelerating their time to market and value. Innovapptive helps customers achieve instant mobilization through its portfolio of mobile apps (77) leveraging SAP HANA Cloud Platform mobile services, which are capable of running on native operating systems and SAP Fiori® apps.
In the context of its core product offerings, as discussed above, Innovapptive's mPower™ Product Suite comes built-in with its configuration toolkit - RACE™ that empowers your IT teams to achieve infinite number of customizations of the mobile apps within minutes, translating to 40% of operational efficiency. You can achieve these customizations simultaneously on browser based applications such as SAP Fiori and on the native mobile apps – offers high level agility and flexibility that helps in accelerating your enterprise time to market without becoming a bottleneck.
Simply stated, RACE empowers your IT teams to manage your evolving unique business requirements across core lines of business such as Sales, Finance, Supply Chain, Operations and Field Services. Irrespective of the size of your enterprise or the type of the infrastructure that your organization currently maintains, we at Innovapptive will help you fuel your business engine and stay ahead of your competitors.
This marks the new beginning in the annals of instant mobile app customization – redefining and transforming the way customizations can be carried out, driving innovation and business efficiency to new heights.
How RACE works?
RACE sits on the SAP Netweaver Gateway and works as the backend that lets you activate or deactivate specific transactions, add or remove data fields, map custom fields and much more with simple clicks pertaining to any app that you want to customize. And the best part is you need not change a bit of the code – no need to have any technical knowledge of SAP ABAP or OData or UI development skills. This simplicity in customizing SAP mobile solutions provides a strong value proposition and dramatically improves the overall TCO and ROI, thereby enhancing the overall customer experience to the next level.
How Innovapptive's RACE helps you achieve simple SAP configurations?
Customize modules: Activate and de-activate specific app modules.
Customize data fields: Add, remove or re-sequence data fields.
Add security flavor: Make newly added fields' security relevant.
Map new fields: Map newly added fields on the mobile app's user interface with SAP table fields (including custom fields).
Define data fields: Define mandatory or optional fields, text and drop down field types as well as enable field value descriptions.
Add new screens: Design your own screens within Innovapptive's framework and then place them in a convenient sequence and decision tree.
Customize business logic: Change business logic with posting and retrieval of Business Add-Ins (BADIs).
Add new transactions: Add new SAP transactions to existing functionality by creating a new module on the app.
Standard security validation: Ensure automatic recognition of existing SAP application security by mobile app.
Value proposition
Drastically decrease implementation timelines and cost - go mobile in less than four weeks.
Minimize on-going support and maintenance costs.
Eliminate the need to hire additional skill sets (Mobile UI/UX designer, iOS, Android or Appcelerator developer).
Receive OS upgraded versions for iOS, Android, Windows, etc. at no additional cost.
8-10% direct cost savings through enhanced productivity.
40% rise in productivity to drive higher operational efficiency.
If you would like a demo of Innovapptive's portfolio of Native or Web based mobile solutions, please click on the link/button. Alternatively, if you would like to discuss with an Innovapptive solution expert, you can reach out to us by emailing us at sales@innovapptive.com or you can reach a sales representative at (713) 275-1804.