Companies have spent billions of dollars deploying enterprise resource planning (ERP) systems, such as SAP, over the past two decades. However, these innovations often overlooked frontline industrial workers in factories, warehouses, and the field and left them burdened with inefficient paper-based processes. There is a big opportunity for organizations to improve the efficiency of these deskless workers by including them in their digital transformation journeys.
Innovapptive is one of a small group of software-as-a-service (SaaS) companies carving out a new genre of solutions aimed at improving the lives of industrial workers. A connected worker platform (CWP) provides frontline workers with all the tools to do their job more efficiently, provides managers with real-time operational visibility, and enables organizations to fully leverage their ERP investment. The diagram below shows six key components of a CWP. Let's look at each of these and determine why they're important.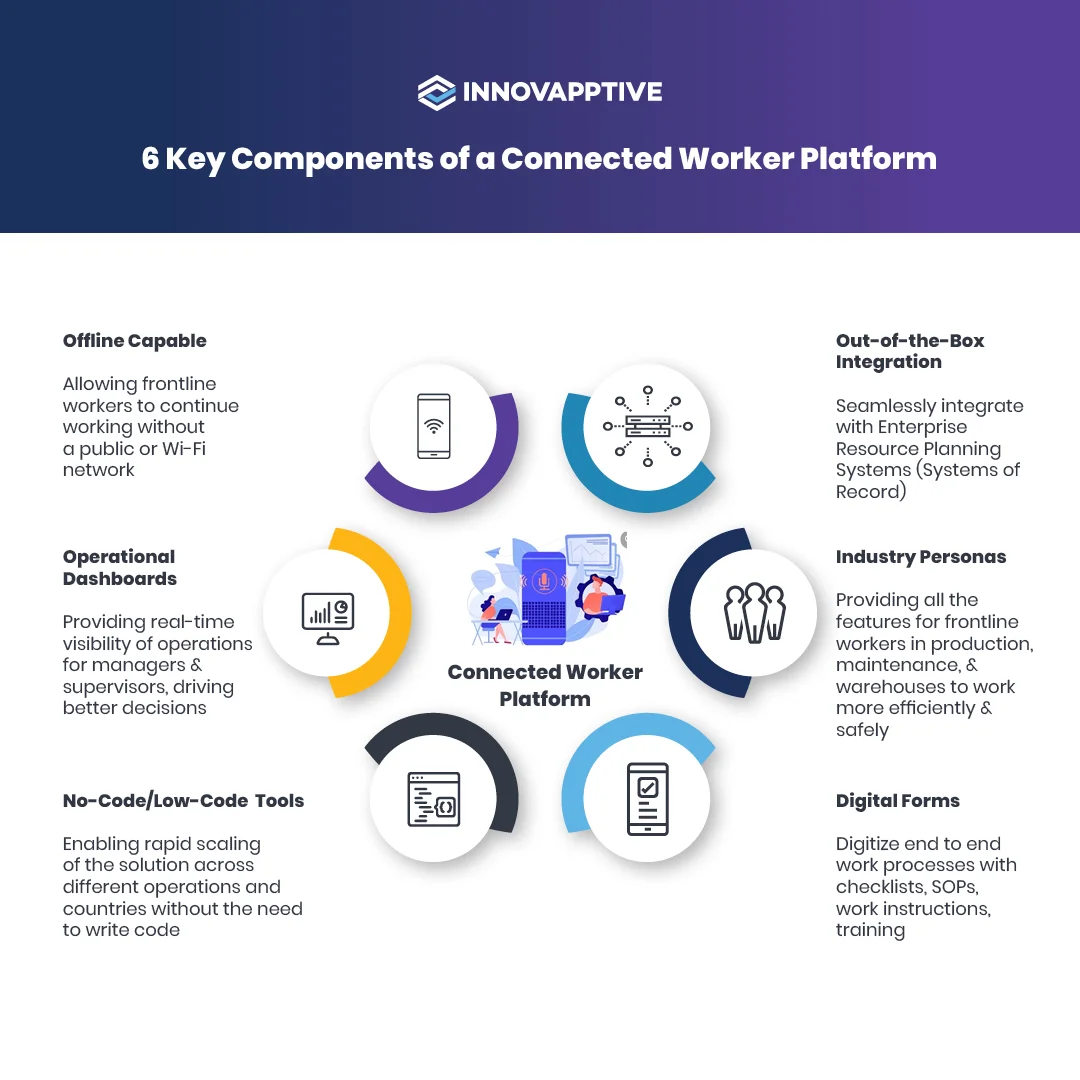 Out-of-the-Box Integration
The ERP is the digital core for most large organizations spanning finance, human resources, and operations. ERP systems have improved back-office productivity and integration across different business functions. However, frontline workers have not benefited to the same degree. Maintenance workers must print out a mountain of paper before they start working and then have to return to the office to process transactions in the ERP. Warehouse clerical staff struggles to read other workers' handwriting on an inventory count sheet. Production workers fill out paper checklists with no subsequent capture of that data digitally.
CWPs address these problems by putting mobile devices integrated with the ERP in the hands of frontline workers. Physical work in factories, mines, and warehouses is updated immediately. This ability leads to accurate real-time data capture and greater productivity, as there is no need to return to the office. Software on the mobile device enables the posting of all standard ERP transactions, so there's no need to build an in-house solution.
Industry Personas
So who are these mythical deskless workers? They form 80% of the global workforce of 2.7 billion workers. They include factory operators, maintenance technicians, warehouse workers, drivers, field service staff, etc.
CWPs need to reflect these different industry personas; for example, a worker responsible for maintenance needs to integrate with the ERP's plant maintenance module, while a distribution center worker should be integrated with the ERP's warehouse management module. There are economies of scale from having a single CWP that covers an organization's entire frontline workforce.
Frontline workers can also benefit from more specialist features provided by a CWP. A field service technician responsible for maintaining equipment across a wide geographical area would benefit from digital maps showing the location for the next call. A warehouse worker would benefit from Optical Character Recognition (OCR) which can scan alphanumeric characters for materials without barcodes.
Digital Forms
Despite the investment in ERP systems, it's surprising how many business processes still depend on paper to fill in the gaps. A digital forms capability enables superusers to create professional documents in less than 30 minutes that have several advantages over paper forms. Built-in validations ensure all required information is captured accurately. Once data is digitized, it can be analyzed for greater business insight. Digital forms can be stored in the ERP or any document management system for easy retrieval. The promise of complete paperless operations can now become reality.
No-Code/Low-Code Tools
In recent years, organizations have started to deploy mobile solutions for their frontline workers, but these early forays were often unable to overcome the challenge of scalability. The software enabling integration between the mobile solution and the ERP system was usually hard-coded, making it very inflexible. Solutions floundered when rolling out to a new location with a new business process, legal requirements, language, or other localizations. Enter no-code/low-code tools, which heralded an era of flexibility. Mobile solutions can now be easily modified to reflect new business requirements, work processes, and end-user requirements. Any organization about to select a CWP should view this as a must-have requirement.
Operational Dashboards
One of the biggest challenges to managing frontline workers are that they usually work remotely from their supervisors or managers. Factory operators are out on the shop floor, maintenance technicians are repairing equipment in an oil refinery or chemical plant, and warehouse workers are picking materials in the yard. Modern mobile solutions integrated with ERP systems have proven to be a big step forward in driving frontline worker efficiency; but what if we could make that information readily available in real time to supervisors and managers?
Operational dashboards or Kanban Boards are an effective solution. They take all the real-time information from frontline workers and display it in an easily digestible form on a desktop or tablet. They allow managers to view work progress and make decisions based on what they see. Take a warehouse operation with 100 orders to pick for customers in a day. Using the operational dashboard, the manager can easily see which orders have been started, picked, loaded on the vehicle, and dispatched. If a manager detects a growing backlog of unstarted orders, they can deploy extra labor. That same operational dashboard can also be displayed on large screens in the warehouse, allowing operators to see the status of work.
Offline Capable
The last key component of a CWP is the capability to work offline without a public or Wi-Fi network. This ability is a fundamental requirement for deskless workers located remotely from the office. If you have empowered your frontline workers with devices to connect to the central ERP, you don't want them to revert to paper if there is no network. Modern mobile solutions work seamlessly offline, allowing workers to continue to process transactions and automatically synchronize with the ERP system when a network becomes available.
With a CWP, your frontline workers will no longer feel isolated and disconnected from the back office. A CWP empowers frontline workers with all the tools to do their job more efficiently enables managers to make better decisions by providing real-time operational visibility, and ensures organizations fully leverage their ERP investment.
Questions? We're Here to Help
Innovapptive, a digital transformation leader, specializes in SAP- and IBM Maximo-compatible connected worker solutions. These systems simplify the collection and sharing of operational data to improve technician productivity, transform warehouse processes and cut costs. Schedule a free demo today of a world-class connected worker platform or call 888-464-6668. Our industry experts will be glad to explain the connected worker concept and guide you through how it can benefit your enterprise.