Today's industrial organizations are under constant pressure to do more with less. Profit margin pressures and efficiency demands present ever-increasing new challenges, from attracting and retaining talent to ensuring effective safety programs to achieving increasing levels of operational excellence.
Even digitally transformed companies suffer operational inefficiencies and bottlenecks. This is due to disconnected digital transformation tools. Companies are using ERP systems for back office processes; frontline workers are using digital technologies from different SaaS companies for work instructions, paperless processes, work analytics, and many other specific needs.
With multiple disconnected systems, there's no single source of data from which to draw insights and make knowledgeable decisions. Competing applications conflict and confuse, or create silos that hinder communication, collaboration, and productivity.
To overcome this, asset-intensive industries need a single platform that caters to the needs of all personnel and departments involved in maintenance activities. A connected worker initiative offers a solution. By leveraging both technology and a commitment to organizational change management, organizations can create an agile workforce that responds with increased collaboration, real-time data capture, and rapid training to respond quickly to changing circumstances and business priorities.
The Connected Worker and Connected Worker Solutions
Frontline workers' daily activities and workflows tend to be time- and task-centric, requiring different solutions than traditional office workers. Connected workers are capable of using various digital tools and data management techniques to improve and integrate their interactions with both physical and virtual surroundings. They can make faster, better, and safer decisions that enable and optimize a process or set of processes in which they participate.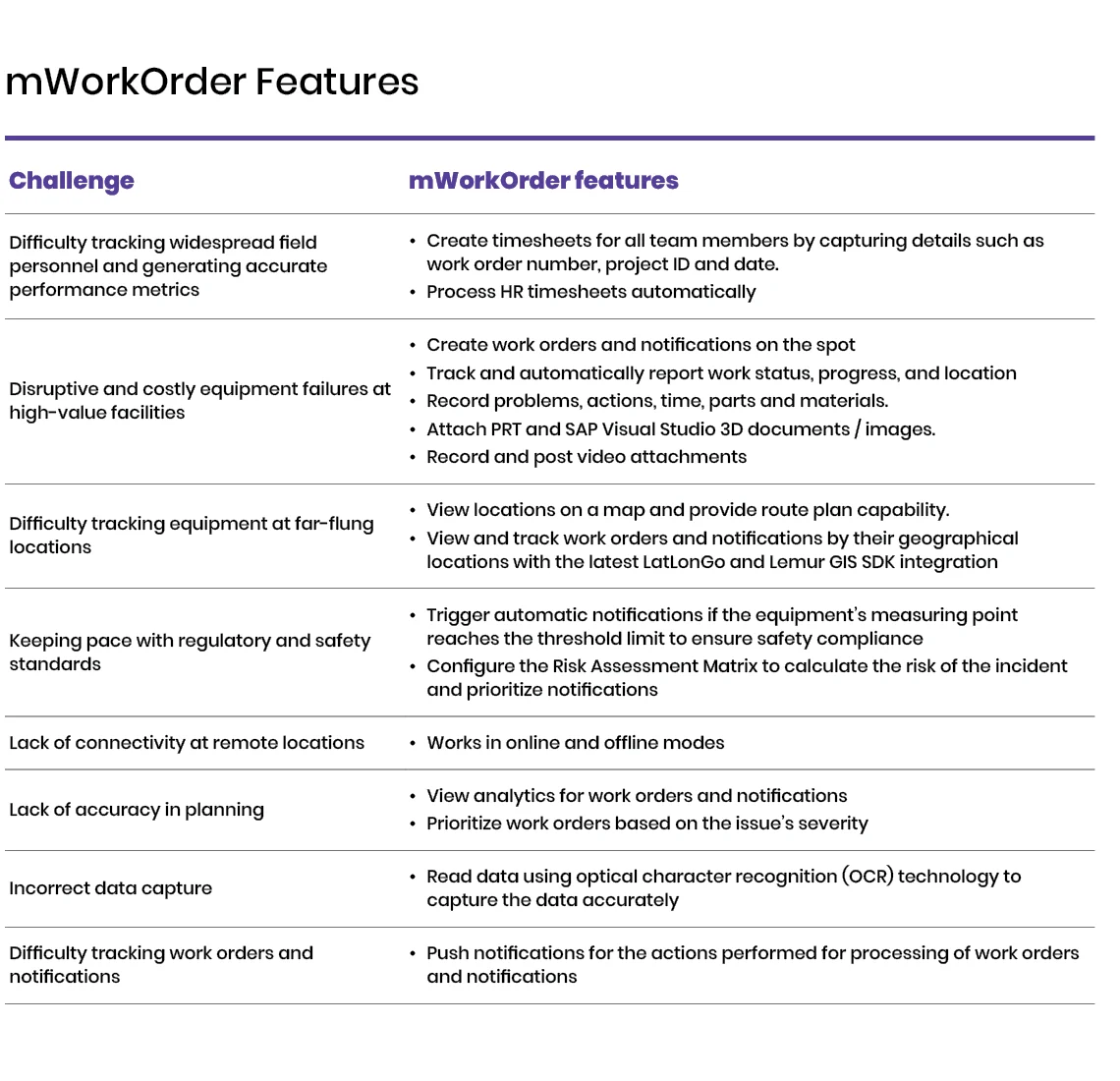 Connected worker solutions play a critical role in driving operational excellence for industrial organizations. It bridges the information gap, giving field technicians and warehouse workers a direct link to centralized data mechanisms like ERPs and EAM systems. This is about more than just issuing the workers a smartphone. Connected worker solutions enable collaboration, information sharing, data capture, and augmented reality training to empower the frontline worker to accomplish better, faster, and safer.
Innovapptive's Connected Worker Platform
Smart machines are conquering factory floors in Industry 4.0 but unpredictable situations in manufacturing still need human intervention from maintenance technicians, making them irreplaceable resources. Unfortunately, frontline workers haven't been equipped with the technology advancements they need and still use outdated practices. Error-prone paper forms and information silos jeopardize worker efficiency and safety.
Innovapptive's Connected Worker Platform disrupts this status quo and creates safer and more efficient workplaces. It bridges the gap between factory floors and the back office to establish real-time communication. It solves the disconnected digital technology challenge through the use of a single unified platform directly integrated to your ERP.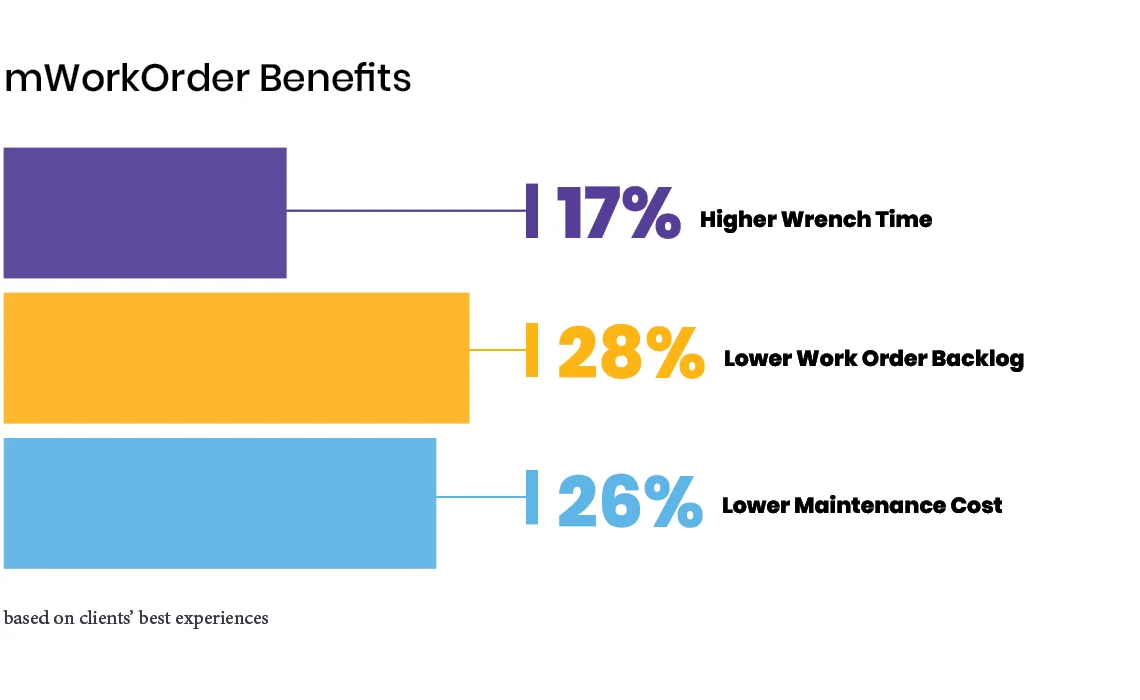 Supervisors and managers assign work orders to maintenance workers, send notifications, see real-time spare parts availability and kit status, and monitor work order progress from a single interface. Field workers can execute work orders within a paperless process. All necessary information is readily available at their fingertips and fieldwork can be documented directly through the app.
Why Innovapptive?
Innovapptive's Connected Worker Platform is powered by RACETM and it enables your superusers to deliver unique connected worker experiences. Depending on your frontline workers' proficiency levels - personalize their guided work instructions, ERP transactions, and their connected worker experiences by persona.
We offer the only connected worker platform that digitizes the last mile of your frontline workers into SAP and IBM Maximo. Most connected worker platforms in the market today are siloed or proprietary. They either offer a solution for guided work instructions or barely integrate with ERPs. Innovapptive bridges these gaps by recognizing the need to maximize both SAP and IBM Maximo operational data with 150+ prepackaged and reconfigurable work instructions, checklists, and compliance forms that run on mobile devices and smartwatches - connected or disconnected. It also enables remote guided assistance on smart devices for experts to guide your frontline workers hands-free.
How Innovapptive's Solution Transforms Maintenance and Operations
Here are three ways our platform helps organizations tap into the full potential of their frontline workforce.
Mobility and beyond: Frontline workers fumble with paper forms and checklists while executing mission-critical tasks. A Service Council study found that 46% of field technicians claimed that paperwork and administrative tasks were the worst part of their day-to-day job. Companies use ERP systems such as SAP to digitize data but still rely on paper in the field. Some ERP providers offer web-based or hybrid mobile applications that are only as good as paper forms and fail to leverage the full power of mobile. Almost half of the frontline workers expect workplace technologies to perform just like their personal technology.
We have built off-the-shelf mobile solutions for asset-intensive companies. The intuitive UI/UX makes them usable, accessible, desirable, and findable. These solutions can be integrated into wearables including smart glasses and smartwatches, to enable voice-based, hands-free operations on the factory floor.
Our encryption methods underpin the security and integrity of data flowing through the solutions. These solutions work in both offline and online modes eliminating the need for extensive Wi-Fi networks. Field technicians can focus on their work and need not worry about having an internet connection.
No-code/low-code customization: The customization of enterprise mobile solutions is critical and challenging. Business processes, workflows, and regulations often change in manufacturing plants. Relying on vendors for every tiny change increases costs for a company. On the other hand, maintaining in-house IT teams can be a costly alternative.
Innovapptive pioneered the no-code/low-code Connected Worker space with its proprietary Rapid Application Configuration Engine (RACE™). RACE™ enables managers and IT teams to customize solutions within minutes. This ensures field technicians receive updated information and follow the latest regulatory standards to achieve sustainable growth.
An ecosystem of connected operations: Conventional practices create silos that lead to communication breakdowns across an organization. A Deloitte study found that more than a third of industry leaders regarded organizational silos as one of the top three challenges to setting an Industry 4.0 strategy. Innovapptive is solving this problem by connecting different frontline teams, including maintenance, engineering, and inventory, to enable the free flow of information across the organization.
We offer a mobile work order management solution, mobile inventory management solution, mobile asset management solution, digital operator rounds, and digital work instructions solutions as part of our robust Connected Worker Platform. These mobile solutions are integrated with ERP systems such as SAP, connecting field workers with the back office. This creates an ecosystem of connected operations where a maintenance planner prioritizes work orders based on real-time rounds data, a technician knows the availability of spare parts and an expert helps him with visual guidance to work faster and safer. This ecosystem breaks information silos.
Ready to Redefine Your Maintenance and Operation Strategy?
Innovapptive's Connected Worker platform is a suite of prepackaged and reconfigurable applications for SAP and IBM Maximo to help the front-line worker get their jobs done faster, better, cheaper, and safer. Want to learn more? Watch this video, schedule a free demo here, or call 1-844-464-6668 to reach out to our experts.