The warehouse is a highly competitive business and every day, it generates heaps of data about inventories. Inventory management is a core area within warehouse management and has a great contribution towards business revenue. In this turbulent economy, delivering a high level of performance while keeping cost low is the main goal of warehouse manager. Moreover, providing goods quickly when they needed is of paramount importance. In today's digital era, where technological advancements such as internet of things, mobility, and AI are opening new doors of opportunity, at the same time many companies, especially those involved in warehouse and inventory management are still dependent upon the legacy system. Many companies maintain their warehouses in remote locations from where their supply chain operations take place.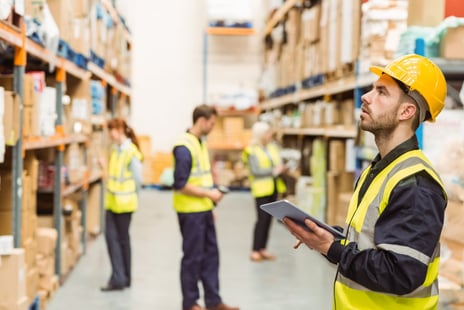 Most of the challenges associated with warehouse and inventory management arise from relying on manual processes, outdated system, inconsistent data-entry, wasted man-hours spent tracking down the items stored on wrong location and more. It creates hurdles providing real-time inventory information. Having too much unnecessary inventory in stock doesn't only consume storage spaces, but also eats into the company's bottom line. Even unexpectedly running out of stock of essential inventory items cause delays. Workers at the warehouse are still engaged in bulky paper-based processes and every time they have to transfer data from warehouse to the office and back. Errors caused by manual data-entry leads to delays in supply chain and sacrifices customer expectation.
There is the immediate need to breaking down barriers in inventory management, and supply chain. As we, all are witnessing that mobile devices are transforming every corner of human lives. For example, people use mobile devices for playing games, paying their bills, replying email on the go and more. Now, the time has come for warehouse leaders to leverage the benefits of mobility. In order to streamline inventory management and add accuracy to the process company-wide, warehouse workers need a mobile solution that can overhaul these issues and boost the efficiency in the warehouse operations. The greatest combination of super-flexibility and easy user interface offered by enterprise mobile app is invaluable.
Providing warehouse employees, the enterprise Mobile solution, can dramatically improve inventory management, resource utilization and enhance productivity also. The improved visibility into a diverse array of warehouse and Inventory management allows companies to coordinate activities more precisely and help aligning the business operation within remotely located warehouse and workers teams. Enabling warehouse employees anytime, anywhere access of business information won't only provide real-time visibility, increase their convenience, but also greatly help in managing physical inventory movement in real-time. This will improve almost all warehouse functioning from picking, put away, packaging, and shipping, receiving, to cross-docking. The enterprise mobile app doesn't only streamline supply chain operations, increase warehouse employees' productivity, but can greatly enhance safety and emergency response.
Enterprise Mobile Solution for Inventory and Warehouse Management
Innovapptive offers an SAP-certified, simple, consumer-grade mobile solution mInventory that lets you perform day-to-day inventory transactions through handheld devices and laptops by accessing the master data of the SAP inventory module. The app uses RFID peripheral to automate critical inventory transactions such as inventory cycle counting, goods receipts, goods issue and stock lookups, resulting is accurate and up to date inventory information in SAP. The mInventory mobile app, precise tracking and paperless management of inventory help you increase productivity, lower costs, optimize your supply chain, and improve customer service. It helps you avoid production downtime and enhance your operational efficiency.
Business benefits gained by implementing mInventory:
Reduce inventory carrying costs with access to real-time stock levels.
Ensure accurate, up to date inventory information by using barcode scanning for data entry
Speed up receipt and back-order reporting to and from shipping/receiving
Manage physical inventory movement in real time and improve inventory accuracy
Perform physical and cycle counts quickly and achieve greater accuracy of inventory levels
Streamline inventory cycle counting and reduce the number of FTEs for cycle counting
Key Features of mInventory:
Ruggedized peripherals for RFID, Bar Code or QR Code Scans.
Scan RFIDs, Bar Codes and QR Codes to ship and receive inventory
Accept and distribute incoming materials by purchase order.
View stock detail information at the plant, storage location, and batch level, anytime, anywhere
Pre-pick materials and issue, return or transfer goods electronically
Ensure inventory cycle count scheduling, counting, and adjustments
Print packing slips and bill of lading documents from SAP wirelessly
If you would like a demo of Innovapptive's solution,

please click on the link. Alternatively, if you would like to discuss with an Innovapptive solution expert, you can reach out to us by emailing us at sales@innovapptive.com or you can reach a sales representative at (713) 275-1804.