It's not surprising that there will always be a need for the best-in-class software (applications) in the business of all types, regardless of industry. In today's digitally driven marketplace, keeping pace with customer's expectations, which are developing as rapidly as technology is progressing, is difficult. To satisfy the demands of the business applications, many organizations attempt to build them internally. However, creating an enterprise level application that meets all of the business requirements involves a variety of skills such as front-end and back-end development, user experience, optimization and more.
Drive Progress. Reduce Costs: CIO Struggles
The landscapes of business applications are expanding in every arena; keeping constant pressure on organizations' CIOs to figure out how to create as many applications as possible that can be easily adapted and maintained while minimizing costs. Organizations are tired of paying ongoing, recurring costs to hire and build & maintain high-code environments. If organizations don't have skilled developers in-house, they need to outsource them which sounds cost-effective, on the surface, but can lead to issues in areas such as logistics, time sink, and hidden costs. High code development platforms don't only add cost to the organization, but they are also are complex and time-consuming to manage and maintain.
Gartner found that CIOs are often expected to drive progress within their organizations—and enterprise application platforms can help. "Digital processes will likely grow from taking up approximately 44 percent of the business to 77 percent of operations over the course of the next five years."
As the manner in which business applications are being developed, deployed and maintained is fundamentally shifting, it's high time for businesses to embrace a new, innovative approach, i.e. low code development platform, to drive value for customers and employees. With the absence of in-house developers and skill gaps holding organizations back from realizing the high profits they could achieve if these two factors were present, organizations should enable their non-technical employees ining build and customizing applications. Not only will this reduce pressure on IT teams, but it will also make it easier for organizations to keep up with the demands for digital innovation.
A Solution is Here: RACE App Builder
Understanding the modern organization's mobile app development challenge and mitigating the gap, Innovapptive is releasing a low-code app development solution, RACE App Builder, enabling organizations to design and deploy business applications faster and more efficiently much more swiftly than traditional custom-built solutions. The RACE App Builder empowers non-tech employees, or citizen developers, to create mobile applications in less than 10 minutes at lower costs. Employees with virtually no, or limited, development experience can quickly and easily build mobile apps which that can run on multiple platforms.
Offered as a SaaS Solution, with access to the extended eco-system and allowing simplified integration to any backend, RACE App Builder helps businesses create and manage native mobile apps for all platforms. The solution enables customers to stay independent of their IT infrastructure, maintenance and support, relieves the growing pressure on IT developers and enterprises, and reduces app development backlogs.
A few standout features in RACE App Builder: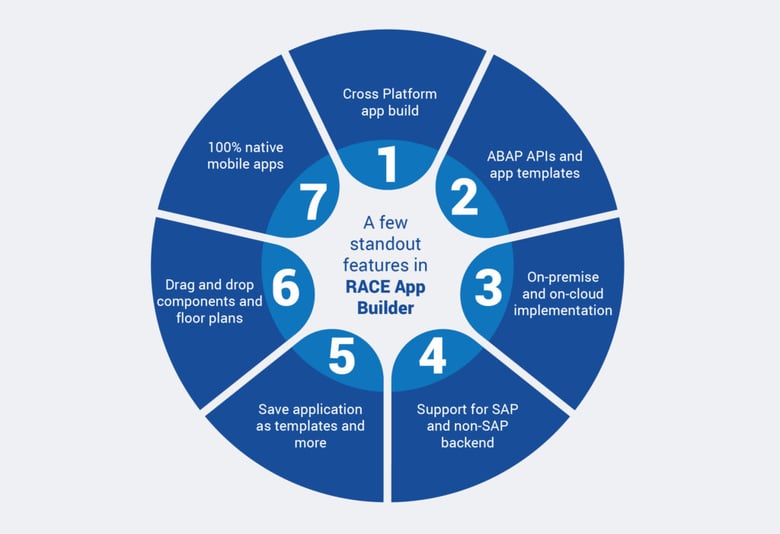 If you would like to find out more about RACE™ Dynamic Forms, or any of Innovapptive's Mobile Workforce Management Solutions, our Solution Experts are ready to chat with you or you can reach us at (713) 275-1804.