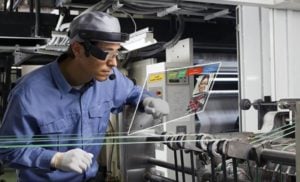 Failing to digitally transform will lead to extinction for enterprise businesses in today's market. A report in World Economic Forum projects that by 2030, 1 trillion devices will be connected to the Internet (WeForum.org, 2018). To avoid extinction, enterprise organizations are seizing on plummeting costs of technologies and transforming into Digital Enterprises. While we are still in the early stages of the Digital Transformation, organizations failing to take advantage of strategic initiatives, such as embracing Wearables, to better enable their workforce and improve productivity will fall behind in defining their long-term futures.
Key drivers behind the move to digital, and embracing real-wear, for enterprise organizations are
Enhanced customer experience
Operational excellence
New business models
Business process innovations
Increased employee engagement
SMAC Technologies (Social Media, Mobile, Analytics/Big Data, and Cloud) are key enablers behind companies embracing Digital but they all tie back to the experience of the user, be that the Customer, Supplier, and Employee. For the purposes of this blog, we will focus solely on the Employee.
Reconnect the Disconnected Employee
Despite the umpteen advances in technology, organizations around the globe, big and small, still struggle with the ability to connect and stay connected with each other and their employees. Employees still communicate via phone, email, internal mail, all of which are growing antiquated and flawed with delays and failures such as communication drops and/or information loss.
Introducing Realwear into organizations can add value to an overall employee; the simple addition of a smart accessory or two allows them to overcome their physical limitations and/or skills gaps. Realwear allows organizations to plan, and augment, in real-time, their future workforce. Employees need full use their hands when in the field as well as full concentration when using them. Wearables allow employees full access to their hands while carrying out computer-aided activities in real-time such as scanning barcodes with glasses or inputting item numbers on a smartwatch.
Realwear, such as headsets and smartwatches, can be equipped with software enabling workers to determine the health of assets quickly and make necessary adjustments in maintenance to alleviate stressors. For example, the health of an asset may deteriorate faster than expected, requiring a corrective action before the next regular maintenance is scheduled. By providing an early indicator for the developing failure, a maintenance scheduler can manage the unplanned maintenance and turn it into a planned maintenance. This allows the scheduler more lead time for better planning and optimizing maintenance.
Further technological developments allow enterprise organizations to increasingly focus on core tasks to see growth in their business units. Hands-free solutions such as head-mounted tablets (HMT1) are a logical next step for most enterprise organizations in the order of digital transformation. With HMT1 devices, employees are able to view information quickly and automatically via a head-mounted display without having to pick up a mobile device beforehand
Innovapptive mWorkOrder and Realwear
Innovapptive's mWorkOrder is the most configurable enterprise mobile plant maintenance solution available on the market. It gives you the power to improve capital asset management in ways that increase reliability, enhance predictive maintenance, ensure regulatory compliance, reduce energy usage, and support sustainability initiatives. Fully configurable with RACE™, the solution provides you with unparalleled flexibility to zero in on the specialized, industry requirements that can turn your company's asset management into a competitive advantage.
mWorkOrder is now equipped with the ability to support HMT (head mounted tablet) devices, completely run on voice command. This newest feature enables workers the ability to listen and respond to voice-based directions and process tasks in a more natural way, successfully decreasing turnaround time.
By using HMT devices integrated with mWorkOrder, technicians will be able to perform transactions such as create work orders, send notifications, scan equipment, attach multiple items, and more. They can also take photos, record videos and upload them in real-time through voice command.
To find out more about mWorkOrder, or any of Innovapptive's Mobile Workforce Manag

ement Solutions, our Solution Experts are ready to chat with you or you can reach us at (713) 275-1804.