You want to show customers, employees, stakeholders, partners and lenders you can make the grade when you're an industrial process plant or manufacturing facility operator.
ISO certification is the gold standard you need to meet but your maintenance department is having trouble clearing the high bar needed to receive coveted third-party validation. There's a solution available today to bring maintenance up to ISO standards and improve productivity and skill sets at the same time: Digital Work Instructions.
ISO certification ensures that an organization runs its business using international standards for products, services and processes. These can include business management, environmental policies, or they can be standards that were developed by the ISO for specific business sectors.
ISO Certification
There are several internationally recognized ISO certification categories, including five involving plant maintenance activities. These deal with product quality, environmental compliance, business disruption, data security and workplace safety.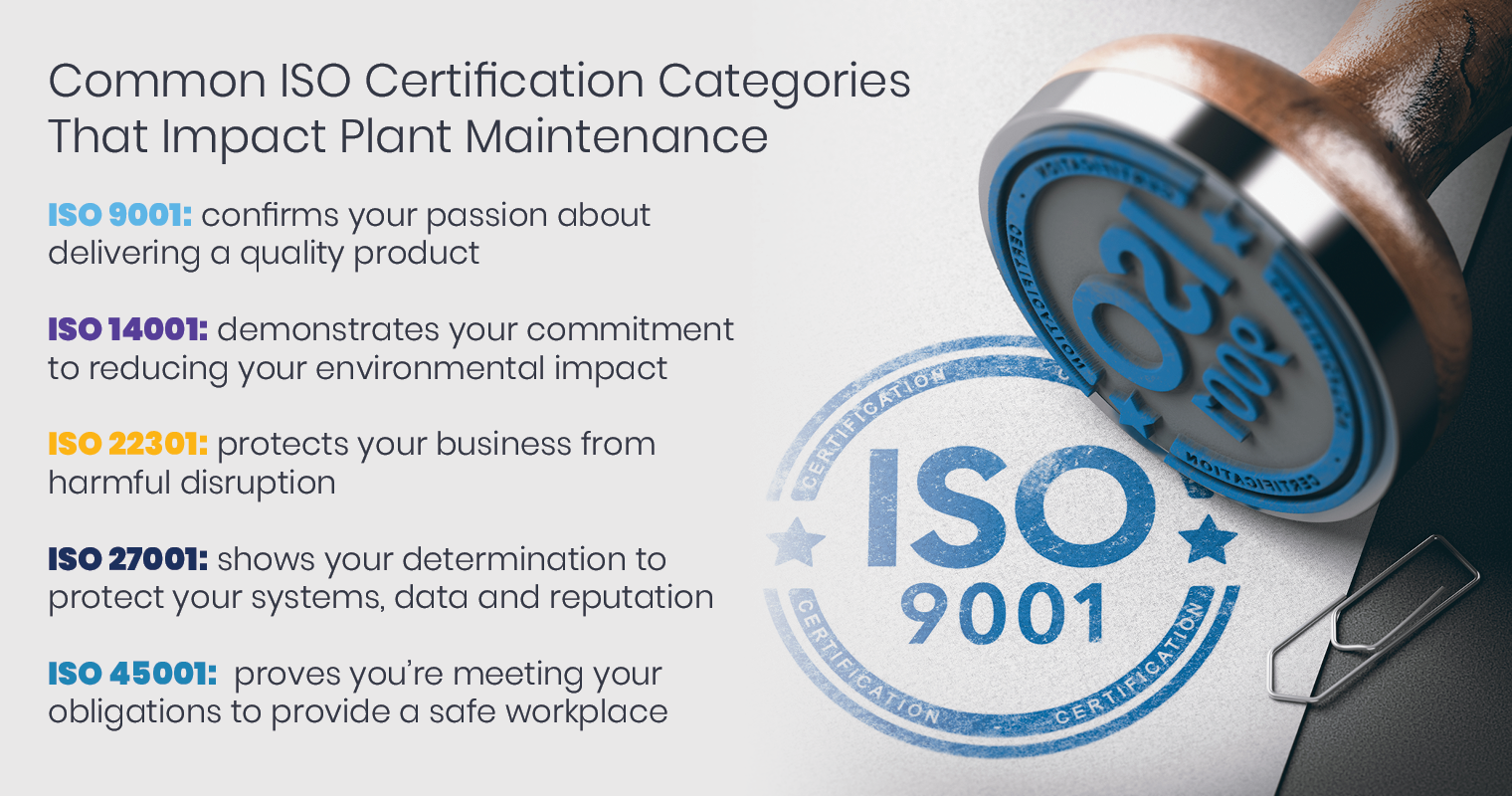 ISO certification in one or more of these categories offers process, workplace, business and public relations benefits, such as:
Greater efficiency
Lower costs
Higher customer satisfaction
More engaged employees
Reduced risks
Decreased insurance premiums
Holders of third-party ISO certification proudly display their seal of approval on their website, on marketing materials and elsewhere for all to see.
How Digital Work Instructions Can Help You Gain ISO Certification
Innovapptive's Digital Work Instructions has a simple goal: To help industrial process plants and manufacturing facilities overcome front-line worker skills gaps to enhance productivity, reduce errors and reworks, and boost safety.
Here's how it works: When new-hires or novice front-line employees are assigned work orders, they can digitally collaborate from the job site in real time with a veteran counterpart via smartphones, smart glasses or smartwatches.
The more seasoned employee doesn't have to accompany the front-line worker. He or she can be in a nearby office or shop, at another unit within the plant or across the country or world. The two connect via a secure teleconference. The veteran can actually "see" what the on-site worker is looking at, answer questions and offer verbal step-by-step instructions or share documents, photos and videos that explain proper procedures. The solution lets plants upskill their team, giving greater workforce agility, flexibility and capability.
So how does this help with ISO certification?
ISO 9000 - ensuring that production equipment is properly maintained and kept online is a major first step in the manufacturing process. It helps ensure customer orders are met in a timely fashion with little or no delay.
ISO 14001 – properly maintained equipment runs more efficiently, using less fuel or electricity and giving off fewer emissions, helping to preserve the environment.
ISO 22031 – an efficient maintenance department that responds well to routine repairs and emergency work ensures that unplanned production downtime is kept to a minimum. This helps to prevent disruption to the business from a plant disaster such as a shutdown, accident, fire or explosion.
ISO 27001 – Innovapptive's Digital Work Instructions solution uses SAP encryption, two-factor authentication and single sign-on (SSO). This means all data transmitted or shared using the solution is kept free from prying eyes and secure from compromise.
ISO 45001 – New hires and less experienced front-line workers are most at risk of suffering a safety incident on the job as they are often less familiar with proper procedures and best practices. With Innovaptive's Digital Work Instructions solution, these employees can receive real-time mentoring and tutoring in the right way to safely perform a work order, mitigating the risks of an incident and promoting greater care and attention to detail when working.
Innovapptive's Digital Work Instructions solution, a part of the company's Connected Worker platform, can enable plant operators and managers to align their activities to meet internationally recognized ISO standards and to meet certification guidelines. If you're looking to improve your ISO certification efforts, schedule a free Digital Work Instructions demo today or call us at 844-464-6668.