In September 2014, Microsoft announced the Windows 10 operating system promising to be different and innovative when compared to earlier operating systems. One of the biggest draws is Microsoft's claim that this new operating system can offer multi-OS support, which means Windows 10 operating system offers the real compatibility to run iOS as well as Android apps seamlessly.
After months of rumors, Microsoft finally revealed its plans to get mobile apps on Windows 10. iOS and Android developers will be able to port their apps and games directly to Windows universal apps, and Microsoft is enabling this with two new software development kits. On the Android side, Microsoft is enabling developers to use Java and C++ code on Windows 10, and for iOS developers they'll be able to take advantage of their existing Objective C code.
What is the need for Microsoft to support iOS and Android apps?
Microsoft wants Windows 10 to be a development target for Android and iOS developers. And by making such apps portable will encourage developers to support its own software. Apart from that, it is expected that consumers who are otherwise averse to Windows operating system due to lack of applications will instead adopt Microsoft's platform. The goal seems reasonable, particularly when the chunk of the market (96.3%) is currently dominated by iOS and Android applications.

In fact, Android apps that run on Windows 10 won't resemble Windows applications – they'll look like Android. iOS applications that don't receive UI overhauls will resemble iOS apps.
How it works?
Windows 10 offers the flexibility to eliminate the complete code rewrite, which means Microsoft has SDKs in Java and C++ for Android and Objective C code for iOS. However, this doesn't imply that you can just download an app from Google play or the Apple app store and have it work. Developers have to use the conversion software to run it.
One of the major attractions of this operating system is it brings everything together – Start, Taskbar and Action center improvements as well as polishes Continuum and Task View and provides enhanced experience for Virtual Desktops – it consists of new mail and calendar apps.
Microsoft has enabled developers to use Java and C++ code on Windows 10 and iOS developers on the other hand, can take the advantage of their existing Objective C code. Microsoft's aim is to enable developers to migrate their code across with minimal changes and then subsequently leverage the capabilities of Windows like Cortana, Xbox Live, Holograms, Live Tiles and much more. Microsoft has been testing its new tools with some versatile developers like King, who is pioneered to have developed the Candy Crush Saga on Windows phone – has been converted from iOS code using Microsoft's tools without any changes.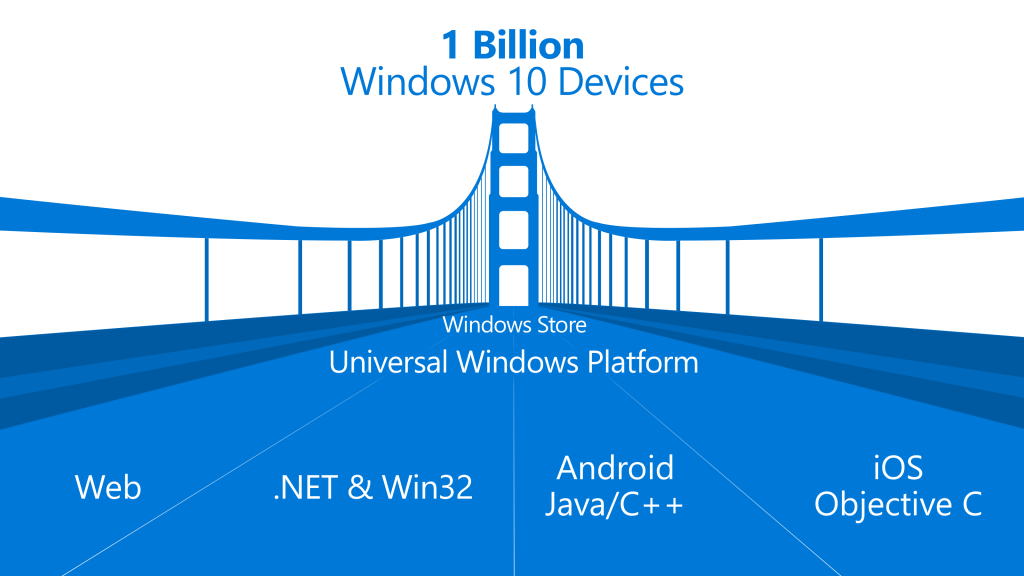 Along with the iOS and Android SDKs, Microsoft is strategizing the method for websites and windows desktop apps to make their way over to Windows universal apps. Microsoft has developed a model, wherein websites can run inside a Windows universal app and use system services like notifications and in-app purchases. This way, it becomes easier for website owners to create web apps with minimal effort and publish those apps in the Windows store. It may not serve as a best alternative to native apps for a variety of scenarios, but for simple websites it means a lot – offers a new way to create an app, eliminating the need for its developers to learn new coding languages. Apart from that, developers will also be able to leverage their .NET and Win32 apps work and migrate them to Windows universal apps.
Using some of its HyperV work, Microsoft is virtualizing these existing desktop apps on Windows 10. Adobe is one specific test case, where Microsoft has been working closely with the firm to package its apps to make it market ready for Windows 10. Using this virtualization technology, Adobe Photoshop elements will be available on the Windows Store as a universal app. Since performance is the key issue for many desktop apps, it will be quite intriguing to know if Microsoft can manage to maintain a solid app experience with this virtualization.
What does that mean to Microsoft?
Collectively, Microsoft is referring to these four new SDKs as bridges or ramps to make developers interested in Windows 10. Microsoft considers this as a crucial moment to really win back developers and set a firm footing that Windows has a place still existing in this world, where Android and iOS are still dominating. The goal is to get Windows on one million devices within the next two to three years.
That's a pretty big goal, considering that Microsoft still has the tricky mix of ported apps to contend with, which could result in an app store, just like what Amazon has or even challenging, where developers would be uninterested to port their apps. This is just a small beginning and Windows universal apps, though promising still has a rough road ahead.
How will Innovapptive support the Windows 10 operating system?
Innovapptive will offer Windows 10 support and enable all its apps (around 77+) that currently run on Android and iOS platforms to be compatible with Windows 10. That means a promising opportunity for customers on Windows 10 to seamlessly adopt one of the largest portfolios of Enterprise Mobile applications.
If you would like a demo of Innovapptive's portfolio of Native or Web based mobile solutions, please click on the link/button. Alternatively, if you would like to discuss with an Innovapptive solution expert, you can reach out to us by emailing us at sales@innovapptive.com or you can reach a sales representative at (713) 275-1804.