Mobility leaves a great impact on the enterprise. It doesn't only increase employees' productivity, simplify complex business operations, but also plays a key role to improve company's revenue and profit by enabling the power of real-time response. However, despite digital technologies becoming widely accessible, many organizations still rely on paper-based approach for their day-to-day business transactions. This time-consuming approach leads to delayed processes, approvals and document loss and lowers employees' productivity that directly impacts the company's revenue and profit margin. Organizations can reduce these challenges by incorporating mobility.
Mobility has completely changed the way we do business. Especially, mobilizing workforce has been a real game changer. Around the world, CEO's, CIOs and Business owners have recognized the power of mobility to drive their businesses forward. Today, organizations need real-time insights of ongoing activities performing in the office and field. This helps them driving more accuracy in their operations and achieve the business goal. Organizations are embarking on a wide range of initiatives to enable mobility for users and the business.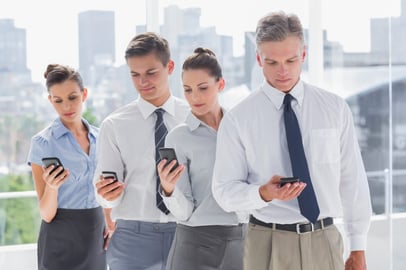 Enterprises can have a broad range of benefits from their investments in workforce Mobilization. It helps organizations resolve distance and connectivity issues and empower front-line workers to make better, faster decisions with ease. Management can see their activities in real-time, instructs them and keeps eyes on individual performance.
Mobility empowers employees to execute their task more quickly and helps reduce costs and delays in the process flow. It changes and drastically improves the way individuals and teams work together, collaborate with their core business activities and customers receive service and support. Anytime access to simplified information through their choice of mobile devices let employees complete their assigned task on time which acts as a booster for employees to improve their productivity, responsiveness and job satisfaction.
Why is it essential to choose the right mobile solution for your enterprise?
Mobility affects enterprises, process, and employees by enhancing workflow, improving access to knowledge, the speed of business transactions and providing better modes of monitoring. That is why, it is essential to have the right mobile solution for your enterprise, which can support the existing software, and easily customize or change as per your changing business requirements. Else, the absence of change management can cost your organization. The mobile solution should offer a robust offline capability, which will let employees', remote or field workers to continue their work without network connectivity and as they come back in network range or wi-fi, data should automatically be synchronized. The mobile solution you're choosing for your enterprise should be quickly deployable and adapted the organization's infrastructure while minimizing implementation timelines. It should provide easy integration with third-party tools and at the same time leverage features and functionality of available mobile devices.
Innovapptive's proven SAP mobile solutions for some of the world's largest Global 2000 companies is a testament of our capability of creating a compelling and powerful partnership with your enterprise to achieve rapid mobilization. Its bundled SAP certified mobile solutions include 100+ SAP certified apps that help driving higher business performance and ROI on SAP investment. Innovapptive's SAP Mobile Solutions reduce lead times by integrating mobile capabilities into operational tasks to drive productivity. Fully configurable with Rapid App Configurator Engine (RACE™), and gives you unparalleled flexibility to zero in on the specialized, industry requirements that your company can get competitive advantage.
If you would like a demo of Innovapptive's Mobile Solution,

please click on the link. Alternatively, if you would like to discuss with an Innovapptive solution expert, you can reach out to us by emailing us at sales@innovapptive.com or you can reach a sales representative at (713) 275-1804.