Inventory management forms the core of the bigger supply chain management picture. From a nodal approach, it is what flows from node to node. And at each node, it becomes necessary to analyze that perfect balance of supply and demand or you may risk dire consequences in terms of lost revenue and business. If you have too much inventory lying idle, this translates to more space, increased transportation, more handling, increased manpower and resources. On the contrary, if you have little inventory than required, you have to prepare to lose sales and customers due to the inability to meet the demand.
At times, even after figuring out the right amount of stock that you need to pile up, you still need to execute the proper flow. Inventory is not just about timely movement of physical goods from one location to another, it's also about managing the vast amount of information associated with these goods. This is important to keep the goods to move to the next node, even before it gets there.
In the light of the above discussion, efficient inventory management assumes significance and is often considered as a time-consuming exercise – greatly influencing the day to day operations and overall success of the business. Automating your organization's inventory workflow is the next big step in streamlining and optimizing your organization's inventory resources, saving time and money.
Buying the right software with the right features is the primary step in streamlining and optimizing your organization's inventory management setup. An in-house ERP system configured as per your organization's workflow serves the right purpose in this direction. Apart from that, if there is a large user base, who are constantly on field to take care of the stock movements across different plants and warehouses, it becomes prudent to have an automated mobile inventory solution.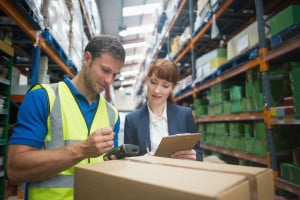 Now, the next question that arises in our mind is what are the key factors that can influence our decision to purchase the perfect mobile inventory management solution? This blog throws some light on this aspect and much more to get started.
1. Quick and easy set-up
In a big organizational setup with large user base, it becomes imperative that the solution you embark has a quick and a simple setup, rather than a cumbersome procedural setup that is a big let off. This aspect needs to be considered carefully before selecting that perfect solution, else your IT team may end up wasting time in complex configurations and maintenance activity. Some of the solutions available nowadays have a simple setup, particularly hosted through a cloud that eliminates huge installation and maintenance costs. This way, a good mobile inventory solution can make the first impression with most of the users, who may be exceptional functional experts, but still novice in technology
2. Affordable
Even if you have a software that boasts of exceptional value added features, ultimately, cost plays a major role in influencing your purchasing decisions. A typical solution should be affordable including the costs related to maintenance, upgrades and after sales support. This way, even small or startup businesses can get access to a cutting-edge inventory management technology without huge investment. Companies that are looking to keep their operating costs low can look for a provider that offers the best-in-class solution within their predetermined budget.
3. Real-time inventory tracking
A good solution should offer real-time inventory tracking that helps you to have a good grasp of accurate inventory levels and data. It should also help in viewing your stock levels or generate reports for quick decision making. Added advantage is the integration of the bar code technology to help in quick tracking of assets to estimate what stock is in hand and where it has to be moved to ensure stock optimization and elimination of wastage.
4. Simple and a user friendly interface
As mobile screens are much smaller in size, compared to a desktop monitor, the UI of the solution that you purchase has to be simple and easy to use. It should eliminate complex functional jargon and workflows, while keeping the essentials to ensure that data is quickly accessed and processed to ensure an enjoyable user experience.
5. Automated inventory transactions
A typical mobile inventory solution can help in streamlining core inventory transactions such as goods receipts, issues, transfers and returns as well as helps in data processing of receivables and much more. This way, your organization can ensure an automated, yet speedy inventory management system that helps in eliminating redundant and inefficient manual processes, while enhancing the overall operational and process efficiency.
Innovapptive's provides a turnkey solution for all your inventory needs
Innovapptive has done a thorough market research analysis from a cost-benefit perspective for various asset intensive industries and developed a cutting edge mobile inventory solution – mInventory. mInventory is designed to support the existing SAP users, who could be store managers, delivery managers and other professionals taking care of the day to day inventory operations. It offers a seamless, intuitive and an enriching inventory management experience at the comfort of their phones.
Using mInventory, you can perform day to day inventory transactions through hand held devices and laptops by accessing the master data of the SAP inventory module, thereby helping you manage the core spectrum of transactions within the scope of supply chain management (SCM) space. With mInventory, you can ensure real-time transaction processing, enhanced data accuracy and improved mobility and convenience.
Once you configure mInventory (for connecting to the back-end Inventory module) on your mobile device, you can right away login, using your existing SAP credentials and start using mInventory.
Key Features and Value Drivers
Ruggedized peripherals for RFID, Bar Code or QR Code Scans.
Scan RFIDs, Bar Codes and QR Codes to ship and receive inventory.
Accept and distribute incoming materials by purchase order.
View stock detail information at plant, storage location and batch level, anytime, anywhere.
Pre-pick materials and issue, return or transfer goods electronically.
Ensure inventory cycle count scheduling, counting and adjustments.
Print packing slips and bill of lading documents from SAP wirelessly.
Print USPS, FedEx and UPS shipping labels.
Check availability of materials while on the job.
Business Benefits
Perform physical and cycle counts quickly and achieve 98% accuracy of inventory levels.
Streamline inventory cycle counting and reduce number of FTEs for cycle counting.
Speed up receipt and back-order reporting to and from shipping/receiving by over 35%.
Reduce inventory carrying costs by 5 – 10%.
Manage physical inventory movement in real time and improve inventory accuracy by 30%.
Eliminate investments in expensive RFID guns and consoles to tighten your supply chain, service responses and order fulfillment.
Streamline goods receipts, issues, transfers and returns.
Streamline data processing on receivables.
Manage rolling inventories, satellite storerooms and truck/trunk stock.

If you would like a demo of Innovapptive's portfolio of Native or Web based mobile solutions, please click on the link. Alternatively, if you would like to discuss with an Innovapptive solution expert, you can reach out to us by emailing us at sales@innovapptive.com or you can reach a sales representative at (713) 275-1804.