The success of any business is linked to the performance of supply chain operation. It plays a role of a funnel through which consumers and businesses get what they need at the right place and the right time. Supply chain management professionals are the new stewards of modern day business and ensure alignment across functions. In this dynamic business environment, their role has become more important than ever and they are largely responsible for moving their companies forward into the multinational age.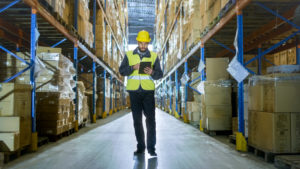 There are 5 factors drawing Chief Information Officers (CIO)' attention to Supply Chain Management and the struggle to meet competitive demands.
Factor #1 - Meet Varying Customers' Requirements
Due to growing competitive environment, organizations are pushing to meet their customers' needs ahead of schedule and offer extraordinary services. To achieve this, CIOs need cutting-edge technology that allows their companies to manage the supply chain operation more accurately and efficiently. They need a platform, preferably a mobile platform, that will help their employees exchange information regardless of their location.

This platform assists employees, ranging from CIOs to floor employees, forecast order information/status with real-time updates and offer good visibility into what's happening with specific orders. They can collaborate at a deeper level and make better decisions. Sharing and updating information quickly will reduce errors and cut lead times, which will help deliver goods faster to the customers; thus, happy customers.

Factor #2 - Technological Advancements and Increased Competition
Increased competition, technological advancements, and shifts in the business model are putting pressure on CIOs to stay ahead of competitors. They are looking for ways to create more efficient values to remain cost-effective and, most importantly, CIOs want to make their companies and their supply chain processes more streamlined and accurate to meet the demands of more sophisticated customers across the world. This won't only help to drive cost improvement, but it will increase capabilities as a means for staying competitive and also strengthen relationships with the customers.

Factor #3 - Warehouse & Inventory Management
There are only a few businesses that don't rely on inventory but almost all kinds of organizations need to manage inventory level at their warehouse. However, organizations, that fail to manage their warehouse effectively may face consequences, such as negative impacts to the supply chain.

An effective warehouse operation is crucial to an organization's supply chain. Leaders should ensure they have complete visibility into their organization's information with real-time updates using multiple avenues and that employees are involved in more streamlined inventory operations and utilizing space properly. Leaders are concerned about inventory management due to its significant impact on working capital and, as such, they are constantly seeking out better methods to reduce inventory holding costs and to speed up customer delivery lead times.

Factor #4 - Evaluating Existing System Performance and Choosing the Right Technology
As supply chain operations are becoming more complex day-by-day, the need for an improved supply chain solution has become critical. These days, organizations invest heavily in the software solution but, if companies can't leverage their software fully, they will not be as profitable as other companies that are leveraging their existing systems using the latest technology. To help companies benefit fully, CIOs should embrace Supply Chain Excellence as a core competency at all levels of the company. They need to ensure that their existing resources, such as system/software, support the supply chain operations effectively.

Factor #5 – Be/Work PROactively not REactively
Due to a highly competitive business environment, CIOs should work more proactively and strategically to understand which technology will enable their business to grow faster. CIOs should stay abreast of regulatory, environmental, and financial forces that can drive change in their sector(s). It's high time for companies to re-evaluate their supply chain processes and determine if they are effectively supporting the organization's business objectives or just helping to maintain status quo. CIOs must focus on aligning their supply chain with the overall business strategy and maintaining said alignment.
The key challenge for the CIOs is understanding the role 'disruptive' technology plays in their businesses. Many CIOs aren't keen on day-to-day supply chain operations but realize that things and activities related to it should be in sync with business objectives. Their goal is to optimize business processes, drive efficiency, and ensure compliance while adding to the bottom line. To achieve sustainable improvement in supply chain performance, organizations must have the right balance of investments in organization, processes, and technology.
Against the above challenges, Innovapptive's mInventory application for Mobile Inventory & Warehouse Management, can help increase stock accuracy, assist employees in managing and completing customers' orders with real-time updates and avoid delinquencies and/or errors in the processes. The mInventory solution joins seamlessly; effortlessly syncing with the SAP server to recover and process transactions as well as establish a unified communication setup. The warehouse transactions are completed on the device, either through scanning a barcode or keying input, which updates the ERP in real time.
If you would like a demo of Innovapptive's mInventory (Mobile Inventory and Warehouse Management) solution,

please click on the link. Alternatively, if you would like to discuss with an Innovapptive solution expert, you can reach out to us by emailing us at sales@innovapptive.com or you can reach a sales representative at (713) 275-1804.