Warehouse operations suddenly seem to have become the center of attention, with customers demanding shorter lead times, greater product range, and a need to support omni-channel distribution. Companies are having to respond quickly by setting up new supply chain models, including smaller warehouses closer to customers, and new processes allowing them to pick smaller orders against very short lead times. Margin pressures are increasing and the supply chain has to respond through increasing productivity and controlling unit costs.
On top of all this structural changes many companies are on the SAP S/4HANA journey and will be implementing Extended Warehouse Management (EWM) as their go-forward solution for warehousing. The company's IT team has to rise to the challenge of these far-reaching business changes and one key consideration will be selection of the warehouse mobile solution, integral to the success of an EWM implementation.
The following diagram highlights five key considerations when selecting a mobile solution for EWM.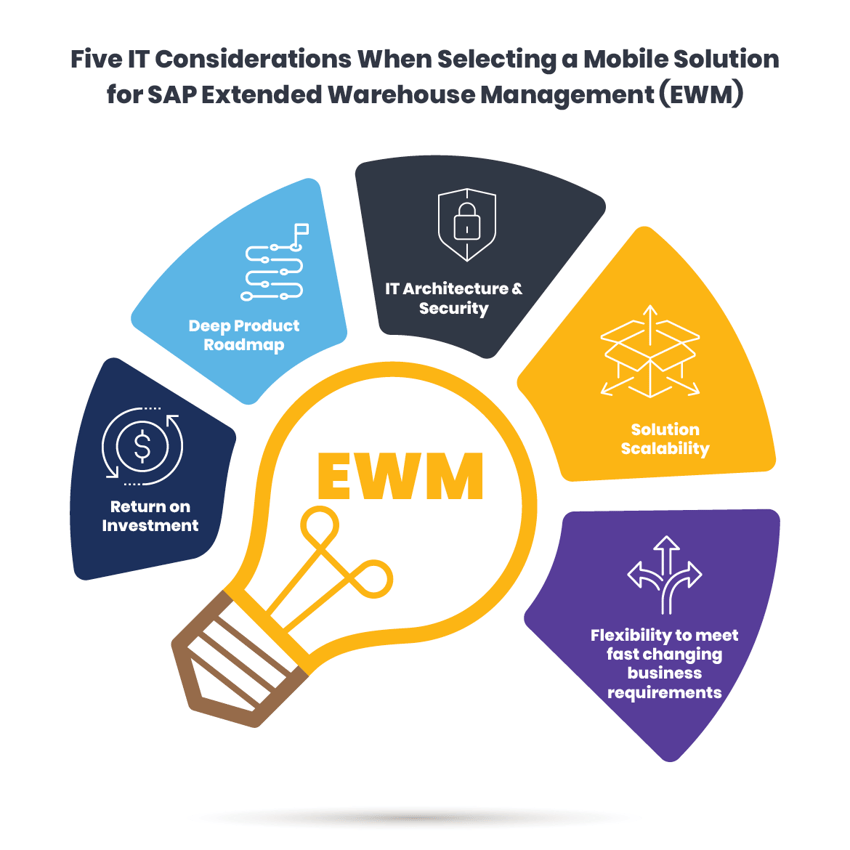 Each of these key considerations is discussed below:
Flexibility to meet changing business requirements – The supply chain and IT functions are having to adapt quickly to meet new business requirements. EWM comes packed with great functionality that can help companies overcome these challenges: for example, cross-docking, two-step picking, task interleaving and kitting, to name but a few. The key question is how to tap into all that rich backend EWM functionality and make it easily available to end users, in a very simple way, on a mobile device.
Older SAP solutions used to link SAP's warehouse solutions with RF scanners, including ITS Mobile and Fiori apps have significant drawbacks. They are browser-based, which slows performance, require expensive coding to reflect specific warehouse processes, cannot operate offline and are unable to leverage all the features of a modern mobile device. If you need to move quickly to set-up a new warehouse or a new business process, then these older solutions are not going to give you the flexibility you need. Moreover, your end users are going to be left with a poorer experience, which will affect warehouse productivity.
Mobile solution scalability – The deployment of mobile solutions has had a chequered history in many organisations, early adventures often included building solutions inhouse or using Systems Integrators. Whilst the first warehouse deployment may well have gone okay, rollouts often got bogged down as inflexible, hard-coded solutions could not reflect different warehouse processes, language requirements and other localisations. These solutions were expensive to maintain as coders had to be bought in to do the smallest update. Even simple changes, like adding a new field onto an RF scanner screen, meant submitting a Change Request to IT, going into the queue and only getting the change completed six months down the road!
The inflexibility of older mobile solutions is unsustainable when warehouse operations need to respond quickly to new business requirements. Innovapptive's best-of-breed mobile solution, mInventory, comes bundled with a patented no-code platform, RACETM (Rapid App Configuration Engine). RACE brings a whole new business paradigm allowing IT to support the rapid deployment of new warehouses and processes and giving end users exactly what they want on a screen within minutes. Mobile solution scalability definitely needs to be on your list of evaluation criteria when selecting a mobile solution to support your EWM deployment.
IT architecture and security - IT architecture and security are a table stake, no mobile solution should cross the first hurdle unless it meets these requirements. Ultimately the mobile solution is going to be interfacing with your corporate SAP system and therefore there is no room for doubt. There will be lots of questions to answer including:
What authentication mechanism will be used for sign-on to the mobile solution and SAP?
Is any data stored on the mobile device?
Does the solution support deployment in the Cloud?
Is the solution certified by SAP?
Offline capability is also an important consideration which helps overcome the challenge of warehouse blind spots where Wi-Fi is not available. With full offline capability warehouse staff can continue to work and then the mobile solution synchs automatically with SAP when back in coverage. Be aware that many older mobile solutions do not offer offline capability.
Deep Product Roadmaps - Whereas older SAP deployments remained fairly static over time, this is not going to be an option for the future. The pace of business change seems to be increasing by the day and S/4HANA must be a business enabler not a constraint. SAP itself has recognised the need to move more quickly, shifting their solutions to the Cloud and implementing a faster cadence on new product releases and features.
EWM is no exception, it comes packed with new features with every release, but you are only going to be able to leverage those if you have a flexible, modern mobile solution. Companies need to evaluate using a mobile-first company, such as Innovapptive, against trying to support Fiori apps, which require a lot of in-house capability or dependence on expensive Systems Integrators to build and maintain.
Mobile-first companies, being very focused, have deep Product Roadmaps, which incorporate requirements from their entire customer base as well as leading-edge innovations, such as, wearables, vision picking and RFID. One way to stay ahead of the game is to use an off-the-shelf mobile solution, which includes all the latest EWM transactions built into a robust and flexible standard product.
Return on Investment (ROI) - With the ever-present margin squeeze, every dollar IT spent needs to be justified. Companies are becoming more cautious how they spend their IT dollars and rightly want to develop robust business cases and a clear Return on Investment (ROI). However, in our experience these business cases do not always consider the total costs of ownership. For example, the in-house costs of developing and supporting a mobile solution are underestimated. Moreover, business cases only consider costs and do not consider the value different solutions provide. When it comes to the value, companies need to consider:
Functionality and productivity – The best warehouse operators have a culture of continuous improvement, constantly looking at incremental processes changes and increasing productivity. The mobile solution needs to incorporate the latest technology and have a clear future Roadmap. Assess how the mobile solution can improve productivity, for example, by minimising the number of clicks required to complete a transaction or using specific functionality like Optical Character Recognition.
Flexibility – This includes the capability to support a global deployment and speed with which the solution can be changed to meet new business requirements. What is the cost of delay and not being able to meet new customer requirements?
User experience – Ease of use and performance - ultimately there will be no ROI unless the solution is adopted.
Talk to Innovapptive if you're interested in understanding how mInventory can add significant value to your EWM deployment or schedule a free demo today by calling 844-464-6668 or by clicking here.