mInventory is Innovapptive's best in class mobile solution used to turbo-charge the deployment of SAP Extended Warehouse Management (EWM). EWM comes packed full of rich functionality that can improve warehouse productivity and mInventory makes that all available on mobile devices, which are simple and fast to use. mInventory is fully loaded with prebuilt EWM transactions, allowing your warehouse to be up and running in weeks.
Challenges with earlier mobile solutions
The deployment of mobile solutions has had a chequered history in many organisations, early adventures included building solutions inhouse or using Systems Integrators. Roll-outs often got bogged down as inflexible, hard coded solutions could not reflect localisations. Solutions were expensive to maintain as coders had to be bought in to do the smallest update.
Learn More – SAP S/4HANA Collaboration Across the Enterprise using a Connected Worker Platform & EWM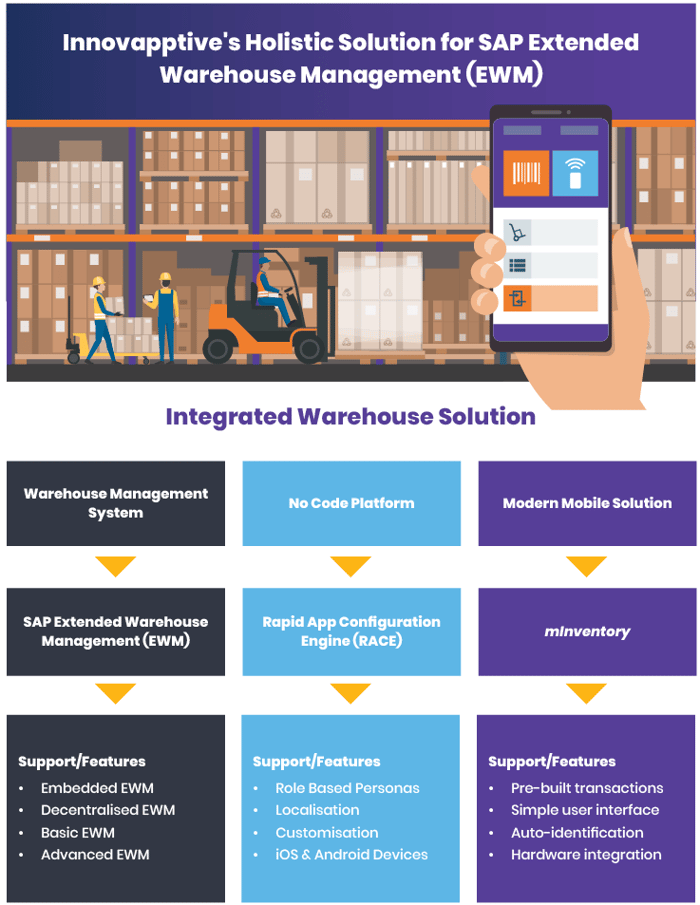 Functions & Features
mInventory is a big improvement from older mobile solutions and will allow you to squeeze every ounce of value from EWM. It provides easy access to all the power in a modern mobile device, including, photos, video, GPS, push notifications and attachments. RACE, our No-Code platform enables rapid change to the solution, providing you with the agility to adapt in today's fast paced environment.
Learn More – SAP EWM with mInventory, Seamless Manufacturing Integration
Mobile First
Innovapptive has been a dedicated mobile solution provider for over eight years. mInventory reflects our warehouse experience, customer input and insights into market trends. It comes with all the EWM transactions built and ready to go. Our focus is to develop the best mobile solutions, support our customers on an initial deployment and then empower them to rollout the solution themselves.
Learn More – Using Optical Character Recognition to Overcome three Supply Chain Bottlenecks
Ease of Configuration
RACE our patented No-Code Platform is a powerful tool to complement and supercharge your EWM roll-out. RACE allows rapid localisation to meet different warehouse processes, operating systems or compliance requirements. It comes packed with features to support configuration of workflows, design of barcode labels and forms, device integration and offline usage.
Learn More – Ten Reasons Why You Need a No Code Platform for EWM
mInventory comes bundled with RACE – Rapid App Configurator Engine, a No-Code platform that allows the solution to be configured to meet your exact warehouse processes without needing to write any code.
mInventory and RACE integrate seamlessly with EWM and will give you the power to respond quickly to constant business change.
IT Needs
If your considering SAP Fiori apps or ITS Mobile for EWM then take a deeper look. Both Fiori and ITS Mobile have significant drawbacks for warehouse use. They are browser based which slows performance, require expensive coding to reflect specific warehouse processes, struggle with offline and are unable to leverage all the features of a modern mobile device.
Learn More – Five IT Considerations When Selecting a Mobile Solution for EWM
Commercial Needs
There are some recurring problems when it comes to commercial evaluation of mobile options Some evaluations do not consider the Total Costs of Ownership (TCO) over the contract. Important costs get overlooked including, the inhouse IT costs to develop and maintain a solution. Many evaluations only consider the costs of the mobile solution and not the value and benefits derived.
Learn More – How to Calculate the ROI for EWM