Mobile Enterprise Applications (Apps) have come a long way since the advent of the smartphone over 10 years ago. As of September 2018, there were over 4 million apps on the Google Play, and Apple App Store and around 10% of these are business related - that's 400k apps!
The deployment of mobile applications has been a roller coaster ride for enterprises over the past 10 years: some great success stories but plenty of frustrations along the way. The benefits are clear: systems of record are updated in real time, processes run faster, workforce productivity increases, plant downtime reduces, and customer service is improved.
Fasten your seat belts for this fast forward 10-year journey…
The diagram below identifies 4 waves in the evolution of enterprise applications in more detail: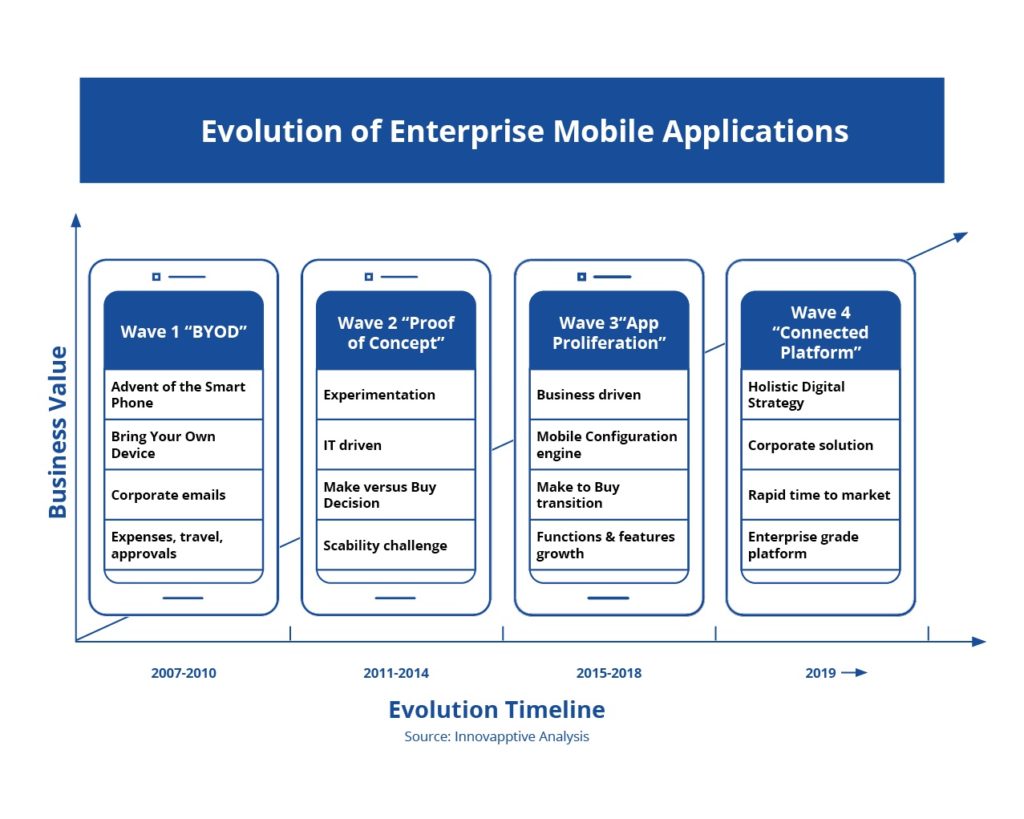 Wave 1 – "Bring Your Own Device" (BYOD)
One of the early responses of businesses to the advent of the Smart Phone was Bring Your Own Device (BYOD). BYOD allow employees to access corporate systems using their own mobile devices. Cisco was one of the early adopters of this strategy in 2009. BYOD schemes were popular with employees as they got to use their own familiar devices which were often more modern than those provided by the company!
Companies benefited through productivity improvement and cost savings. They no longer need to provide the employee with a company phone. The most popular use of BYOD was corporate email. This was later extended into Human Resource self-service, such as leave booking, expenses, and approvals.
Wave 2 – "Proof of Concept" (POC)
Enterprise mobile opportunities start to register with corporate IT Departments. Companies assessed the "make versus buy" decision, but as the vendor market for enterprise mobile apps is still immature, many companies embark on their in-house app development. Initial projects focus on narrow use cases, for example, the creation of Work Orders for plant maintenance, Permit to Work in an oil refinery or Cycle Counting in a warehouse.
While the initial POCs might have been successful, many companies struggled with the scalability and roll out of the solution beyond the first location. Applications were often hard-coded. This made them difficult and expensive to adapt to meet different business process, operating systems (Windows, Android, IOS) and local legal requirements.
Wave 3 – "App Proliferation"
During Wave 3, things started to take-off. People were using an array of apps in their personal lives and wanted the same benefits and convenience at work. A multitude of vendors began to develop mobile applications including the traditional systems integrators, as well as numerous smaller specialist vendors. A key innovation during this period were simple configuration engines including Innovapptive's own Rapid App Configuration Engine (RACE). This meant apps could be configured very quickly without any need to write code and helped companies overcome the earlier challenge of scalability. With the growing vendor network, increasing availability of out of the box mobile applications and rapid configuration tools, the balance swung in favor of buy rather than make.
Another development during this period was that many mobile initiatives started to be driven by the business rather than IT. Mobile projects are not like the old school ERP implementation. They can be implemented quickly, deliver rapid benefits and be within the scope of departmental budgets. However, some organizations are being pulled in different directions with HR, Finance, Operations, Sales and Marketing etc. all driving their own mobile projects with various vendors, infrastructure and standards.
The enterprise mobile market has come a long way in the last 10 years and has evolved and adapted to meet the business and technical challenges.
Where are we now and what does the future hold?
At Innovapptive, we see the market demand is calling for a flexible digital development platform that can meet the requirements of the whole enterprise, we call it the "Connected Workforce Platform".
Key features:
Integration with any back-end system of record.
Rapid App Configuration Engine (RACE) - applications can be configured without writing code.
Deep industry-specific apps used in, for example, Oil and Gas, Mining, Utilities.
Customer ability to develop their own mobile apps using pre-configured floor plans for EAM, Supply Chain, Manufacturing, HR, Finance, Sales etc.
Robust engines to support offline capability, workflow, and digital forms.
Future proofed to drive integration with the latest technologies, Industrial Internet of Things (IIoT), drones, wearables etc.
Data dashboards and analytics to allow front-line leaders to run operations.
Wave 4 moves beyond the wild west of the early years of mobile applications and provides a robust development platform that drives, flexibility, reliability, and speed of digital deployment across the enterprise.
Are You Ready to Catch the Next Wave?
Technology cycles in waves with new ideas and innovations appearing all the time. Right now, we are riding a crest but with all revamps and re-prioritizing expected over the next year or so, we need to be ready to catch the next wave. Are you ready to extend your company's reach on the next big wave - machines that can see, smell, hear and touch the world as you do?
Find out how Australia's leading utility service provider partnered with Innovapptive to prepare for their next Innovation Wave. Read the story here: https://bit.ly/2SLsAF2
Want to Discover More?
Innovapptive – a Connected Worker Platform provider – has a simple mission: "Connect and create conversations between people, machinery and work processes while improving people's lives." Innovapptive offers the only Connected Worker Platform that digitizes the last mile of your front-line workers into SAP and IBM (watch a short video here). We'd like to show how our Connected Worker Platform and related applications can help you successfully start and complete your journey to more efficient, safe and productive plant operations. Schedule a free demo today by calling 844-464-6668 or or by clicking here.