By Richard Sandall
Supply Chain Evangelist
Many companies are planning the biggest change in their enterprise systems in a generation with the migration to SAP S/4HANA. SAP ECC6 has served its time, enabling streamlined business processes, integration between business functions and support for sophisticated solutions such as Extended Warehouse Management. If you were a desk-based worker, then SAP EEC6 made your life easier, giving you information and all the transactions you needed at your fingertips.
But not all people in the organisation were treated equally! Vast swathes of an organisation's workers were overlooked by earlier waves of ERP implementations. Remote workers in factories, warehouses and the field were left to fend for themselves, continuing to work on paper and forced to return to an office base for transactions to be processed in SAP. Paper-based processes led to a cocktail of operational problems. A disconnect between physical activities and updates to the system meant it was like looking through smoke to find out what was really happening in the operation. This led to bad decision making and unhappy customers. The bottom line is that paper-based processes are inefficient and inaccurate, leading to wasted time and money. Despite organizations throwing millions of dollars into earlier SAP ERP solutions, they failed to leverage this investment across their entire enterprise workforce.
So, what went wrong? Earlier versions of SAP had provided some support for mobile workers but these solutions had significant drawbacks. For example, SAP's main technology for connecting warehouse scanners to SAP is called ITS Mobile. But ITS Mobile is a browser-based solution with constraints, such as slower performance and lack of offline capability. Whilst SAP Fiori apps launched in 2013 were like a breath of fresh air for simplifying the user SAP desktop experience, they have proven less effective for mission critical business applications in manufacturing, warehousing and plant maintenance. Any customisation requires expensive coding and as a browser-based solution, they are unable to leverage the full features of a modern, mobile device, like, videos, photos, notifications, attachments and GPS.
As organisations plan their S/4 journey they should consider how to maximise the business case by including their remote workers in the scope. Based on Innovapptive's experience, the optimum approach can be a hybrid solution using Fiori apps for mobile functions such as expenses, travel and self-help; whilst using a Connected Worker Platform for mission-critical applications in manufacturing, maintenance, warehousing and for field activities. The diagram below summarises the rationale for choosing a hybrid solution.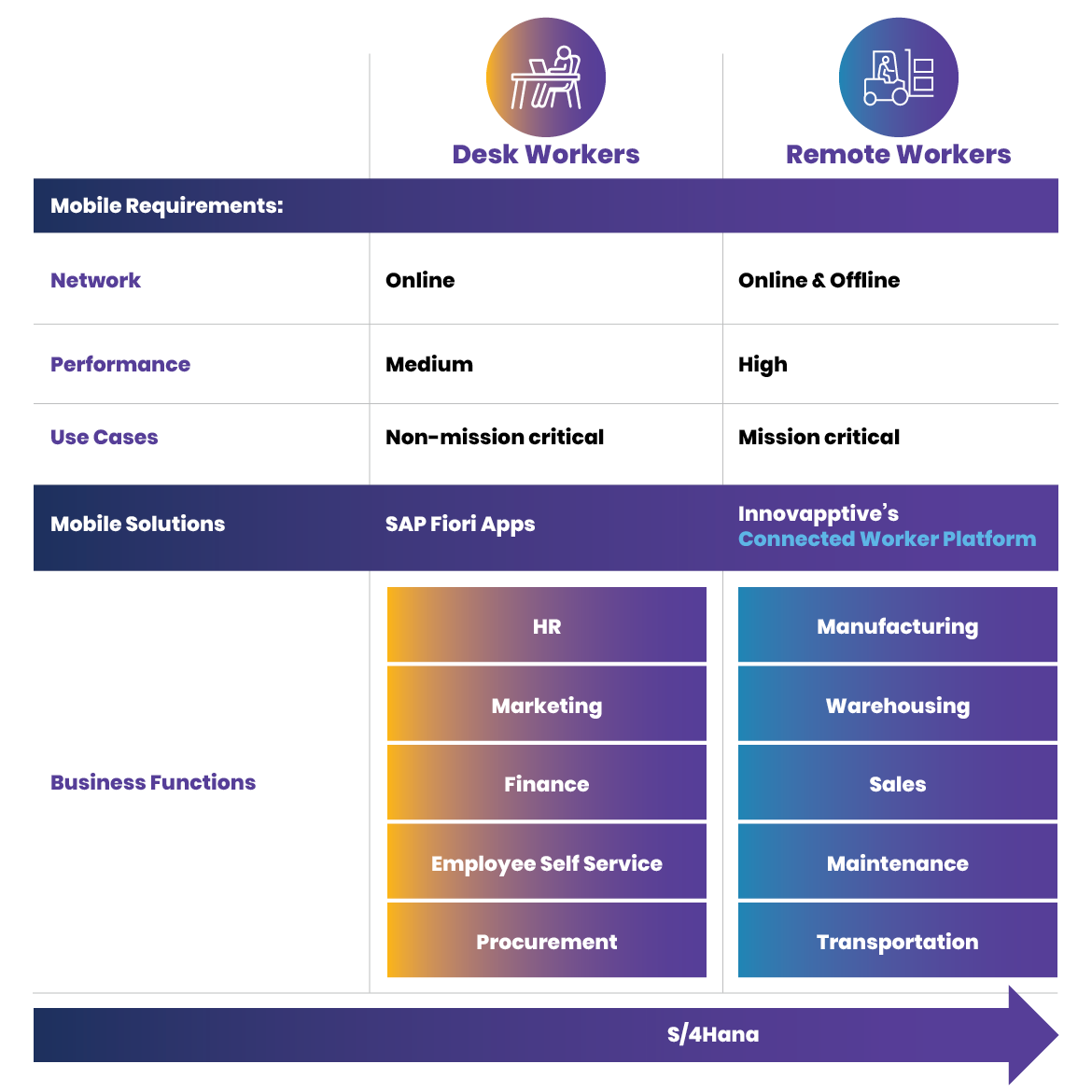 For example, Innovapptive's Connected Worker Platform includes a "best-of-breed" modern mobile solution for warehousing that will provide the following benefits to the IT and business team:
SAP warehouse solutions – supports IM, WM and EWM.
Fast deployment – pre-built SAP transactions.
Fully offline capable – no need to worry about warehouse blind spots, can continue when there is no Wi-Fi network.
Solution scalability - RACETM (Rapid App Configuration Engine) is a configurable no-code platform that enables complex backend functionality to be presented on a mobile device with a simple, consumer-grade user experience. Screens can be configured to meet your exact warehouse processes without the need to write any code.
Internal IT enablement - The Connected Worker Platform empowers your IT team with all the tools they need to respond quickly to fast changing business requirements with limited training.
Talk to Innovapptive if our Connected Worker Platform sounds interesting or schedule a free demo today by calling 844-464-6668 or by clicking here.