Introduction
In today's fast paced world, technology has enabled us to store your whole life on your hard drive. Computers are shrinking in their size and now with the advent of mobile technology, your mobile has become a pocket computer that can accomplish anything under the sky. This means your entire data is now mobile and can be virtually accessed from anywhere, anytime. Added to that is the emergence of mobile apps that are extensively sweeping the mobile world to let you accomplish a myriad set of transactions-right from monitoring your health patterns to paying bills at the comfort of your mobile. However, security seems to be the biggest concern in today's virtual world, where even the slightest imprudence in data management seems to have a major fallout on data security for mobile apps or desktop apps that might lead to loss of revenue, reputation and mental peace.
With data security assuming utmost importance, most of the apps that you might access (either on your mobile or desktop) require you to first register by providing the right authentication credentials in the form of your user name and password. This is the common industry practice followed everywhere to secure the data that you enter or store in your apps without getting bogged by issues such as data theft or password tampering.
However, one question that comes to our mind is are these security measures adequate enough to ensure the safety of one's data? Is there any other mechanism that is much simpler to use without the necessity of typing the user name and password repeatedly? To address these questions - Innovapptive, an SAP certified solutions partner has come out with a new feature – app passcode for all its SAP certified apps, which takes security to new heights.
This concept of passcode has already been implemented for SAP Fiori solutions to protect from unauthorized access to their users' data, Innovapptive replicated the same feature for all its apps – albeit in a modified and a simpler version.
This blog talks about this unique feature of app passcode and how it really helps a user of Innovapptive's apps to securely work to process the required tasks.
Why app passcode?
The obvious question that comes to our mind is why passcode at the first instance? Of course, your user name and password that you type to access any app is perfectly sufficient, but still it's not 100% fool proof. There are still ample chances of password tampering and posing the vulnerability threat, since you need to type your login credentials again and again, particularly when you are not using your app for a considerable amount of time (idle state). Also, it's possible that an unauthorized user could access your application if they were able to obtain physical access to the device (if were lost for example, but not password protected). The app passcode is just designed to mitigate the above problems and provides a simpler extra layer of security.
What is an app passcode?
This is an additional security feature that is available for all the Innovapptive's applications, eliminating the necessity to retype your password every time you access this app. Once you setup the default passcode, you need to type your user id and password only once and the device data vault stores this information in an encrypted stage. Until you change your password, you need to just type the data vault passcode to login to this app, as the device and the app recognizes you and uses the stored user id and password from the encrypted stage. Passcode is illustrated by an icon

on the Login screen of all Innovapptive's apps that lets the user to set the passcode for this app.
How it works?
Let's take Innovapptive's mWorklist app (Universal approval solution) as an example and see how this passcode works, including setting up an app passcode, changing an app passcode and typing an app passcode to unlock the application screens (in idle state).
The subsequent sections walks you through the series of steps for accomplishing the above listed tasks – right from setting up the passcode to changing the passcode as an end user.
Setting up the app passcode
In the Log In screen, tap the (App Passcode) icon.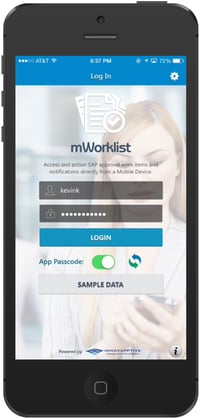 2. In the Create DataVault Passcode! screen, type and retype your new passcode in the respective boxes and tap Create. Your new passcode gets created, enabling you to access this app.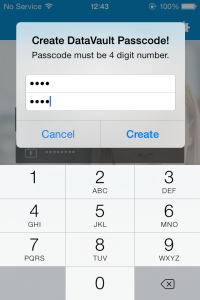 Logging into the application
Since you have configured the passcode for your app (as outlined in the previous section), you can proceed logging into the app by typing and submitting your login credentials (username & password) only once in the Log In screen. You need to type only the app pass code every time you access the app.
Auto lock feature
Sometimes, you might remain in an idle state (without any active transactions), even after logging into the application. In such circumstances, the application gets locked and you need to simply type and submit a passcode to unlock the application to resume with your transactions.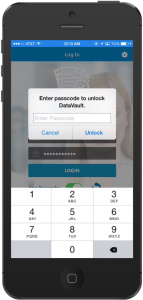 Changing the app passcode
This feature offers flexibility to change the passcode configured for your app on a periodical basis to ensure that the data you transact is always safe and secure.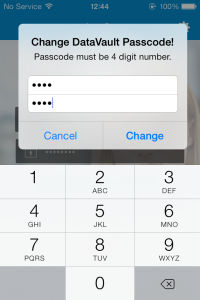 Conclusion
This blog covered the app passcode feature that is used in all the Innovapptive's SAP certified apps to provide an extra layer of security to ensure that the data accessed by various user groups from various SAP modules is 100% secure without scope of any tampering or misuse. Once you configure a passcode, you need to type your login credentials only once. This implies whenever your app gets locked in idle state, you need to just type your passcode to unlock and resume your operations. You even have the flexibility to change your passcode, whenever you desire.

If you would like a demo of Innovapptive's portfolio of Native or Web based mobile solutions, please click on the link. Alternatively, if you would like to discuss with an Innovapptive solution expert, you can reach out to us by emailing us at sales@innovapptive.com or you can reach a sales representative at (713) 275-1804.