In today's extremely digital era, to make employees more productive and efficient, organizations need the latest technology and it's no secret where mobility is going and what it's doing for businesses. For competitive advantage and increased productivity, organizations seek to leverage mobile innovations. Whether big or small, every organization has a set of business requirements for mobile app development. Despite having IT teams and developers in-house, while developing applications organizations face challenges such as:
Pressure on IT teams to build multiple mobile apps in short time
Shortage of skilled developers
The need of Applications that run on all major mobile & web platforms
A lot of time and money get invested for developing infrastructure
Moreover, employee's expectations for mobile applications are creating challenge i.e. creation of enterprise mobile application with seamless user experience put lots of burden on the organization's IT department or app developers. As demands for enterprise mobile applications are growing, the need for low code/no code rapid application development platform is on rice. It's hard for organizations to be agile and competitive when they have a prolonged development backlog.
To meet business requirements, organizations need a less complex, minimal effort, no coding and highly flexible strategy for application building since finding highly skilled developers or train (new developers) can be very expensive because the demand for these business talents is also so great.
"By 2022, citizen developers will be building more than one-third of web and mobile employee-facing apps delivered in organizations with mature citizen development initiatives" Source- Gartner
Rapid Mobile Application Development (RMAD) is no longer a new topic. Instead, it is now an absolute necessity for what enterprises are looking for and need. RMAD enables citizen developers (non-IT) to build mobile apps at a lower cost than hiring additional developer talent. Citizen developers are an integral part of any organization's digital workspace and they have an edge when it comes to understanding enterprise needs. Business users know the challenges and pains faced by their teams/departments who are just trying to do their jobs. They better understand what functionalities their department need in mobile apps, in fact, they may build apps better than traditional developers.
Build your Enterprise Mobile Application in Less than 10 Mins
Innovapptive offers a portfolio of proven SAP Mobile Solutions for enterprise asset management (EAM), field services, supply chain, and rapid mobile application development platform. By understanding today's organization's mobile app development challenge and mitigating the gap, Innovapptive is releasing a rapid mobile app development solution "RACE App Builder" that will enable citizen developers to build mobile applications in less than 10 mins at lesser costs. RACE App Builder allows people, with virtually no or limited development experience, to quickly build mobile apps that can run on multiple platforms and address pain points without involving their technical team; this results in a more cost-effective and faster time to market.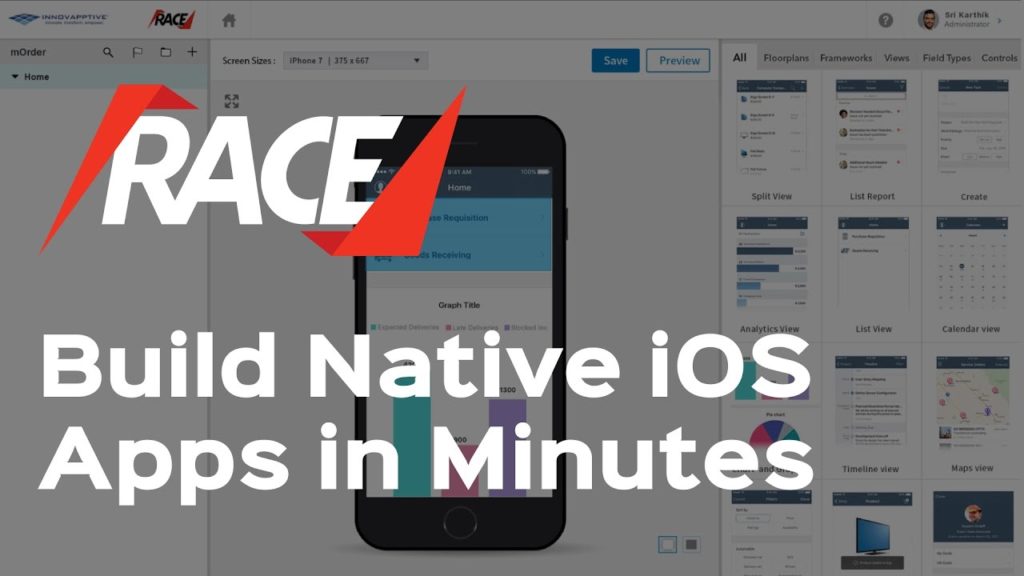 Fully citizen developer focused, RACE App Builder supports drag and drop capabilities and floor plans as well as enables 'Businesses to do IT' by accelerating enterprise mobility and delivering powerful, modern native mobile apps faster more economically than ever before. Offered as SaaS Solution with access to extended eco-system, allowing simplified integration to any backend, RACE App Builder helps businesses create and manage native mobile apps for all platforms. RACE ™ App Builder empowers your employees to be more productive with new capabilities.
The RACE App Builder enables businesses to:
Create mobile apps as per their requirements with zero coding
Bring down the pressure on IT developers and enterprises
Overcome the problem of mobile app development backlogs
Reduce app development time, resulting in faster delivery
Bridge the IT skills gap and reduces the cost of developing apps
What you see is what you get (through improved WYSIWYG editor)
The Rapid Mobile App Development (RMAD) solution includes exceptional functionalities
Cross Platform app builds
ABAP APIs and app templates
On-premise and on-cloud implementation
Support for SAP and non-SAP backend
Save application as templates and more...
Watch the RACE App Builder In Action
Stay tuned to know more about RACE App Builder ....
If you would like a demo of Innovapptive's RACE™ (Rapid App Configurator Engine),

please click on the link. Alternatively, if you would like to discuss with an Innovapptive solution expert, you can reach out to us by emailing us at sales@innovapptive.com or you can reach a sales representative at (713) 275-1804.