Focusing on the customer experience has always been fundamental to business. Business leaders whether it's the chief marketing officer, chief technology officer, the line of business head, VP of product development or others need to make sure that their customer journey that differentiates their company from the competition, is always going smooth. To achieve the objective, it is important to make the alignment between business and technology to evolve and enhance a customer experience.
It is accepted fact that good customer experience begins with meeting their expectations and resolve their issues quickly. But in today's fast-moving business environment, customers expect much more. To deliver great customer experience, businesses first need to fulfil their own employees' requirement. As mobility is growing faster than ever today and all of us have our mobile phone and we use and check it very often. It won't be surprising to say that mobility is transforming how, when and where we do our tasks(personal) with super flexibly through mobile devices. Now, people expect that same mobile experience at their work. Business leaders are realizing that one big impact they can have on customer satisfaction and their loyalty is by making sure that their employees are completely engaged with their organization and efficiently managing business process and resolving customers issues.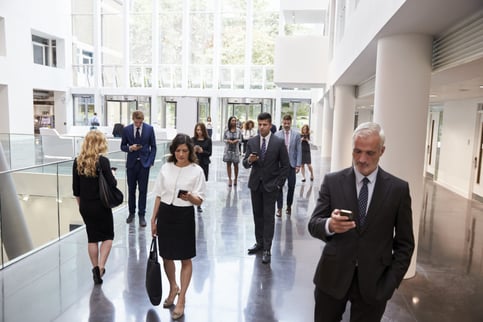 Today, Enterprise Mobility is being utilized in the way that was unimaginable just a few years ago. Enterprises across all the industries have understood it's importance and are utilizing mobility to drive efficiency, productivity, visibility and gain a competitive advantage. However, when it comes to managing field services, it plays a crucial role to enhance customer experience. Mobilizing business processes, especially in the field operation will provide a platform that promises a quick return on investment by enabling convenience and adaptability. As field employees use mobile devices to perform their business transactions, service orders, or resolve the customers' issues, outside the office. It doesn't only improve decision-making in the field/remote area, but also helps access/collect & deliver accurate information in real-time. Enterprise Mobility enables your workforce to work from anywhere, anytime and makes them more productive and happy too. It will help employees to respond to customers with a profound kind of agility and that speeds the improvement of product and services, while simultaneously building a more satisfied, loyal customer base.
Enterprise Mobility isn't just making your business software available on mobile devices instead it is equipping the employees with the right mobile application with a secure, seamless connection to their corporate data to get their job done accurately. The mobile solution should be easy-to-use and intuitive native mobile application. The mobile solution would be best suited that helps eliminate manual tasks, redundant data entry, and unnecessary paperwork and most importantly it provides direction support. It should not only streamline the complex business process but also connect employees, no matter where they are at the office, field or working at customers' location, to the backend system and enable to work them with or without network connectivity.
Find out how to increase your employees' engagement, customer satisfaction and revenue growth with Innovapptive Mobile Solutions
If you would like a demo of Innovapptive's solution,

please click on the link. Alternatively, if you would like to discuss with an Innovapptive solution expert, you can reach out to us by emailing us at sales@innovapptive.com or you can reach a sales representative at (713) 275-1804.