As a mobile first company here at Innovapptive we get to work with a lots of large organisations evaluating use of mobile solutions across their operations. The evaluation process in most organisations is very rigorous and typically involves multiple stages which might include:
Request for Information (RFI)
Request for Proposal (RFP)
Demo of the solution
Evaluation against technical and commercial criteria
Proof of Concept (POC)
Based on all or some of these inputs a decision will be made on the "best" option. Whilst this seems like a very comprehensive evaluation process, we see some recurring problems:
Evaluations that only focus on year 1 costs and do not consider the Total Costs of Ownership (TCO) over the entire contract (typically 3 – 5 years)
Important cost elements are overlooked, for example, the inhouse IT costs to develop, support the rollout and maintain a mobile solution
Evaluations that only consider costs of the mobile solution and not the value and benefits derived. This is not a Return on Investment calculation!
Based on these major shortfalls' organisations might end up making the wrong decision.
To overcome these problems Innovapptive developed a detailed ROI Calculator based on our experience of implementing over fifty mobile projects. The Calculator considers both costs and benefits of a mobile deployment to help companies reach better decisions. Key components of the ROI Calculator include:
Considers the full costs over the full life of the contract – vendor costs, inhouse costs, mobile solution licences, deployment, and hardware
Detailed evaluation of the benefits from the deployment. This is the area that most companies find difficult to assess. Innovapptive has a database of industry standards based on our extensive experience of mobile deployments. Industry standards can be used in conjunction with real client data to calculate the true ROI of a mobile project
The model allows for the quick evaluation of "what if" scenarios and their impact on overall savings. For example, what happens if we could increase inventory accuracy from 96% to 98%; what happens if time spent on cycle counting can be reduced from two hours per day to one hour per day.
The ROI Calculator can be used to assess the savings by comparing "as-is" warehouse operations with "to-be" operations. Innovapptive's mobile solution for SAP EWM, mInventory comes bundled with RACE™, Rapid App Configurator Engine. This is a No-Code platform which allows mInventory to be configured very quickly without the need to write code and meet the customers exact warehouse process. The table below highlights where the main value/benefits can be achieved when implementing mInventory and RACE™ versus current operations.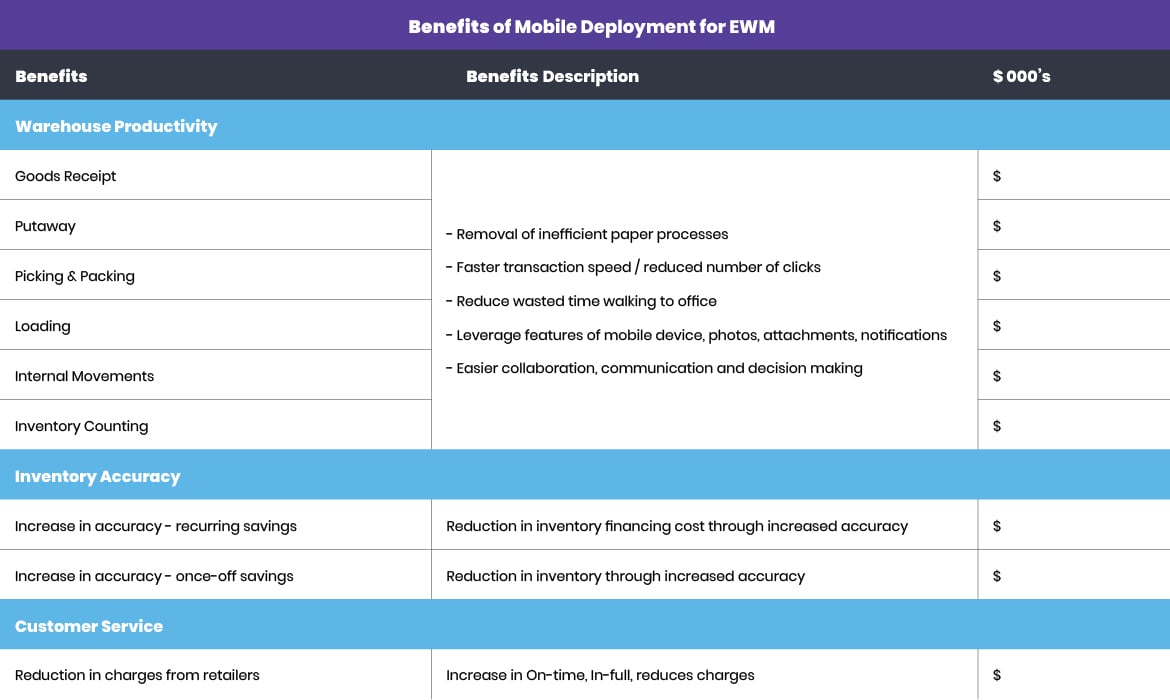 Innovapptive's ROI Calculator is a valuable tool which we share with our customers who are evaluating mobile options for their operations. To learn more about mInventory or our ROI Calculator, visit our website by clicking here or call 844-464-6668 and speak to one of our experts today.