Over the last four decades, enterprises have invested millions of dollars into enterprise resource planning programs (ERP) such as SAP in an effort to boost operational efficiency and technician wrench time. While SAP delivers a robust and proven ERP solution for desktops, users of enterprise asset management (EAM) and inventory and warehouse management are in the field and away from these desktops.
SAP Fiori offers access to some of these solutions in the field, but the adoption of these solutions have been a challenge due to a variety of technical limitations that impacts the user experience (UX). Mobile is "mission critical" for these field workers. In the absence of a robust, highly agile and scalable "mobile" solution, these field workers and relevant integrated workflows operate on paper.
This manual and disconnected workflow causes a significant impact to field worker productivity, technician wrench time, maintenance backlogs and ultimately affects the unplanned downtime that enterprises face. Low technician productivity is one of the most widespread issues maintenance professionals face.
This blog will reveal:
Why technician productivity is such a big concern among maintenance professionals.
Common causes of low technician productivity.
How to bolster technician productivity by implementing a "Mobile-first" work order management system.
Survey reveals widespread concerns about technician productivity
In a recent survey Innovapptive conducted of maintenance and reliability professionals, 95 percent stated that they want to improve technician productivity.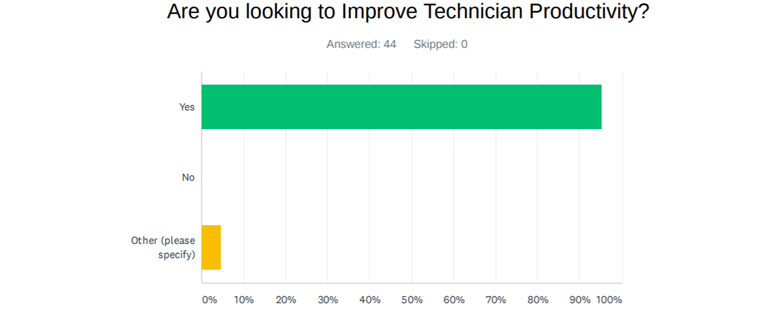 Low technician productivity is a concerning issue for maintenance professionals because it lowers wrench time. Additionally, managers are unable to adhere to planned maintenance schedules, which leads to an increase in maintenance backlogs. Too many backlogs often leads to important maintenance activities being overlooked, which can eventually result in unplanned shutdowns.
Common causes of low technician productivity
Low productivity among technicians may be caused by:
Inefficient, disconnected and paper-based workflows
High turn-over and knowledge gap with incoming millennial workforce
We are in the midst of a phenomenon called "The Great Crew Change." Highly experienced and skilled maintenance workers with tribal knowledge are leaving the workforce and making way for Millennial workers. These workers have consumerized digital technologies and handle most of their life's needs with a mobile device. They expect the companies they work for to be as technologically savvy as they are. If their jobs aren't, Millennial worker quickly begin looking for an exit.
Enterprises that are still running on paper are suffering a large attrition rate of these Millennial workers, which puts pressure on management to constantly train new employees. In fact, Innovapptive's survey revealed that 43 percent of professionals strongly agree, and 41 percent agree that they are concerned with the experience gap due to Baby Boomer retirements and the constant churn of the incoming Millennial workforce.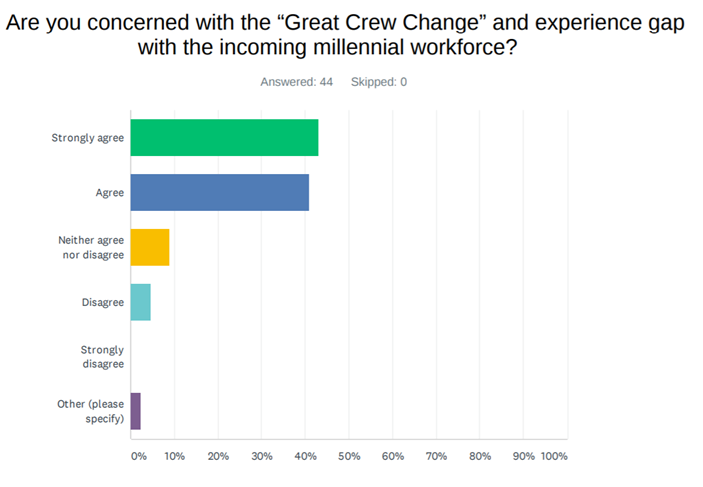 Additionally, 52 percent of respondents stated that they were also challenged with warehouse workforce attrition and change management.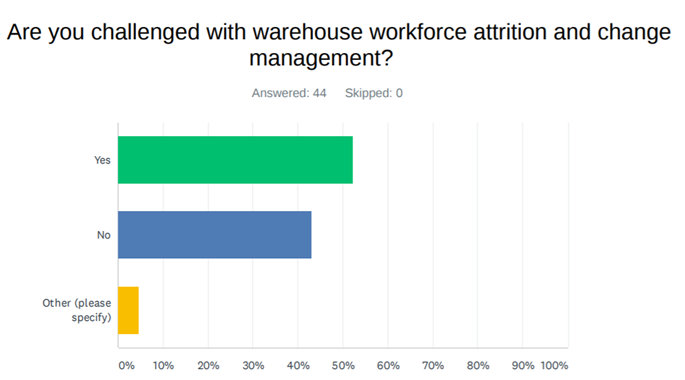 A new employee may be unproductive due to lack of familiarity with the equipment they are working on. Often, these new employees must spend time consulting users and part manuals. Or, they waste time trying to locate a supervisor if a needed part cannot be identified, if the technician is unfamiliar with the equipment or is not clear on what needs to be fixed.
Another common cause of low productivity is poor communication between supervisors and employees because communication between them is delayed. Technicians are typically given paper work orders and reference materials in three ring binders. This means that the supervisor has to create, prioritize and print the work orders to give them to technicians. This is an inefficient process at best, made worse when the supervisor is using potentially outdated information from their back-office system.
For example, a technician could have fixed a piece of equipment weeks ago, but lost the completed work order document, so the current back office records do not accurately reflect the equipment's status. The frustrated supervisor would then assign this work order to someone else, so time is wasted checking the machine and confirming that it has already been fixed.
How a "Mobile First" work execution and asset management system for SAP bolster technician productivity
Traditional, paper-based work execution and asset management systems often lead to delayed communications, wasted time and duplicated efforts due to inaccurate data.
Because of this, many organizations are switching to "Mobile-First" work execution and asset management solutions. With a mobile-first system, work orders are digitally issued to field technicians, and workers complete them via handheld mobile devices. With these devices, completed work orders are instantly updated into the back-office system. This boosts wrench time by eliminating the need to manually input data from paper forms.
This also increases communication between employees and supervisors. Supervisors instantly receive work orders as they are completed, and they can send push notifications to their employees' mobile devices to notify them immediately of important tasks or other key information. Likewise, employees can communicate better with their supervisors.
For example, a technician who discovers a faulty machine could take pictures of it using their mobile device, highlight the areas in need of repair, and make comments on or ask questions directly on the photo or a pdf. The technician could then instantly send this to their supervisor, which allows management to respond to issues and coordinate repairs quickly.
Digital solutions also make onboarding processes more efficient and improve the productivity of inexperienced technicians. With the entire workforce digitally connected, workers can connect to the back office and create a digital dialogue across physical transactions and access important documents while out in the field. For example, an inexperienced technician could instantly look up an unknown part in a digitized manual on their mobile device.
The incoming generation of technicians is increasingly well-versed in mobile technology and digital connectivity, so dealing with outdated, linear, tedious and paper-based processes may be particularly frustrating. This frustration, in turn, could contribute to poor morale and employee turnover. Therefore, digital work order management systems often result in not only increased technician productivity, but also better morale and job satisfaction.
One such work order management solution is Innovapptive's mWorkOrder, which boosts wrench time by up to 17 percent. For workers and their supervisors, mWorkOrder is easy to use, has a superior user interface, and enjoys a 99 percent user adoption rate. For plant management, mWorkOrder customers have seen up to a 90 percent drop in unplanned downtime, an 80 percent reduction in safety incidents, and 50 percent greater workforce capacity, based on clients' best experiences.
Our patented Rapid Application Configuration Engine (RACE™) allows for instant and code-free personalization by user, roles, site or geography.
To see a free demonstration of mWorkOrder, click here or call us at (844) 4646668. If you want more information on how to make your plant more efficient, grab our white paper on eliminating work order and maintenance backlogs.