Maintenance, Repairs, and Operations (MRO) warehouses store spare parts needed to repair plant equipment and for field service operations. The MRO warehouse is often the poor relation to its larger siblings, the raw material and finished goods warehouse. Typically, MRO warehouses are smaller, employ fewer people, and are usually not complex enough to justify a fully-fledged warehouse management system. They often go almost unnoticed in a dusty corner of a factory, mine, or refinery.
But what if an oil production platform in the Gulf of Mexico comes to a halt because a critical spare part is not available? That can cost millions of dollars a day in lost production. It's time to give the MRO warehouse some TLC!
The diagram below shows six simple ways to improve the efficiency of an MRO warehouse. Let's take a look at each one.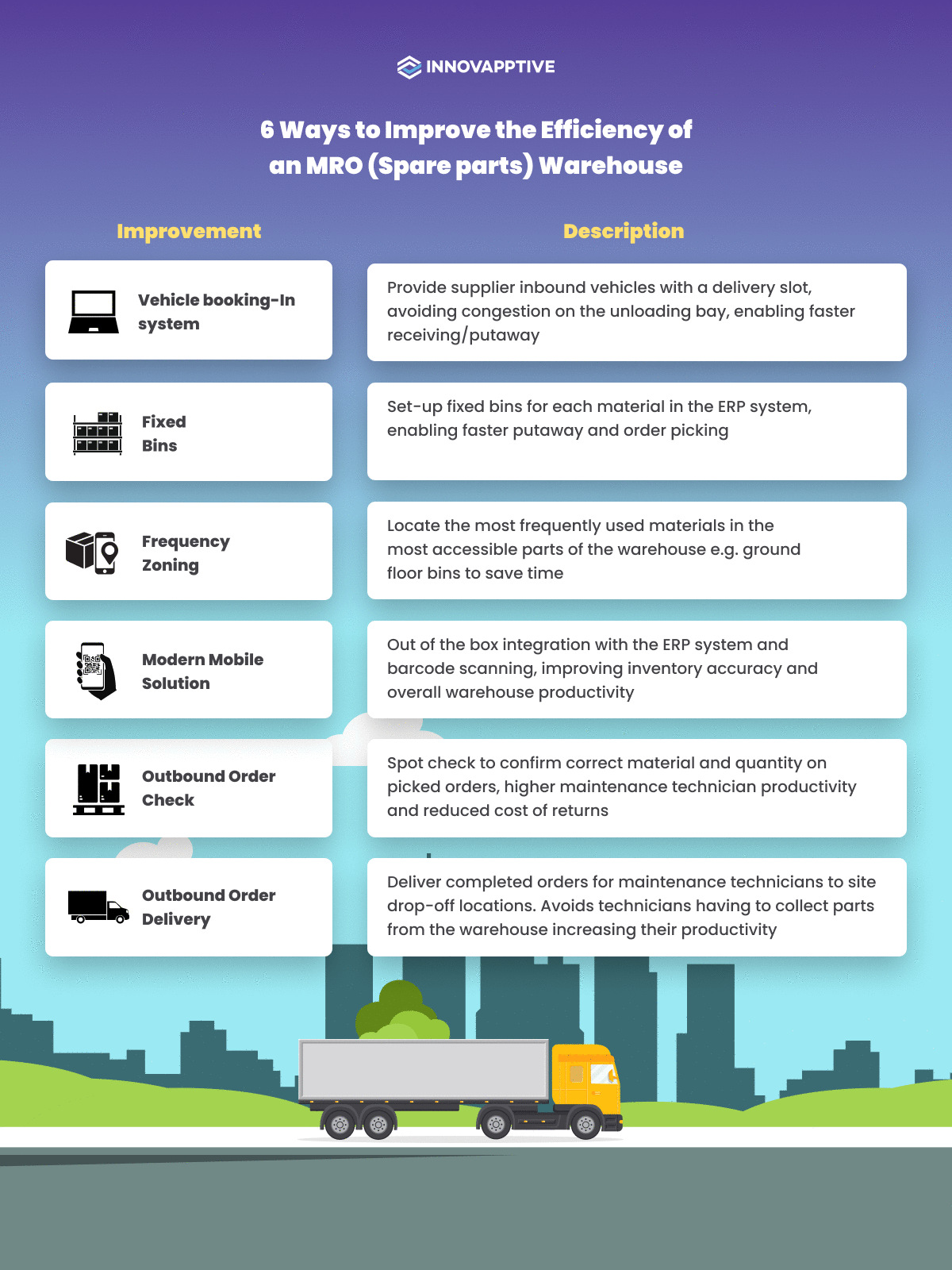 Vehicle Booking-In System
If several supplier vehicles arrive simultaneously, it will lead to congestion in the goods receipt bay. This can lead to reduced staff attention on inbound material checks and cause inventory integrity problems. These problems can cascade throughout the entire warehouse. Implementing a booking-in system for supplier vehicles is a simple way to improve an MRO warehouse. The booking-in system can be as simple as a spreadsheet showing time slots.
First, decide the overall time window when you can receive supplier vehicles, e.g., 8 am – 4 pm. Then divide the day into slots based on the typical time it takes to unload a supplier vehicle, e.g., 1 hour. Inform suppliers of the new arrangements, e.g., they will be expected to book a timeslot for delivery 24 hours in advance. This simple solution will help smooth the inbound workload and ensure all materials are properly checked in before putaway.
Fixed Bins
MRO warehouses are often small, around 5,000 sq. ft., and employ fewer than five people. A warehouse of this size would not justify deploying a full warehouse management system as the costs would outweigh the benefits. But a 5,000 sq. ft. warehouse might store more than 20,000 different parts, so how to find all those materials?
One solution is to set up a fixed bin for each material in the ERP system, e.g., SAP has a field in the Material Master Record (MMR) indicating the fixed bin location. Once the material is goods receipted, the fixed bin location will be indicated to the warehouse operator, ensuring the material is correctly located. Fixed bin functionality speeds up the putaway and picking processes and improves process efficiency. Warehouse processes can be improved further by using barcode scanning, more on that later.
Frequency Zoning
Frequency zoning involves locating the most regularly used materials in the most accessible parts of the warehouse Think about your kitchen: Would you place your most frequently used pan out of reach on the top shelf? No, that might involve getting a chair to reach it adding extra time. The same concept applies to a warehouse.
The inventory profile in an MRO warehouse will generally follow the Pareto rule (80/20) with 20% of the materials accounting for 80% of the throughput.
The 20% of materials are the "fast movers," and in an MRO warehouse might include gaskets, O-rings, and stud bolts. Locate these materials at the ground-floor level in shelving and racks or near the receipt/despatch bays to minimize the distance traveled by warehouse operators. It's a tried and trusted method of improving warehouse productivity but is often not used in MRO warehouses.
Modern Mobile Solution
Most MRO warehouses are managed on the company's basic ERP inventory system, such as SAP Inventory Management (IM). These inventory systems provide the basic functionalities required to operate a warehouse, goods receipt, goods issue, and inventory counting. But generally left the warehouse operators using inefficient paper-based processes for goods receipt, picking, and inventory counting.
A much better option is to deploy a modern mobile solution, such as Innovapptive's mInventory which has out-of-the-box integration with SAP and barcoding scanning. Barcode labels can be printed and applied as part of the goods receipt process and then scanned through all other warehouse processes. The two big advantages of barcode scanning are improved inventory accuracy and warehouse productivity. Additionally, mInventory provides a lot of functionality that is not available in SAP, such as kitting and staging.
Outbound Order Check
Maintenance technicians in factories, mines, refineries, and the field can be seen as the "customers" of the warehouse. Their overall requirement from the warehouse is simple, the right part, in the right place at the right time. One way to ensure this happens is to have a final check on outbound orders before they are dispatched to the technician. This can be a spot check by the warehouse supervisor to confirm the right material and quantity have been picked. With a barcode scanning solution in place, error rates should be low; but it's more cost-effective to identify and resolve pick errors in the warehouse, rather than have them discovered by the technician when the material arrives in the field.
Outbound Order Delivery
In some MRO warehouses in the morning, you will see a queue of maintenance technicians waiting to collect the material they need for their day's work. They waste time traveling to the warehouse and then waste more time waiting for materials to be picked by warehouse operators. With 200 maintenance technicians supporting a refinery this wasted time can equate to a multi-million dollar impact on their annual productivity.
To overcome this challenge orders can be pre-picked in the warehouse the day before they are required and delivered to maintenance technicians at designated drop-off points around the site. Technicians collect materials from the drop-off point in the morning and are immediately ready to start work. This will lead to big savings in time and improvements in maintenance technician productivity. The warehouse will also benefit from having orders in the ERP system in advance, which allows for better planning of workload and staffing.
These six simple ideas can turbo-charge your MRO warehouse operation, improving productivity, reducing warehouse costs, and empowering frontline maintenance technicians to keep unplanned downtime to a minimum.
Taking the Next Step
Innovapptive, a connected worker pioneer, specializes in mobile warehouse management solutions. Watch a two-minute overview on mInventory here , then click here to request a free demo. Or, if you prefer, call one of our industry experts at 888-464-6668 to learn more. They're ready to answer your questions, listen to your needs, and configure a solution to overcome your MRO challenges.