In today's hyper-competitive era, it takes months to find a customer but only a small mistake is enough to lose them. To stay relevant, it's critical for organizations to eliminate information silos, keep their service technicians/teams properly engaged, and drive higher efficiency. Companies need to understand the importance of real-time information/communication in field service operations.
Effective field service operations are key to the success of any company with a sizable field service organization. Companies involved in field services need to successfully manage their day-to-day operations, utilize their valuable assets, and maximize productivity while providing exceptional customer service.
Currently, field services workers/technicians rely on time-consuming paper-based processes to work in the fields, which are mostly far away from their office location. Moreover, unavailability of real-time information makes their work hectic, keeping them less engaged in their work. However, information silos, communication breakdowns, and error-prone paperwork are hindering the abilities of the field workforce. With many changes happening in the industry and dangerous work environments, it's no surprise that employee engagement is challenging and on the decline for the field service industry. To keep their field workforce engaged, companies require more than the "basics" so they are arming their service technicians with the best technologies that can make the difference.
Today's customers not only expect fast services, but they also want their issues to be attended to and resolved immediately. This is only possible when service technicians are equipped with the right tools and have access to the right information, at any time, from anywhere. The right mobile workforce solution enables technicians to access and collect information, scan bar-codes, add photos/videos, capture Geo location data and more. It enables field service technicians to streamline field work with back-office operations as they take place.
Driving Higher Efficiency in Field Service Operations with mServiceOrder
Innovapptive understands the field service industry challenges and offers mobile solutions for Field Service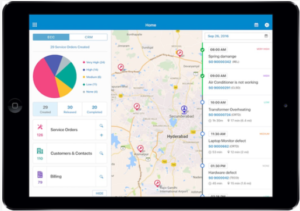 Operations. The company focuses on achieving "instant mobilization" for enterprises with its bundled SAP/ERP certified mobile solutions. It offers a premier mobile solution for Field Service Management – mServiceOrder – which automates processes to eliminate manual tasks, redundant data entry, and unnecessary paperwork. Equipped with all the field-ready functionality needed to improve efficiency in the field from the mobile device, mServiceOrder helps improve workforce productivity.
mServiceOrder provides a refined interface, consistent access, and targeted service workflows regardless of internet connectivity. These capabilities reduce service costs while avoiding unnecessary trips with guided route optimization. The solution puts visibility in your service techs' hands and enables viewing of planned service orders on specific dates to help prepare and complete service calls without skipping a beat. mServiceOrder enables field service managers/supervisors to obtain a comprehensive view of work statuses, resource utilization, and technician performance. Service crews can create service orders and notifications while reducing service times. Technicians and engineers remain highly productive with just the right amount, and type, of data to complete a full-service order process from time and materials lookups, entry, signature capture, and service report creation.
Act Now! Connect with an Innovapptive Solutions Expert at (713) 275-1804 or via chat to learn more about Innovapptive's Mobile Workforce Management Solutions.