As the Field Service Industry evolves, organizations must adapt to the changes within the industry. Many organizations continue to rely on old methods (paper-based) for providing field services which have proven insufficient in today's complex and fast-changing environment. Organizations have an increased pressure to maximize the efficiency of field operations and utilize the workforce in a productive manner. Despite using the leading industry software for field service, technicians/service engineers face challenges such as no real-time data on spares availability, equipment details, and/or information on previous service history. The inability to resolve service requests/repair on first-time fixes greatly impacts customers satisfaction and is one of the most important factors in measuring field service performance.
Poor performances in the field, and/or inability to fix issues the first time, lead to customer dissatisfaction, and return visits of service technician not only costs organization money but could also cause increases in customer attrition. Ideally, organizations in the field service sector should increase field workforce productivity and make tasks easier, but, there is one thing which has the greatest impact on the organization's profit and revenue: First-Time Fix Rates, or how often your technicians resolve customers' problems on the initial visit.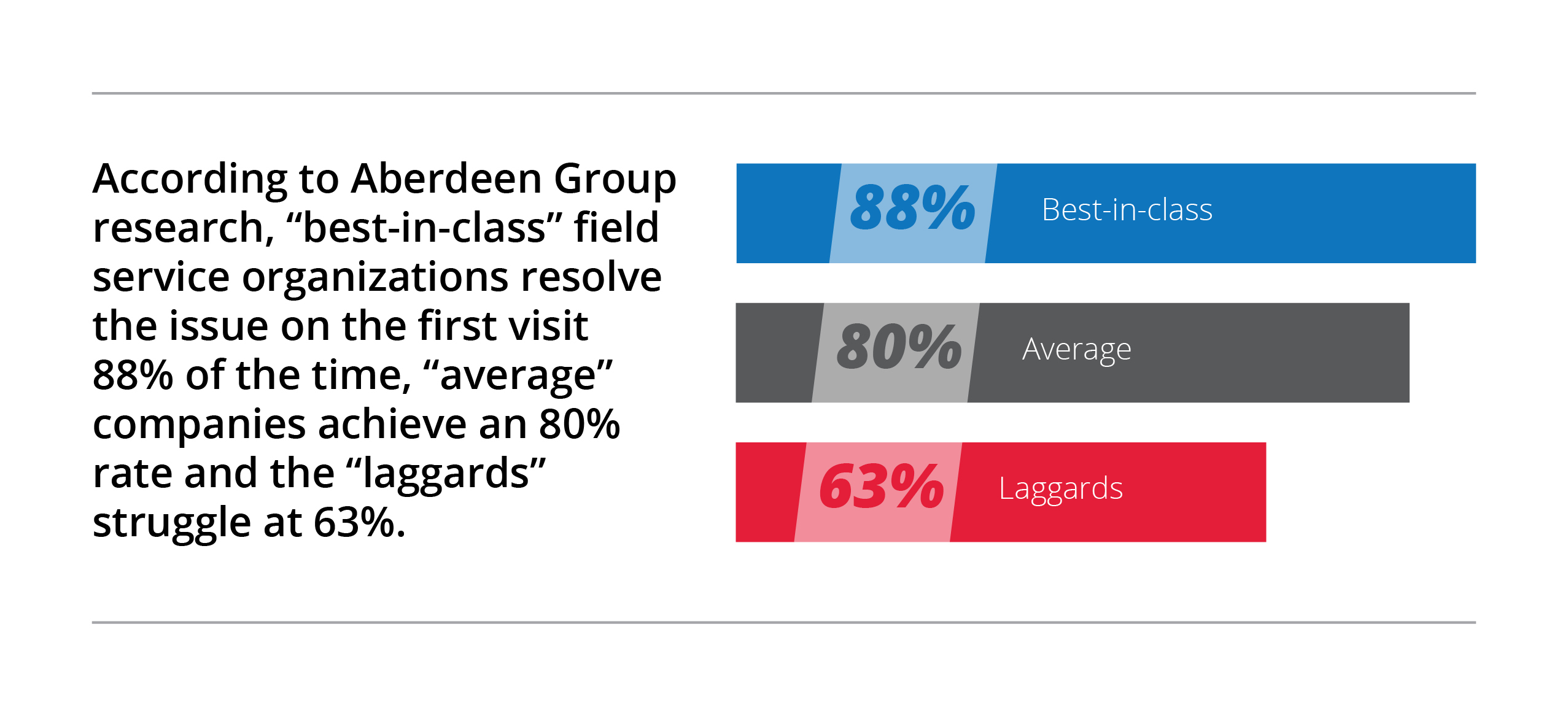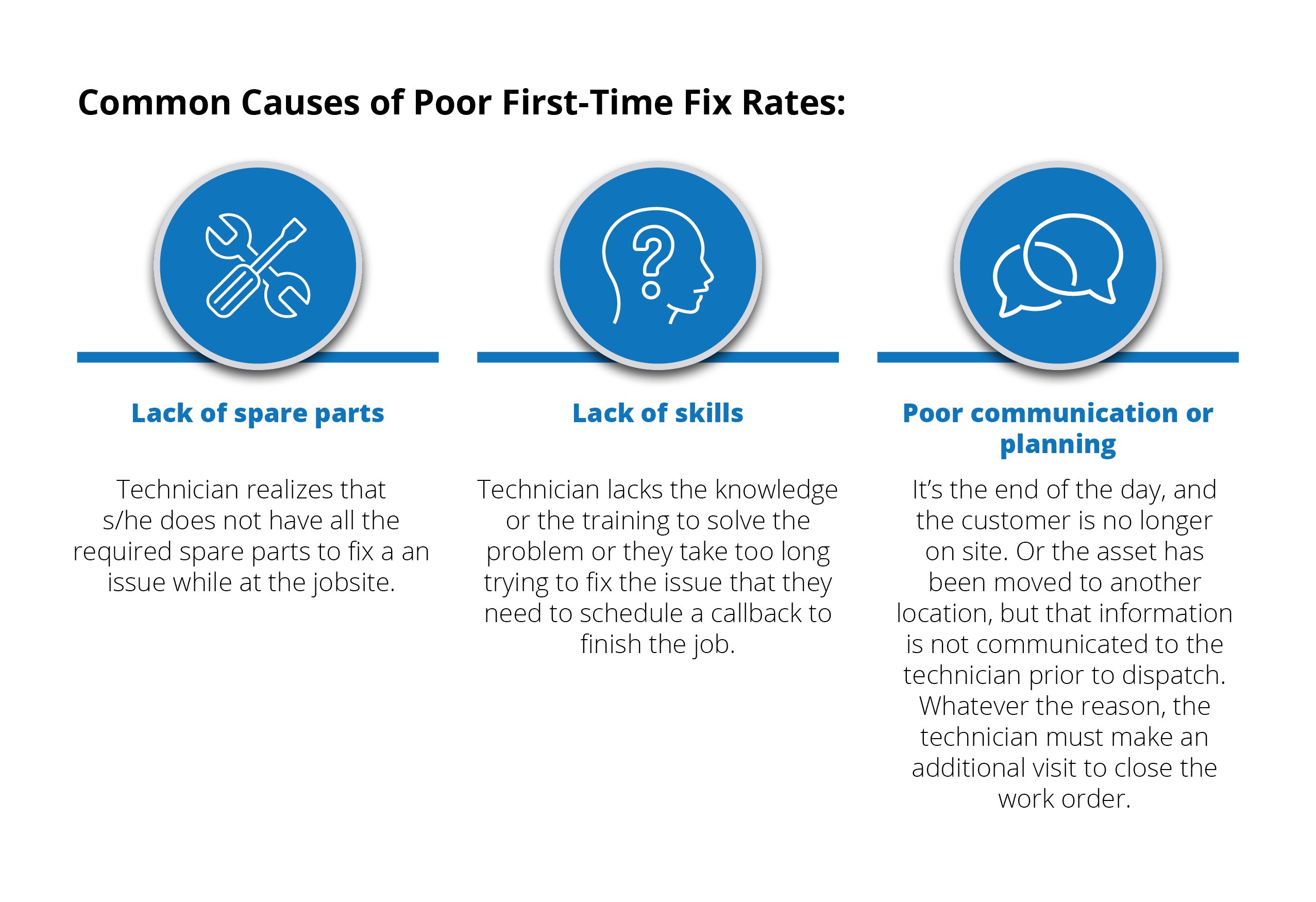 How can field service organizations make their technicians/engineers efficient to provide customers with first-time fix services?
Efficiency in field service organizations is only possible when organizations resolve the challenges facing the technicians/engineers, all of which can cause the field services workers to lag behind in processes and procedures and inhibit them from doing their jobs correctly, ie stopping fix issues on their first visits. Without the right tools/solution, even the experienced technicians/engineers face problems getting their job done correctly. Modernizing your field service operations can be extensive or it can be a small step toward progress but taking even a small single step toward modernized field service operations can mean massive benefits for your business. One of the best first steps you can take is adopting a quality field service management software.
Providing field service crews all the necessary information, alerts and guidance instantly will yield sustainable results. A best-fit solution can:
Automate time-consuming paper-based processes and reduce customer complaints by keeping them informed with accurate information
Allow smooth collaboration, transparent work order management, and increased visibility into work progress
Increase the productivity of field technicians/dispatchers by providing easy access to task details and updates instantaneously
Reduce customers trips such as taking signature for billing, confirmation of services etc, improving turnaround time
Update technicians/engineers about the repair history of the equipment, helping resolve the issue quickly, increasing first-time fix rate
Let technicians view and edit the address and functional location of equipment with direction to reach the customer location through GPS functionality
Provide field service crew ability to work without network connectivity, providing faster offline data synchronization & usages to complete their service orders
Enable them (planner/scheduler) to find details of the technician nearby that will reduce the response time in the field
Enable technicians to check equipment's warranty details (missed and remain) that helps serve customer better.
The Best-Fit Mobile Solution for Field Service Management
mServiceOrder mobile solution for Field Service Management from Innovapptive is equipped with all the field-ready functionality you needed to improve efficiency in the field from any device (mobile). mServiceOrder, an SAP® Certified Mobile solution helps improve workforce productivity while optimizing field service operations. Designed from the ground up with field technicians and engineers in mind, the solution provides a refined interface, consistent access, and targeted service workflows regardless of internet connectivity which reduces service costs and boosts service levels while avoiding unnecessary trips with guided route optimization.
mServiceOrder enables service crews to create Service Orders and Notifications, and view Bill of Materials with ease while reducing service times. The mobile solution puts visibility in the techs' hands and enables viewing of planned service orders on specific dates to help prepare and complete service calls without skipping a beat. mServiceOrder offers User Preferred Offline Synchronization which allows technicians to add their preference for offline data synchronization directly from the home screen.
If you would like to find out more about mServiceOrder, or any of Innovapptive's innovative solutions, our Solution Experts are ready to chat with you or you can reach us at (844) GO-INNOV (464-6668).