General Availability of Version 5.0 What's new for Our Customers?
We at Innovapptive are pleased to announce version 5.0 of our mInventory mobile solution. We are committed to enhancing and improving our features of our solutions and encourage our customers to upgrade to the latest version of the software so that you can take advantage of the most current features. Based on the proven success of the Rapid App Configurator Engine (RACE™), we have advanced the ball on our latest release.
mInventory – Mobile Inventory and Warehouse Management
Innovapptive's mInventory application enables users to perform common inventory transactions through handheld devices, smartphones, and RF scanners. The users do the transactions at the point of use on their wireless device which results in real-time transaction processing, improved data accuracy and increased mobility and convenience. The mInventory solution is an SAP certified solution for Supply Chain Management that helps you make more informed decisions and improve your business operations-while reducing expenses.
Using mInventory, you can perform day to day inventory transactions through hand held devices and laptops by accessing the master data of the SAP inventory module, thereby helping you manage the core spectrum of transactions within the scope of SCM space. With mInventory, you can ensure real-time transaction processing, enhanced data accuracy and improved mobility and convenience.
Also, you can ensure that your store or delivery managers process inventory transactions from any location in either offline or online mode. mInventory can even work in places where internet access is intermittent or non-existent and help you seamlessly switch between online and offline modes.
The most important feature of mInventory is the ability to scan bar codes, RFIDs and QR codes of various assets to get started with the asset inventory reconciliation process. In other words, by scanning and geo-tagging the assets, you can get the complete details of an asset to process a series of inventory transactions such as posting a goods receipt, verifying the availability of stock, updating the stock details at a plant, warehouse, and bin, performing cycle counting and much more to mobilize and streamline your SCM process.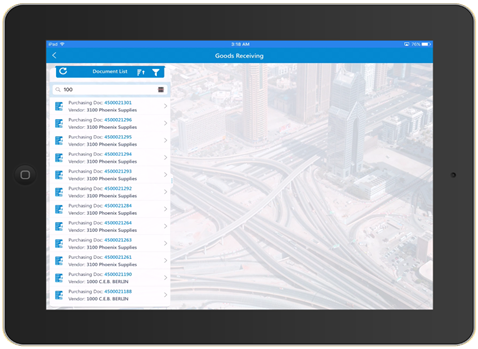 For precise tracking and paperless management of inventory, enhance your productivity, lower your costs, optimize your supply chain and improve your customer service.
To speed and simplify your work, What's new in it for you, users
The new features include localization for multiple languages. It also lets you perform list level fuzzy search, based on any keyword or barcode scan to retrieve the required results. With Access UI, you can restrict user to view and modify data at module and field levels.
mInventory app now fully supports Android tablet form factor. It lets you minimize manual efforts with the new Socket Mobile Scanner (Peripheral) feature.
You can also filter and sort the documents on the list screen, based upon the specified search criteria.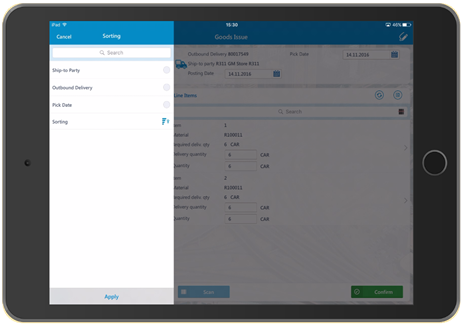 With the release, RACE enables standard field configuration capability such as UI field type and label. There is a performance optimization and offline configuration capability, that lets you view and sort the data posted in offline mode.
You can activate or deactivate attachments and the signature option for goods issue outbound delivery document through RACE. Also, consignment audit module is now configurable.
If you would like a demo of Innovapptive's mInventory(Mobile Inventory Management) solution, please click on the link. Alternatively, if you would like to discuss with an Innovapptive solution expert, you can reach out to us by emailing us at sales@innovapptive.com or you can reach a sales representative at (713) 275-1804